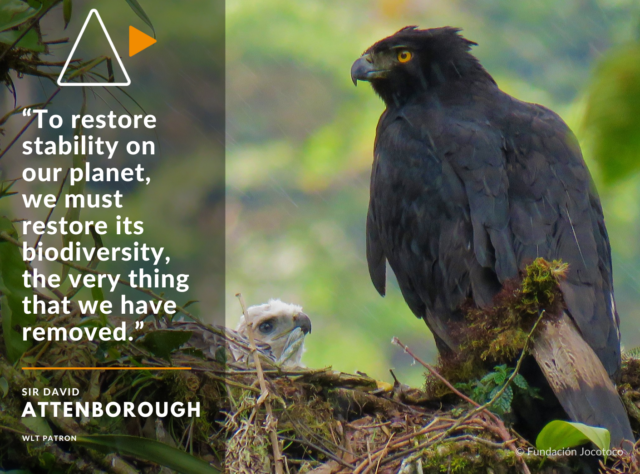 The events of 2021 brought unprecedented attention to the crises facing our planet, culminating in the pivotal COP26 summit that took place last month.
This year, supporters of our Action Fund have been tackling both climate change and biodiversity loss by saving land the world over, bringing protection to threatened habitats and species while supporting local communities.
Donations to the programme allow World Land Trust (WLT) the flexibility to fund intervention wherever and whenever there is an urgent conservation need. The complete list of 2021's Action Fund successes would be far too lengthy to include in full, but what follows is a selection of 10 key highlights; 10 victories to celebrate the positive impact you have made – and could make – through a crucial conservation tool that fights nature's corner at the time it needs it most.
---
Rediscovered brushfinch finds sanctuary in expanded Colombia reserve
The Action Fund allows us to support targeted solutions to conservation threats as and when they arise. We partnered with Fundación Guanacas Bosques de Niebla in 2019, just a year after the Antioquia Brushfinch was seen alive for the first time; until then, it was known only from three museum specimens. With fewer than 50 individuals remaining, we knew that urgent action was needed if this Critically Endangered bird was to survive – and that's exactly what we delivered, with your help. Action Fund supporters funded a 302-acre (122 ha) expansion of the Guanacas Reserve, protecting cloud forest habitat crucial to the Antioquia Brushfinch and a great many other species, including cats like the Puma, Ocelot and Oncilla.
Brand new reserve adds a strategic link to corridor of protected areas in Ecuador
When the 34,000-acre (13,800 ha) Santiago Municipal Reserve was officially declared in March, it connected the national parks of Sangay and Río Negro Sopladora for the first time, adding to a contiguous spine of reserves and national parks that spans some 4 million acres in Ecuador's eastern Andes. Connectivity like this is crucial for far-ranging species like the Jaguar and Spectacled Bear, whose habitats have become increasingly fragmented in recent decades. Santiago itself now offers protection to the Endangered Mountain Tapir and Black-and-chestnut Eagle, as well as 30 amphibians and 22 plants that are endemic to Ecuador. Water sources within the reserve also provide clean water for 15,000 people living in nearby cities and communities. Santiago's declaration came after four years of hard work by our partner Naturaleza y Cultura Ecuador (NCE) and others.
Ecuadorian national park gains new land, allowing natural restoration to begin
The aforementioned Río Negro Sopladora National Park also directly benefited from the Action Fund this year, when WLT allocated funding for the purchase of two privately owned properties within the park. Until recently, these properties were rented to farmers who would clear vegetation in order to graze their cattle. Now the land has been secured and incorporated into Río Negro Sopladora's conservation and restoration zones, which are managed with the protection of resident biodiversity in mind. Totalling 336 acres (136 ha), the properties will be managed and administered by NCE, thanks to an agreement signed with Ecuador's Ministry of Environment.
Conservation and communities soon to receive major boost in Zambia
Last year, 52,000 acres (21,000 ha) of Community Forest Management Areas (CFMAs) were declared around Kasanka National Park in Zambia, all made possible by our Action Fund. Now the Fund has helped to lay the groundwork for another major expansion: an incredible 192,000 acres (78,000 ha) of new CFMAs are being planned within the Kafinda Game Management Area. Once these are declared, communities will be empowered to conserve their own land and access new sustainable livelihoods. Also in 2021, our partner Kasanka Trust Ltd. has used the Action Fund to carry out important fire management work and support nine community scouts, who conduct patrols in protected areas where Sitatungas, African Elephants, and more than 10 million Straw-coloured Fruit Bats make their home.
Land purchase offers reprieve from deforestation for Kenya's Endangered birds
Access to the Action Fund allowed A Rocha Kenya to purchase two plots of land in 2021, expanding their Dakatcha Woodland Reserve by 60 acres. Classified as both a Key Biodiversity Area (KBA) and Important Bird Area (IBA), Dakatcha is a place of great significance for a number of highly threatened animals in Kenya. The reserve harbours populations of Golden-rumped Elephant Shrew, Sokoke Pipit, Sokoke Scops Owl, and Clarke's Weaver – all of which are Endangered. The threat of illegal charcoal production means it is a race against time to protect as much of this miombo woodland as we can.
Huge new national park on the horizon in Paraguay's Dry Chaco
Cerro Chovoreca is a 250,000-acre (100,000 ha) area of Dry Chaco habitat located in northern Paraguay, on the border with Bolivia. Its status as a Natural Monument offers very limited legal protection, but this year, WLT and our partner Guyra Paraguay have begun using the Action Fund to support a legal declaration that would see Cerro Chovoreca designated as a national park. This would confer much greater levels of management and protection to the area, benefiting species like the Chacoan Peccary (Endangered), Jaguar (Near Threatened), and Giant Anteater, Giant Armadillo and Lowland Tapir (all Vulnerable). The project will also become a part of WLT's wider efforts to protect the Dry Chaco both in Paraguay and Bolivia.
A haven for predators in Armenia receives renewed protection
For the eighth year in a row, WLT has covered annual lease payments for the properties that make up the Caucasus Wildlife Refuge (CWR). These payments provide income to local communities and ensure the CWR remains under the management of our partner, the Foundation for the Preservation of Wildlife and Cultural Assets. Covering over 74,000 acres (30,000 ha), the CWR is home to bears, wolves, lynx and vultures, but it was the return of a Caucasian Leopard this year that really drove home the importance of this protected area. Fewer than 15 of the big cats are thought to be left in Armenia but the second sighting of Nova offers hope for the revival of this Endangered subspecies.
Future of fragile endemic species now brighter thanks to reserve expansions in Ecuador
As one of the most biodiverse countries in the world, Ecuador is home to many species still unknown to science, with each year bringing new discoveries. Thanks in part to the Action Fund, two Fundación EcoMinga reserves that have been the site of recent discoveries will soon be expanded: Río Zuñac, home to four tree species from the Sciodaphyllum family first described earlier this year; and Manduriacu, where a member of a new rodent genus was found in 2020. Río Zuñac, also a key site for the Endangered Magnolia llanganatensis tree, will be expanded by 64 acres (26 ha). Another magnolia species, the Critically Endangered Magnolia chiguila, will benefit from a 138-acre (56 ha) expansion of Manduriacu.
AESMO's strategy development promises improvements to fundraising and sustainability
Based in western Honduras, our partner AESMO is dedicated to improving people's quality of life through sustainable community management of natural resources in protected areas and watersheds. In 2021, WLT began supporting AESMO in the development of their fundraising and sustainability strategies. The Action Fund was able to support key AESMO staff this year to ensure the effective running of conservation projects and the fund will also be supporting AESMO to develop new fundraising and income-generation projects in order to strengthen their work and build sustainability.
Pivotal work to protect wetlands and Sarus Cranes in northern India continues
Wildlife Trust of India (WTI)'s efforts to save the Endangered Sarus Crane have already been met with success. Now, with support from the Action Fund, our partner is working towards securing legal protection for a further 7,400 acres (3,000 ha) of wetland in the state of Uttar Pradesh. Current tasks include the preparation of management plans and sensitising key stakeholders to the benefits of wetland conservation. Documents of 25 wetlands in total, in seven project districts, have been submitted for notification. The monitoring of Sarus Cranes and their nests has also continued this year, while 153 saplings have been planted to help prevent the siltation of protected wetlands.
---
The Action Fund was set up by WLT as a means of flexible funding for our partners' conservation projects. In 2021, it has more than fulfilled this mission. Not a single victory of those listed above would have been possible without supporters like you – together we have made spectacular progress for the natural world this year.
One-off donations are of course always welcome but there is a chance for you to go further. Many donations to the Action Fund come from WLT Friends, our supporters who make a regular monthly contribution of £5 or more. By becoming a WLT Friend today, you can unlock accelerated assistance to the conservation projects that need it most.
Make sure nature has a fighting chance in its time of need – donate to the Action Fund today!