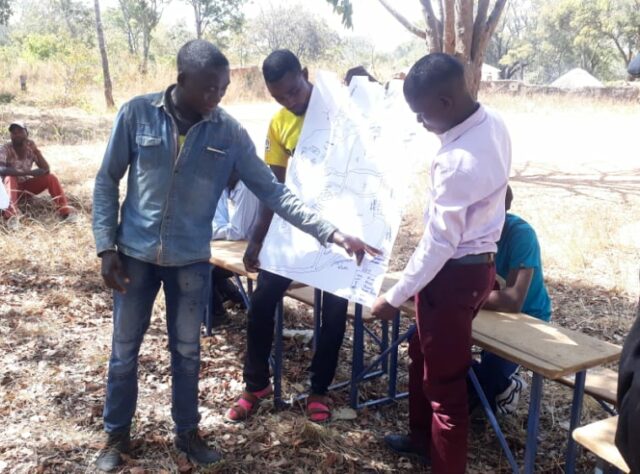 At 478 km2, Kasanka is one of the smallest national parks in Zambia, but the addition of more than 52,000 protected acres (the equivalent of around 210 km2) backed by our Action Fund will soon unlock new livelihoods that benefit both the natural world and the people that live here. 
Despite its size, Kasanka holds a wealth of biodiversity within its borders. Visitors here can witness elephants lumbering through miombo woodland, spy swamp-dwelling Sitatungas (the most aquatic of all antelopes), and – in a spectacle unmatched anywhere else on Earth – watch in awe as more than 10 million Straw-coloured Fruit Bats descend on the park in the rainy season.
Our partner in Zambia, Kasanka Trust Ltd. (KTL), have maintained joint management of Kasanka since 1990 alongside Zambia's Department for National Parks and Wildlife. They know the wonders of the park well, but they're also aware that its relatively small size makes the land vulnerable to encroachment. KTL must always be on the lookout for farmers, poachers, timber cutters and commercial developers who seek to exploit the park and the life that it supports.
Thankfully, three new Community Forest Management Areas (CFMAs) were officially declared just last month, an important conservation success made possible by supporters of World Land Trust's (WLT) Action Fund. Funded by our programme, the Njelele, Mpelembe and Reuben CFMAs add a whopping 52,000+ acres (21,000+ ha) of protected land all around the Kasanka National Park proper, one of Zambia's most diverse ecosystems.
The key to a successful CFMA is in the name – community. Establishing CFMAs is a way of securing land for conservation while also empowering local communities to manage and sustainably use natural resources; laying the groundwork for a future where nature flourishes and people have alternatives to extractive industries.
Bees and elephants offer new employment opportunities
WLT's support to our partners does not begin and end with backing their land purchases.
Helped along by WLT donors, we will provide support to KTL as they foster the continued management of the CFMAs and the new livelihood opportunities that they afford. To this end, local carpenters from the three new CFMAs – using funding from WLT – have been hard at work constructing 1,000 beehives for use in a new initiative.
Chief Chitambo, the traditional leader of the land, has welcomed the adoption of what is a sustainable and financially viable livelihood. "Beekeeping will contribute to poverty alleviation in my chiefdom and immensely contribute to forestry protection," he said. KTL arranged for 20 mentors to receive training on hive assembly, hanging, management and harvesting, with bicycles provided so they can easily travel between the hives under their care. COMACO, a social enterprise that supports wildlife conservation and small-scale farmers, will provide a market for the honey.
From managing one of the smallest denizens of the Kasanka landscape to the largest: KTL have also been busy training 20 local farmers around the mitigation of human-elephant conflicts – a long-running issue at Kasanka.
When elephants weighing multiple tonnes threaten a farmer's sole livelihood, the outcome is rarely positive for either man or beast, but the solution, as with so much else in Kasanka, lies in nature itself. The burning of home-grown chilli, an innocuous deterrent for elephants, has proved particularly successful in the Reuben CFMA.
Here at WLT, we've spent decades helping our partners empower local communities to protect and conserve their own land. We're thrilled that this approach is already paying dividends for the people of Kasanka, but the work is far from over – we look forward to scaling up training and support for farmers over time, coupled with the potential recruitment of dedicated community crop guards.
The money given to our Action Fund will go towards vital fire management work and anti-poaching patrols performed by KTL staff, while also providing key training and equipment for the local people embarking on a new way of life – but they cannot do it without your support.
Make a stand for Kasanka and donate to our Action Fund today!