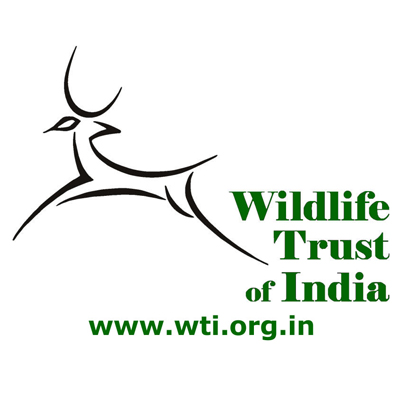 Wildlife Trust
of India
Mission
Wildlife Trust of India (WTI) operates in service of India's natural heritage. Their mission is to conserve wildlife and its habitat, and to work for the welfare of individual wild animals, in partnership with communities and governments. To achieve their goals, WTI maintains an approach undergirded by science and shaped by empathy, focusing on key areas including wildlife crime, species recovery, and human-wildlife conflict mitigation.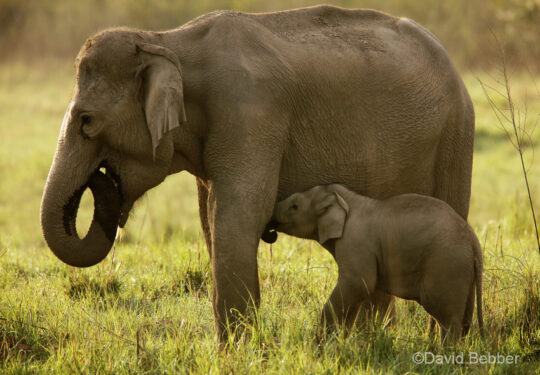 History
Beginning with just three members of staff in 1998, today WTI employs a 150-strong team consisting of veterinarians, lawyers, consultants, field biologists, social scientists, conservation managers, and specialists in finance, business management and communications.
Over the course of their history, our partner has combined long-term projects (such as securing wildlife corridors) with an agile approach that allows for effective crisis management and the provision of urgent aid to the species, habitats and communities that need it most.
WTI currently runs 40+ projects across 23 Indian states. As of March 2020, some of the many milestones our partner has achieved include saving 2,103 elephants from train collisions, providing 19,444 families with green livelihoods, and protecting more than 300,000 acres (121,000 ha) of natural habitat.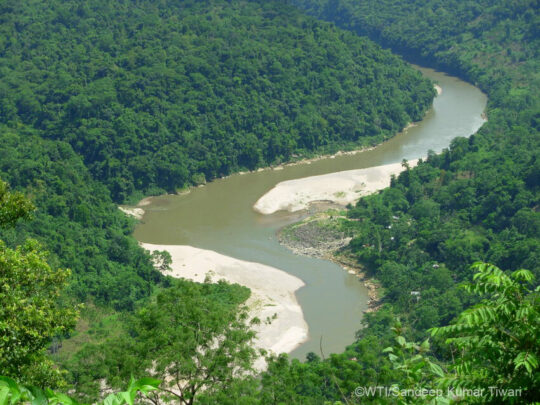 Our Partnership
World Land Trust (WLT) became partners with WTI in 2003, after a site visit to assess the feasibility of funding wildlife corridors in India. Our first funds secured the protection of the Siju-Rewak Corridor, in the Garo Hills of Meghalaya State in India's northeast.
Siju-Rewak was just the start of the Garo Green Spine, a project that continues to this day. WLT and other partners have so far protected 9,800 acres (4,000 ha) and restored 740 acres (300 ha) in this network of protected areas, alongside the A'chik Mande people of the Garo Hills.
WLT have helped to fund three other corridors that safeguard migratory routes running through five Indian states. These projects reduce conflict between humans and wildlife while also providing other benefits for local communities, who cede their land voluntarily for conservation.
The WLT-WTI partnership has expanded to support India's wetlands and mangroves, two habitats known for their biodiversity and the important role they play in combatting climate change. WLT also funded a feasibility study for coral restoration in India following the 2004 Boxing Day tsunami.
D'Ering-Dibru Saikhowa Elephant Corridor
The destruction and degradation of natural habitat has led to increased human-elephant conflict in many areas of India. To rectify this, WTI are establishing a protected wildlife corridor, linking the D'ering Wildlife Sanctuary in the state of Arunachal Pradesh with Dibru-Saikhowa National Park in Assam State.
"There can be no conservation without the right conversations," says WTI, and that's why local communities have been involved every step of the way on this project. Residents are consulted about the placement of the corridor and will also benefit from part of the area being set aside as a Community Conserved Area (CCA).
WTI are working closely with these communities to restore degraded habitat, provide sustainable livelihood support, and build capacity of management authorities. Human-elephant conflict is also being addressed further through new solar-powered electric fences and other measures.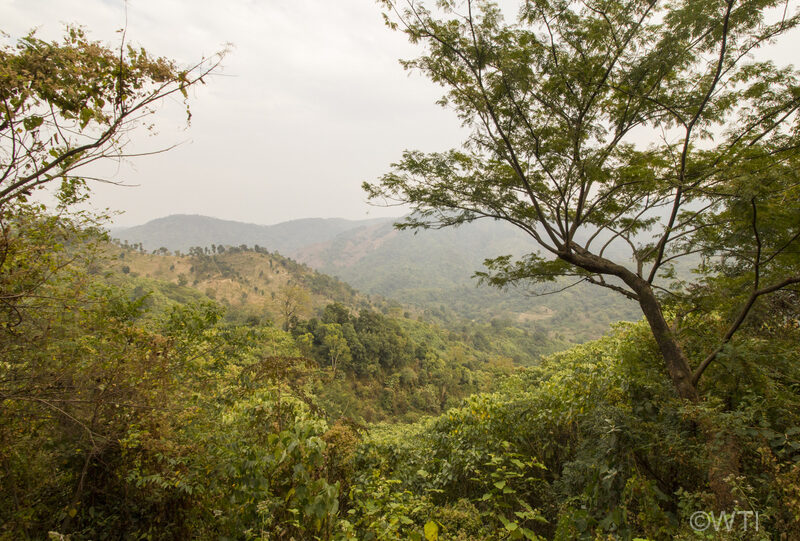 Garo Green Spine
Beginning in 2003, our first project with WTI has brought huge success in the years since. Situated in Meghalaya State, the Garo Green Spine is comprised of a network of wildlife corridors, Community Reserves and Village Reserve Forests that benefit both wildlife and the people who live here.
The connectivity provided by these protected areas is vital for key populations of Western Hoolock Gibbon (India's only ape species) and up to 1,000 elephants, as well as other threatened species like the Chinese Pangolin, Clouded Leopard and Great Indian Hornbill. Over 150,000 native trees have also been planted to help restore degraded habitat.
The Garo people have been heavily involved in setting aside and managing their land for conservation even before this project began. Among the socioeconomic benefits provided by WTI are sustainable livelihood support, healthcare, and new community facilities.
Mudahalli Elephant Corridor
Mudahalli connects the Biligiri Rangaswamy Temple Tiger Reserve in Karnataka State with the Sathyamangalam Tiger Reserve in Tamil Nadu State. It is one of only two wildlife corridors to connect the mountain ranges of the Eastern and Western Ghats, with the other corridor currently too narrow to function properly.
Thanks to the cooperation of community members who were compensated for ceding their land, the Mudahalli corridor was expanded by 17 acres (6.8 ha) in 2021. This widened the protected area to around 500m at its narrowest point – "the ideal width for an elephant corridor," says WTI.
Of the 19 wildlife corridors in the region, Mudahalli has been identified as the most important one for elephants. A minimum of 15-20 Bengal Tigers are estimated to use the corridor each year. Dhole, Gaur, Leopard, Blackbuck, Sloth Bear, Nilgiri Langur and Bonnet Macaque are among the other species found here.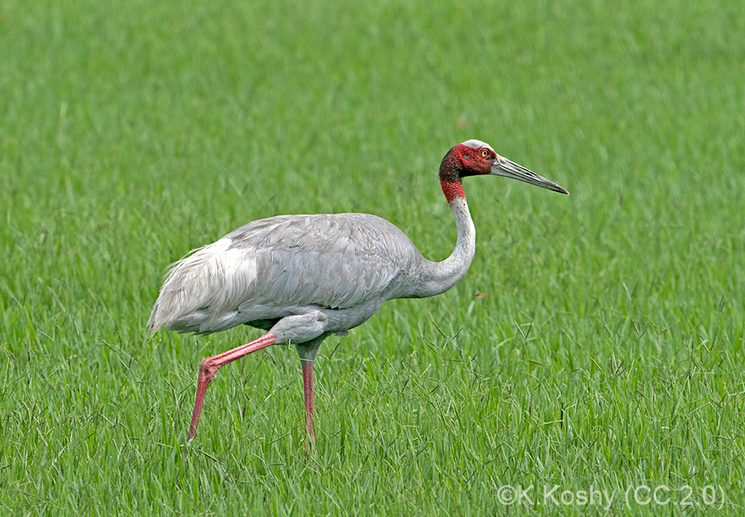 Sarus Crane Wetland
With this project, WTI are aiming to secure legal protection for 7,400 acres (3,000 ha) of wetland in Uttar Pradesh State, with a further 3,700 acres (1,500 ha) protected under a community-based management regime.
The wetlands in question are a haven for many types of migratory bird, including the project's flagship species, the Vulnerable Sarus Crane. Habitat degradation had forced India's only resident crane species to use suboptimal habitat for breeding – bringing them close to rice paddies – but they have now established a breeding population in the project area which is monitored by local communities.
These communities are also receiving support from WTI to help them restore degraded wetland habitat and sustainably manage the land that they own. The wetlands here are used for fishing, farming, and aquaculture. Wild rice and water chestnut are just some of the plants that are cultivated in the region.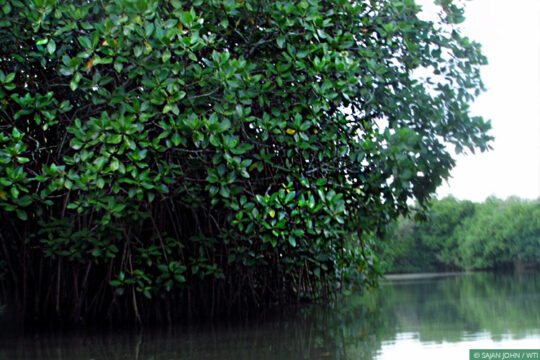 Kannur Kandal
Mangroves play an important role in combatting climate change and its attendant adverse effects. They sequester and store more carbon per unit area than terrestrial forests, while also acting as a first line of defence against strong winds and tidal surges.
In 2006, WLT joined WTI to protect 19 acres (7.5 ha) of mangroves in the Kannur District of Kerala, in southern India. Kannur's mangroves are known to harbour more than 170 bird species, 110 fish species, 13 mammal species – including the Smooth-coated Otter (Vulnerable) – and two species of edible clam that are important for the local economy.
WTI have since established a Mangrove Interpretation Centre used for research, education, and the promotion of mangrove restoration. Community-based initiatives raise awareness about the threats facing mangroves, and a mangrove nursery has also been set up.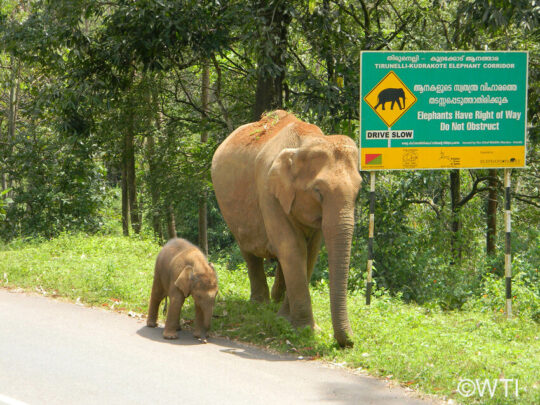 Tirunelli-Kudrakote Elephant Corridor
This project was completed in 2012 following the phased, voluntary relocation of four villages. Located at the junction of three states in southern India – Karnataka, Kerala, and Tamil Nadu – Tirunelli-Kudrakote is now registered as a Reserve Forest, a status which confers much-needed legal protection to the land.
Covering around 2,200 acres (890 ha), the corridor connects the Reserve Forests of Tirunelli and Kudrakote, providing wider connectivity between Brahmagiri Wildlife Sanctuary and Wayanad Wildlife Sanctuary. By linking at least 5,000 elephants, this project has prevented one of Asia's largest elephant populations from splitting apart.
WTI have continued to monitor the impact of this project on both people and wildlife. The corridor sees consistent and regular movement of elephants and other wildlife, including Gaur and Bengal Tiger. Meanwhile, the relocated communities have seen reductions in human-wildlife conflict and improved access to healthcare, education, electricity, communications, and sustainable livelihoods.
Other Projects and Activities
WTI focus on nine key areas in their work:
• Conflict mitigation: Demonstrating innovative and replicable large-scale models of human-wildlife conflict mitigation
• Enforcement and law: Tackling wildlife crime by reducing poaching and the illegal wildlife trade through PELT (Policy, Enforcement, Law and Training)
• Natural heritage campaigns: Creating positive and measurable change in people's perceptions to improve the conservation and welfare of wildlife in India
• Protected area recovery: Improving the existing functionality of protected areas
• Right of passage: Securing key wildlife corridors for umbrella species like Asian Elephant
• Species recovery: Supporting the recovery of populations or subpopulations of threatened species and demonstrating recovery through improved recovery scores
• Wild aid: Providing fast-acting and focused response at times of emergencies, such as tsunamis or train collisions with elephants
• Wild lands: Securing critical habitats outside of the traditional protected area system, especially habitat linkages, wetlands, grasslands, community reserves, Important Bird Areas and sacred groves
• Wild rescue: Supporting the welfare of displaced animals and pioneering science-based rehabilitation for various species
Awards, Achievements and Milestones
WTI's impact on the wildlife, landscapes and communities of India is truly significant. In its 20+ years of operation, our partner has:
• Mapped all 101 of India's elephant corridors, drawing up plans to secure them using four different securement models.
• Played a key role in building the Global Tiger Forum, the only global intergovernmental forum on the species.
• Helped to eradicate the dancing bear trade in India and rehabilitate Kalandars (a nomadic people heavily involved in the trade) in four states.
• Provided Level 1 anti-poaching training to 16,000 wildlife staff in over 150 protected areas, as well as ex-gratia assurance against death or injury on duty to more than 20,000 frontline staff.
• Tripled the size of Manas National Park and restocked it with endangered species, a process which saw the park removed from UNESCO's list of World Heritage Sites in Danger.
• Successfully lobbied, in 2001, to make the Whale Shark the first fish protected under India's 1972 Wild Life (Protection) Act. WTI was also instrumental in getting the species listed under Appendix II of CITES (the Convention on International Trade in Endangered Species of Wild Fauna and Flora) in 2003.
• Won the Technical Excellence in Cinematography award at the 2009 CMS Vatavaran Wildlife Film Festival for their short film A Shawl to Die For. The film highlights WTI's rehabilitation of workers once involved in crafting Shahtoosh, a type of wool made from the hair of the Tibetan Antelope that is now formally banned in Jammu & Kashmir.
Contact Details
Website: wti.org
Executive Director: Vivek Menon