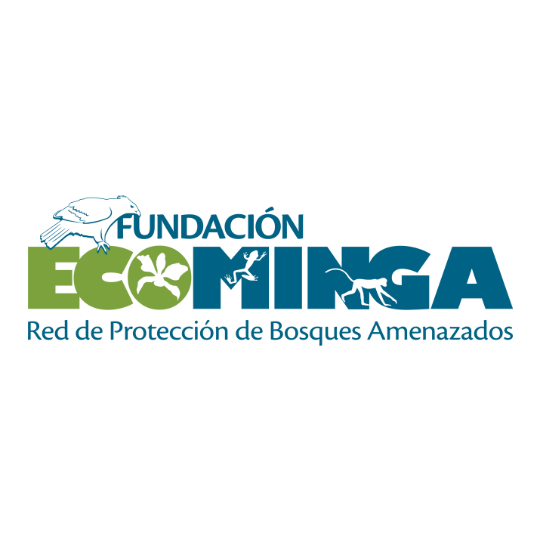 Fundación EcoMinga
MISSION
Fundación EcoMinga is a conservation body dedicated to the protection of the unique foothill forests, cloud forests, and alpine grasslands (or páramo) of the Ecuadorian Andes, especially those on the edge of the Amazon Basin in east-central Ecuador and those on the super-wet western Andean slopes of the Chocó region in northwest Ecuador.
All EcoMinga reserves protect local centres of endemism that are not protected by Ecuador's national parks or protected areas.
History
Ecuador is one of the world's most biodiverse countries. Despite covering just 0.2% of the Earth's land area, it is home to an astonishing array of wildlife, including 10% of all plant species – around 4,600 of which are found nowhere else on Earth. Fundación EcoMinga was founded in 2005 by a concerned group of international scientists and conservationists, all dedicated to the ongoing protection of Ecuador's remarkable biodiversity.
EcoMinga currently manage 10 reserves in the upper Río Pastaza watershed, an important biological corridor linking the northern and southern ranges of Ecuador's eastern Andes. Since EcoMinga began working here, they and others have discovered close to 100 species, almost all of which are endemic to the watershed. Most of the reserves here adjoin national parks, which protect higher-elevation habitats; our partner extends protection down from 3,860m to 1,100m, elevations which are much more biodiverse but at the same time less protected.
EcoMinga also manage two other reserves in the Chocó region of northwest Ecuador: Dracula and Manduriacu. Both have been the site of important discoveries in recent years. One standout event occurred in 2020, when an entirely new rodent genus was described based on two separate species. Pattonimus ecominga was found in Dracula, while Pattonimus musseri was found in Manduriacu.
Our Partnership
World Land Trust (WLT) and Fundación EcoMinga have been working together since 2007, with the first land purchase at the Cerro Candelaria Reserve taking place that year. This reserve forms a key part of the Llanganates-Sangay Corridor, a now contiguous network of protected areas that links two vast national parks to the north and south of the upper Río Pastaza watershed in east-central Ecuador.
EcoMinga rangers working in the Corridor have been supported through WLT's Keepers of the Wild programme since 2011. These rangers patrol EcoMinga reserves and protect them from those seeking to exploit threatened wildlife and their habitats, like poachers and illegal loggers. Recruited from local communities and involved in scientific research, EcoMinga President Lou Jost describes the Keepers as "the eyes and ears of our forests".
Since our partnership with EcoMinga began, WLT supporters have protected around 7,000 ha (17,300 acres) in our partner's reserves. These include Río Manduriacu, in Ecuador's northwest Chocó region, but the Llanganates-Sangay Corridor has been our focus. The last remaining gap was filled in 2015 with the creation of the Río Machay Reserve, and expansions of Cerro Candelaria and Río Zúñac have served to further strengthen the network.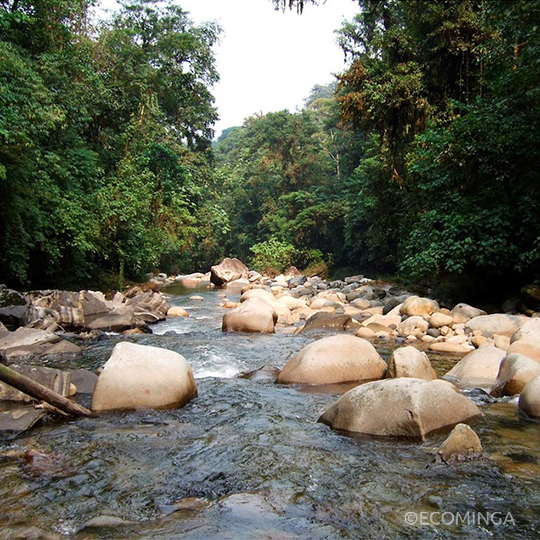 Río Anzu
This reserve was the first to be established by EcoMinga, back in 2006. It protects a transitional zone between Amazonian rainforest and Andean foothill cloud forest, as well as limestone caves, canyons, sinkholes, rocky outcrops and subterranean waterways that are atypical for the region.
Due to this unusual geology and combination of habitats, Río Anzu is home to a large number of reptiles and amphibians (139 species) and plants endemic to the upper Río Pastaza watershed. EcoMinga have discovered a liverwort here that is not found anywhere else, as well as an entirely new orchid genus, Quechua, that is known from just one other location.
WLT's Life on the Edge appeal aims to connect Anzu with Llanganates National Park and six separate nearby reserves, through the purchase of 586 ha (1,448 acres) of land. Black-and-chestnut Eagles and melanistic Jaguars are among the residents that stand to benefit from this proposed expansion.
Río Zúñac
While Río Anzu faces the Amazon Basin on the eastern side of the Cordillera Abitagua, Río Zúñac is found on the western slopes of this mountain range, with Llanganates lying between the two reserves. The rugged terrain of Zúñac means its Andean foothill cloud forests are denser and less disturbed than Anzu's.
Numerous species have been discovered at Zúñac over the years, including four frogs, two magnolias, four melastomes (a type of flowering plant) and Simpson's Plump Toad. In 2021, a single field trip yielded five Sciodaphyllum trees new to science, including four with a home range of just 8km2 or less.
Zúñac was expanded in 2019 when supporters of the One Wild Night event, hosted by WLT Patron Steve Backshall, added 82 ha (202 acres) to the reserve. You now have the chance to add a further 500 ha (1,235.5 acres) as part of our Life on the Edge appeal, expanding and connecting habitat for threatened species like Mountain Tapir, Common Woolly Monkey and Military Macaw.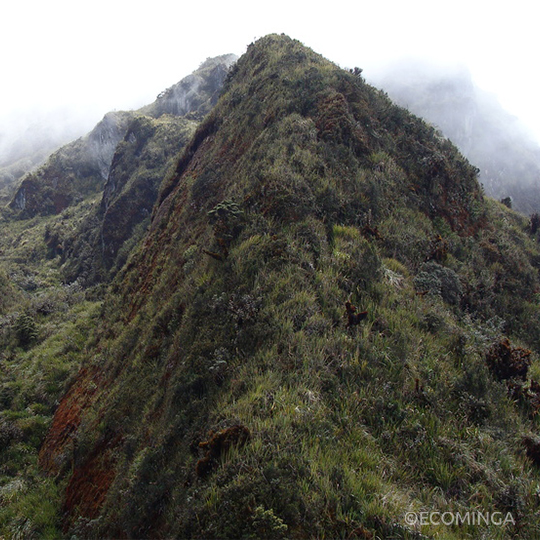 Cerro Candelaria
WLT funded the creation of Cerro Candelaria in 2007, and since then we've added 3,241 ha (8,008 acres) to the reserve over a course of separate expansions. A joint project with SSE in 2008 also funded the planting of 6,000 trees, restoring 6 ha (15 acres) of degraded habitat. Now EcoMinga's largest reserve, Candelaria protects many different habitats, including cloud forest and alpine grassland (páramo).
The reserve's many orchids include the world's smallest (an as yet undescribed Platystele species) and 15 Teagueia species, six of which are found only in Candelaria. Two more species discovered here have been named after WLT Patrons: the melastome tree Blakea attenboroughii for Sir David Attenborough and the plump toad Osornophryne backshalli for Steve Backshall. Among the many resident mammals are White-lipped Peccaries, which exist at nearly the highest elevation ever recorded for the species.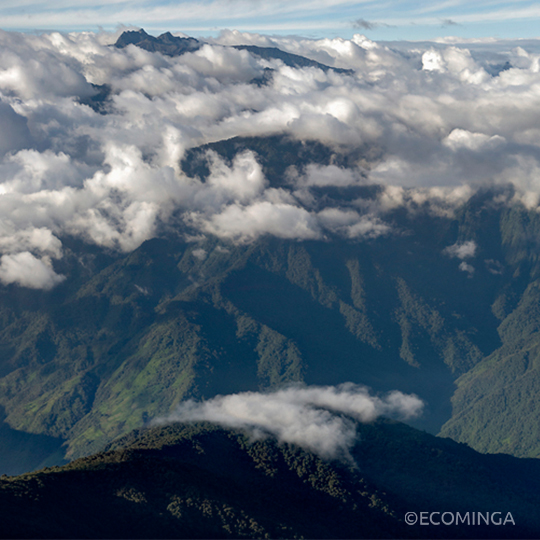 Río Machay
In 2015, supporters of WLT's Forests in the Sky appeal raised £500,000 to create the 1,729 ha (4,273-acre) Río Machay Reserve. EcoMinga purchased land surrounding a community forest that had been previously established by the small town of Machay. For many years, residents had looked after the rich forests and waterfalls here, conserving their land for the benefit of local wildlife and generating a sustainable source of income through ecotourism.
"We feel like we're assisting the local people in making their own dreams come true," said EcoMinga President Lou Jost in 2015, "giving them a better protected forest which is able to support a larger and more sustainable animal population." Species that now have a safe home in Río Machay include Puma, Mountain Tapir, Spectacled Bear, and rare orchids like Dracula fuligifera and Lepanthes marshana, the latter discovered in a section of cloud forest that is now part of the reserve.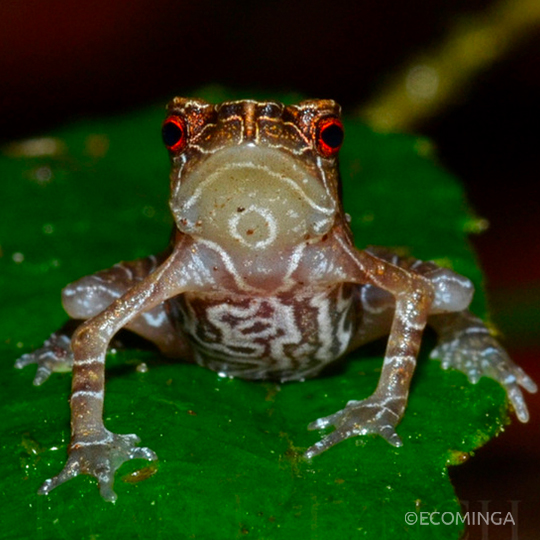 Río Manduriacu
EcoMinga established this reserve to protect the last known home of the Tandayapa Andes Toad. Since then, another Critically Endangered amphibian has been discovered here that is not known to exist anywhere else: the Manduriacu Glass Frog. The Mindo Glass Frog is another highly threatened resident, and though it may be present at another site in Colombia, the only known breeding population is found at Río Manduriacu. The rodent Pattonimus musseri was discovered in the reserve in 2021, and Hyalinobatrachium nouns – yet another glass frog – in 2022.
For species like these that live on the very edge of extinction, every hectare is precious. Thankfully, WLT supporters have helped to expand Manduriacu, handing a vital lifeline to the unique wildlife that finds a home in the cloud forests here. Past donations to WLT's Buy an Acre programme have added 210 ha (519 acres) to the reserve. In 2020 our corporate supporter Puro Coffee funded the purchase of an additional 66 ha (163 acres), and in 2021 a further 56 ha (138 acres) were added by a mix of WLT donors.
Other Projects and Activities
EcoMinga are working with landowners and community members to establish new ecotourism opportunities in the upper Río Pastaza watershed. They are also supporting families who rely on sustainable small-scale agriculture, as another alternative to extractive industries in the area.
In addition to Río Anzu, Río Zúñac, Río Machay and Cerro Candelaria, EcoMinga also manage six other reserves that form important parts of the Llanganates-Sangay Corridor.
Our partner's Dracula Reserve is found in the Chocó region of northwest Ecuador, close to Río Manduriacu. Extending from 800m to 2,300m in elevation and protecting both premontane forests and cloud forests, Dracula has produced new species of frog, mouse, orchid and lizard in recent years.
EcoMinga have developed a seed nursery in Candelaria to grow organic shade-grown coffee, which they plant themselves and also sell to other growers. The coffee strains used are able to grow within the forest, making this a sustainable crop for the area.
Awards, Achievements and Milestones
EcoMinga's 12 reserves currently cover around 8,000 hectares (20,000 acres) of important habitats in Ecuador.
EcoMinga President Lou Jost has discovered and described more than 50 new orchid species since the foundation was established in 2005.
The Río Zúñac and Cerro Candelaria reserves have been recognised by the Ecuadorian government as National Protected Areas, conferring the same level of legal protection as a national park.
In 2011, Jost was awarded the George B. Walter Service to Society Award by his alma mater, Lawrence University, in recognition of his contribution to conservation and scientific research.
Jost has been twice received the Pablo Arturo Suarez Medal from the upper Río Pastaza watershed town of Baños, where EcoMinga's offices are located. This award is given each year to a local person who contributes significantly to the wellbeing of the town.
Reserve manager Juan Pablo Reyes has been recognised for his scientific achievements and also awarded a medal by the town of Baños.
In 2018, EcoMinga was accepted as a member of the International Union for the Conservation of Nature (IUCN), a network of several hundred government agencies and around 1,100 conservation NGOs.
Jamie Culebras's photograph of a Manduriacu Glass Frog was chosen as the winner of the 'Life in Balance' category at the 2020 Wildlife Photographer of the Year awards. Captured in Río Manduriacu, the photograph and the story behind it can be seen here.
In 2022, EcoMinga's Executive Director, Javier Robayo, was selected by The Explorers Club as one of the Top 50 People Changing the World. You can read more about Javier's impact as a conservationist, biologist and educator in this news story.