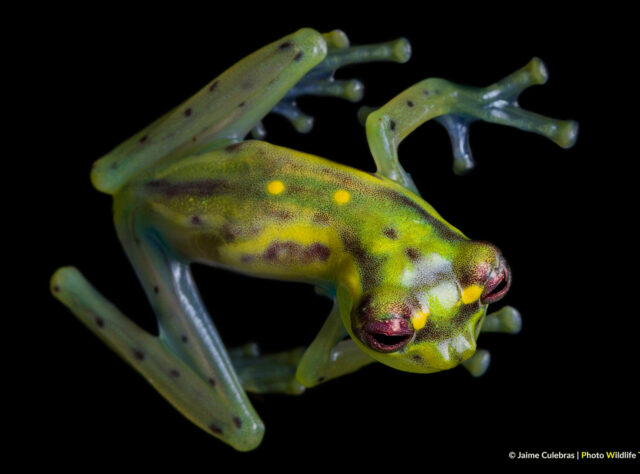 Mindo Glass Frog (Nymphargas balionotus), seen just twice in the wild since it was first described in 1975, has become the highlight of a new scientific paper identifying the Rio Manduriacu Reserve as a key breeding site for the species.
Rio Manduriacu Reserve, in the Pacific Western Andes, is extremely rich in glass frog species. There are nine confirmed species, more than in any other Fundacion EcoMinga reserve.
In a new paper published on Amphibian & Reptile Conservation, researchers singled out the site as a breeding ground of Mindo Glass Frog, a "rare and enigmatic" species identified only in 1975. At Rio Manduriacu, these diminutive amphibians join the likes of Manduriacu Glass Frog – a species only described last year and, according to Lou Jost from EcoMinga "not yet known anywhere else."
Glass frogs are unmistakable. Ethereal, their translucent skin, slender bodies and small size combine into the most delicate frogs – so much so that even their organs are visible beneath their skin. The researchers discovered the only confirmed surviving population within four streams in the Manduriacu watershed, three of which lay within the reserve's boundaries.
Rio Manduriacu Reserve was originally established to protect the last known population of the Critically Endangered Tandayapa Andes Toad, which was believed extinct until a pair of females were discovered in 2014 – high in Rio Manduriacu's cloud forest. Alongside Tandayapa Andes Toad and Manduriacu Glass Frog, Mindo Glass Frog are a species whose global survival depends on the fate of EcoMinga's Rio Manduriacu Reserve. Several new species of amphibian, rodent and magnolia species have already been discovered within this reserve, many of which are endemic, highlighting its conservation importance going forward.
The reserve was initially supported by IUCN-Netherlands and expanded with help from World Land Trust and our long-standing corporate supporter Puro Coffee, who in 2020 protected 163 acres.
Help us continue to preserve these vital habitats and the species they protect through the Action Fund, which directs funding exactly where it is needed.

If you would like to donate to the Action Fund and support vulnerable species such as the Orangutan, please click on the button below.