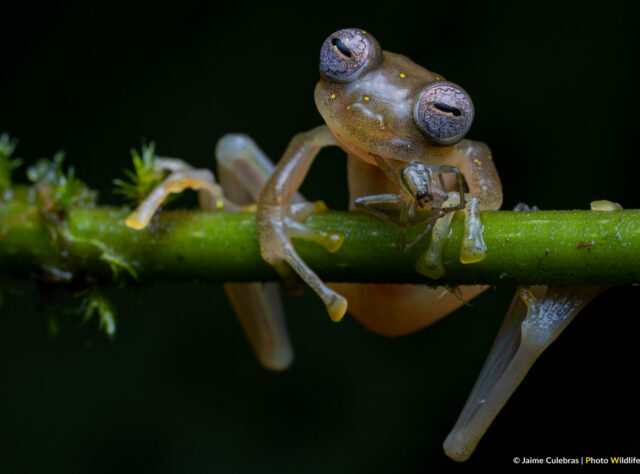 Delicate, tiny and translucent – a special glass frog from the depths of Ecuador's tropical forest was the subject of this winning 2020 Wildlife Photographer of the Year award. 
Jaime Culebras, photographer and researcher who collaborates with World Land Trust (WLT) partner Fundación EcoMinga spent four hours in the cloud forest of the Pacific Western Andes before coming across the rare Manduriacu Glass Frog feasting on a spider. His keen eye led to snapping this spectacular photograph while under torrential rain – the first picture to be taken of this species feeding.  
The Wildlife Photographer of the Year awards, held by London's Natural History Museum, is an annual event which attracts countless nature enthusiasts. We are delighted for Jaime, who won the 'Life in the Balance' category with his stunning photograph. 
"It brought me endless joy to win this award and particularly the category in question, since I am mainly dedicated to research and photography of amphibians and reptiles," Jaime tells us. "However, it also causes me sadness because this species, just described, is already Critically Endangered due to the serious threat of mining projects, which are affecting all of the Ecuadorian tropical Andes". 
Rio Manduriacu Reserve, where Jaime took his award-winning photograph, is extremely rich in glass frog species. It is the only known home of the Manduriacu Glass Frog, which was discovered just last year.
"I love to show the secrets of these animals, especially their behaviour. Glass frogs live on the vegetation next to streams, so you often have to wade through the water and in the rain. But it's amazing – in those moments, you feel free," Jaime explains. 
Rio Manduriacu Reserve was initially created by Sebastian Kohn and his family, then expanded by IUCN-Netherlands and expanded again with help from WLT and our long-standing corporate supporter Puro Coffee, who in 2020 protected 163 acres. "The area where this species lives is threatened by large scale mining concessions, so this is another important reason why this natural treasure is so important. Its species are the real gold that we need in our lives and not the gold under the ground," Jaime says. 
Take a look at the other incredible snapshots of nature alongside Jaime's here.
If you would like to support vulnerable species such as the Manduriacu Glass Frog, please donate to our Action Fund. Your support will allow us to act whenever and wherever conservation work is needed most urgently – protecting the critically endangered wildlife that photographers like Jaime are working hard to showcase before the world