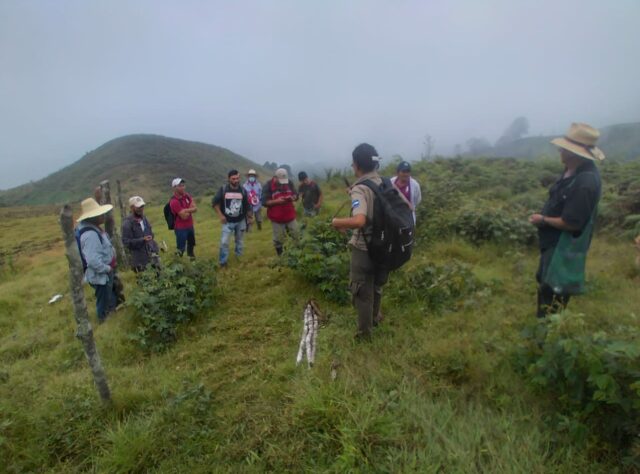 Having worked closely with our network of partner organisations for over 30 years, we at World Land Trust (WLT) know that the involvement of local communities is absolutely key to a successful conservation project. The locally led work of our Honduran partner AESMO is testament to this fact. When all parties have their voices heard in a truly democratic process, the natural world gains engaged guardians from all walks of life. Now AESMO's latest purchase has brought home the benefits of this approach once again.
Thanks to a respectful collaboration between local governments, faith leaders, private businesses, cooperatives, and citizen water management boards – all mediated by AESMO – 173 acres (70 ha) within the Güisayote Biological Reserve in western Honduras have now been granted robust protection from those that would seek to exploit the land's resources.
Although Güisayote sits within the UNESCO Biosphere Reserve of Trifinio-La Fraternidad, much of the land here is privately owned and under threat from agricultural expansion, as well as illegal hunting. This new strategic parcel of land, funded by long-time WLT partner Puro Coffee, is well placed to resist these threats. The reason? As AESMO founder Víctor Saravia states, it's all about AESMO's co-ownership approach – where local people contribute towards, and become invested in, the saving of their own land.
"It's amazing to see how Hondurans are transformed after being given a voice in conservation, to watch their self-confidence grow after understanding that they finally get to make decisions about the safeguarding of their own land," says Víctor. "The quiet pride that comes at the realisation that their vote counts as much as that of bigger organisations – that they are a key part of land protection, joining patrols alongside our own rangers, local technicians and more."
This particular project has even drawn support from those who won't benefit directly from the 173 acres, such is the strength of feeling for AESMO's collaborative approach to conservation. The citizens of the Pacayonas-Ventas Watershed Management Committee live 34 kilometres away from the area and "won't be seeing a drop of water from its protection," says Víctor. "And yet they made a significant contribution because they're now thinking in terms of landscape. It's amazing!"
When people come together, threatened ecosystems win
AESMO have been empowering Hondurans to protect their own land for decades, and the recent success in Güisayote has shown once again that inclusive conservation is the best way forward for people and for nature. Investing in this project will allow Hondurans to join the decision-making process, having their say on how the ecosystem services they rely upon are protected. And with such a diverse team of stakeholders on board, Güisayote's rich biodiversity can now benefit from many lines of defence.
Güisayote lies on the Honduran side of Trifinio-La Fraternidad, the transboundary reserve that spans the meeting point between Honduras, Guatemala and El Salvador. Municipalities in all three countries rely on the water provided by this land of pine, oak and montane forests, which harbours two large watersheds. The site of two Key Biodiversity Areas – both of which are threatened – Trifinio-La Fraternidad provides crucial habitat for the Resplendent Quetzal, Puma, Margay and White-lipped Peccary.
The 173 newly protected acres will be patrolled by AESMO rangers, their presence deterring encroachment that could spell danger for Golden-cheeked Warbler and Geoffroy's Spider Monkey (both Endangered) as well as Critically Endangered amphibians like the Honduras White-lipped Frog. Locals will join these patrols and safeguard the wildlife that they share their home with.
WLT and Puro Coffee are proud to support AESMO in their development of inclusive conservation in western Honduras. We look forward to seeing the power of collaboration at play in their next project.
If you've been inspired by AESMO's work and wish to play your part, you can do so by supporting our Keepers of the Wild programme. Your donations will aid AESMO rangers in their protection of the Güisayote Biological Reserve.
Join us and help preserve this Central American wildlife haven for years to come!