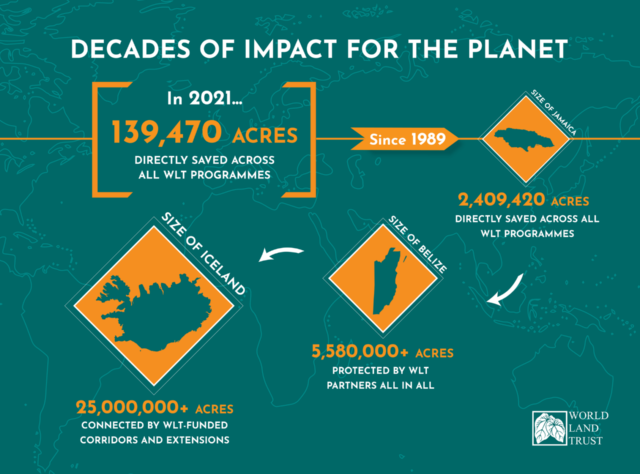 2021 will be remembered for many things, but it is undeniably the year the climate crisis took centre stage. Catastrophic floods in Europe, heatwaves in North America and severe drought in Madagascar, East Africa and beyond showed us how climate change is already devastating our planet, while the most recent IPCC report revealed the future impacts that lie ahead.
The COP26 summit was meant to be a turning point in our efforts to combat climate change and it may well prove to be, if landmark deforestation and emission deals are followed through. But we are still on track for 'disastrous' levels of warming, far above the 1.5 °C threshold outlined in the Paris Agreement.
I shared my cautious expectations as the summit got underway and although the level of commitment shown by governments has fallen short of what is needed, my belief in the power of the individual has not wavered.
When it comes to climate change, we are both cause and solution, and as the call to save the Earth rang louder than ever this year, I am reminded that this is a call WLT supporters have been answering for more than three decades.
Through collective action, you've made a huge difference this year and every year since the Trust was founded in 1989 by saving land, one of the most effective ways to fight climate change right now.
Over the last 12 months, thousands of you have continued to build on our shared conservation legacy. You've helped our partners to triple Guatemala's Laguna Grande Reserve; establish the Belize Maya Forest; create new wildlife corridors in Borneo and 49,000+ acres of community reserves in Tanzania; and protect the home of the rediscovered Antioquia Brushfinch in Colombia.
Combined, each and every one of our supporters have unlocked achievements on a scale that goes far beyond what one individual could hope to accomplish, and this just gives me increased faith in the power of optimism and collective action: we can all make a difference. Over the course of the Trust's history, donations to WLT have directly saved 2,409,420 acres; but your impact doesn't end there. These direct contributions have allowed our partners to protect 5,580,000+ acres all in all, with an astonishing 25,000,000+ acres connected in total by WLT-funded corridors and reserve extensions.
This year alone, 139,470 acres have been saved and 115,758 native trees have been funded across all our programmes, including Buy an Acre and Plant a Tree. You've also offset 96,000 tCO2e of emissions (Carbon Balanced), funded 45 rangers (Keepers of the Wild) and delivered conservation milestones around the world (Action Fund, WLT Friends).
These achievements belong to you and thousands like you who have formed a powerful collective in defence of the natural world.
They belong to the fundraisers who climbed mountains, auctioned their work, and organised sponsored birdwatches, all to challenge the status quo of environmental degradation.
They belong to the businesses, trusts and foundations that support WLT, whose members have resolved to put their organisations at the service of nature, using their considerable power to make a difference at a make-or-break juncture for the planet.
We also look with gratitude to the influential individuals who have added their voice to ours in 2021 – including WLT Patrons, Ambassadors, Trustees and Council Members – whose impact has proven decisive in so many ways, as we look to turn around the fate of habitats at risk. Without people like Steve Backshall, who was pivotal in fundraising for our Borneo appeal; Sarah Class, who once again composed a beautiful soundtrack for Big Match Fortnight; and James Wragg, currently cycling the UK coastline to help us protect the life of Guatemala, we wouldn't be where we are today.
Finally, we are indebted of course to our fantastic partners, who faced more pandemic disruption this year and yet still worked tirelessly on the front lines of conservation. Such work is at its most effective when local people are engaged with its delivery, and in 2021 our partners were joined once again by communities like the indigenous Shuar in Ecuador and the members of traditional ejidos in Xilitla, Mexico, ensuring land is protected by those who know it best.
These are just some of the stories that are giving me hope for the future of our planet. Inspiration is in great supply here at WLT – just take a look at the reams of positive news stories from 2021 or our 2020 Annual Review. With your commitment to count on, I know we can make even greater advances in 2022. Whether your donation amounts to many acres or just a single sapling, it is a contribution that will form part of a larger whole – thousands of people coming together for a cause with a truly global impact. To all of you: thank you.
Dr Catherine Barnard,
World Land Trust CEO