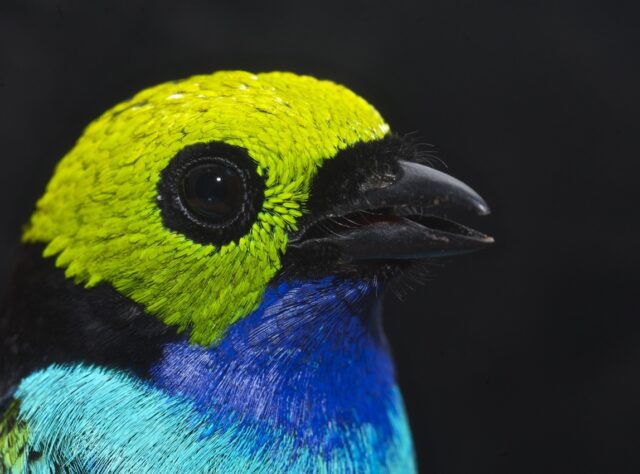 When you offset your emissions through World Land Trust (WLT) you make a decisive impact and for proof, look no further than the Nangaritza Valley. By helping our partner Naturaleza y Cultura Ecuador (NCE) to protect this sanctuary, supporters of our Carbon Balanced scheme have brought benefits beyond measure to the global climate, endangered species and Indigenous people – and here's how.

As you navigate the story, press Ctrl as you click on the pictures to enlarge
and see the life of Nangaritza in all its glory!
---
Preserving a last-of-its-kind natural connection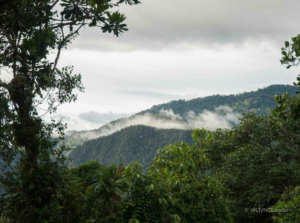 The Nangaritza Valley encapsulates the core principle of Carbon Balanced: when you offset your emissions with us, you help save the landscapes that matter. Known locally as Maycú, the reserve WLT has been supporting since 2012 is the last standing natural corridor connecting Andean peaks with Amazonian rainforest in the Condor Range area. Wedged between these two iconic landscapes, the Nangaritza Valley acts as a crucial bridge – a mosaic of foothills, lowlands and Tepuy-like plateau mountains that hosts some of the highest plant diversity anywhere in the world.
---
A climate ally for future generations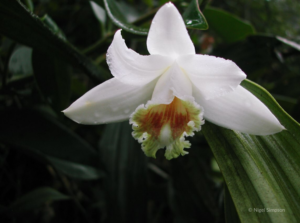 Effectiveness has long been our promise to those who choose Carbon Balanced; a commitment to ensure your emission offsetting supports the ecosystems that make the most difference against climate change. Nangaritza very much falls into this category: over the next 20 years, the Maycú Reserve is expected to yield a total of 307,356 tCO2e (carbon dioxide equivalent) in climate benefits. Considered annually, this translates into 15,368 tCO2e – equal to taking 7,286 average UK cars off the roads every year!
---
A future for a trove of uncharted, endemic life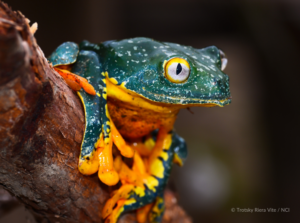 If Nangaritza's forests themselves are an Eden of plant species, the wildlife that calls them home is no less jaw-dropping. Jaguar, Ocelot, Spectacled Bear and the reserve's other large predators might often steal the spotlight, but when it comes to these ecosystems, the full extent of the biodiversity value doesn't become clear until one looks at the forest floor. Trotsky Riera Vite, NCE's coordinator of the Zamora-Chinchipe Province, notes that every scientific expedition to Nangaritza has produced new discoveries, with nearly a dozen endemic amphibian species – including glass frogs such as Espadarana durrellorum and Centrolene charapita – now formally registered. And there is more to come: Nangaritza, a highly remote area, is thought to host much life that science has yet to discover and catalogue.
---
A reprieve for the Orange-throated Tanager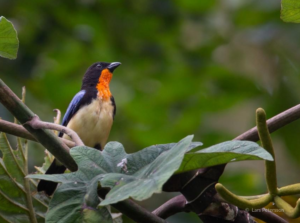 With help from Carbon Balanced supporters, NCE's protection of Nangaritza is also safeguarding a bird haven, home to vulnerable species such as Military Macaw. Of all residents, though, the Orange-throated Tanager arguably illustrates the value of these forests better than most. Identified by its trademark orange throat and breast and its far-carrying call, this tanager has been hit hard by degradation of its small range; just a few fragments of land around the Ecuador-Peru border. And yet as Trotsky explains, thanks to Nangaritza its fate has taken a turn for the better. "This reserve represents the main conservation effort for these birds in Ecuador," he says. "When we started negotiating for these properties, we managed to save them from a silica mining firm who were interested in the area. If it hadn't been for this protected area, it's highly likely its habitat would have been lost altogether to deforestation."
---
Livelihoods and a voice for Indigenous people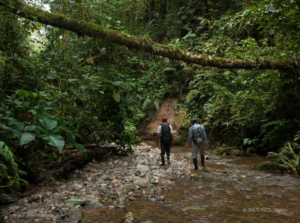 Like all Carbon Balanced projects, Nangaritza puts communities front and centre. For years, NCE has supported Indigenous Shuar people to create their own reserves and strengthen the overall protected corridor in the Valley, where these communities have lived for generations. Our partner has also facilitated the claiming of payments for environmental services, ensuring that Shuar individuals owning small amounts of land are compensated for putting their properties up for conservation. And it doesn't stop there. At the time of writing, NCE is working alongside Shuar body ACESHUT to create a new Indigenous-run parish in Nangaritza – a first step so that these communities can then design and implement their own plans for long-term, sustainable economic development.
---
The work for Nangaritza goes on
For a partnership going back to the early 2010s, the NCE-WLT alliance to protect the life of Nangaritza has delivered priceless benefits for people and planet – and yet NCE's work goes on, and is more necessary than ever. The backing of Carbon Balanced supporters has so far proved instrumental and will remain so in the future, with NCE's Trotsky pointing at the ever increasing pressures from logging and mining in the Valley.
In Nangaritza, Carbon Balanced supporters have delivered something extraordinary to future generations. Their offsetting support has safeguarded one of the most life-packed places on the planet, in the process bringing tens of thousands of CO2 tonnes in climate benefits every year – and laying the foundations of a better tomorrow for Indigenous people.
There is a chance for others to add their voices to this story. The push to protect the Nangaritza Valley is far from over and with the threats more present than ever, businesses and individuals can make a crucial difference by offsetting their emissions with us. Check out our Carbon Balanced page – find out how you can join those making a stand for Nangaritza!