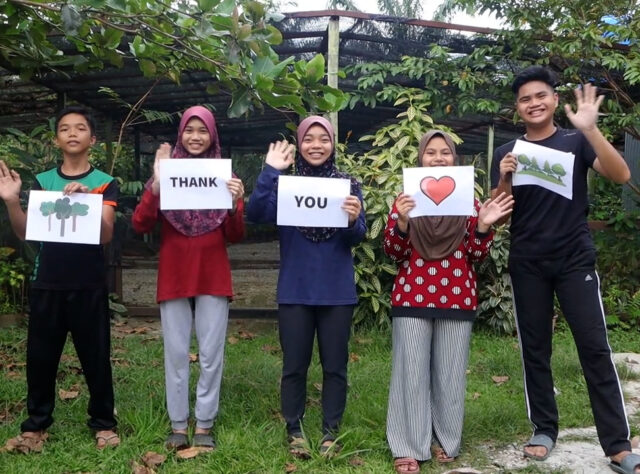 The supporters who made it possible to raise more than double the target of our latest appeal have unlocked a better future not only for the wildlife of Malaysian Borneo, but also for its people. In a new video, the rangers, educators and tree planters of our partner HUTAN join members of the local community as they thank World Land Trust (WLT) supporters for their donations – now, the protection and restoration of their home landscape can continue in earnest.
As we announced last week, donations to our 'Saving Borneo's Orangutan Corridors' appeal reached an incredible £420,000 in just six weeks – a sum way above our initial £150,000 target that will allow HUTAN to protect up to five plots of rainforest, up from the two we had initially targeted.
For HUTAN, this creates a chance to protect crucial habitat in the Kinabatangan – some of the world's most biodiverse land – much faster than they had anticipated. Our partner, founded as a small grassroots conservation group in 1996, has grown to encompass a team of 70 rangers, researchers, environmental educators, wildlife conflict mediators and tree-planting women hired from the village of Sukau. All speak in our new video (see below) to thank WLT supporters.
Today we want you to meet Sharmila Ahban, who is part of HUTAN's Environmental Awareness Programme and thanks WLT supporters for their help saving the Kinabatangan rainforests; a contribution which, she says, will both "be enjoyed by, and benefit local communities." Or Haslan Saidal, a Community Programme Coordinator who believes the extension of corridors funded by our appeal will help defuse conflicts for the elephants currently forced into private land by deforestation.
Today we want you to meet Amalina, Noratika, Nurinah, Datu and many others; all part of the team headed up by Co-Director Isabelle Lackman, who came to Malaysian Borneo 24 years ago to research orangutans and stayed to lead a movement to protect their habitat. This movement of local people will now have up to five new plots to protect – and it's all because of WLT supporters.
Land is best protected by those who know it and live in it and our global network of 35 conservation partners lies at the heart of everything WLT does.
We at WLT are proud of our long-running partnership with HUTAN. For years we've worked together to create and extend a network of protected corridors in the Lower Kinabatangan Floodplain and in 2021, because of WLT supporters, this conservation action will be coming much faster than we had dared to hope.
From us once more, thank you for believing in the protection of orangutan habitat by Sharmila, Haslan, Amalina, Noratika and everyone else at HUTAN. We've done this together!