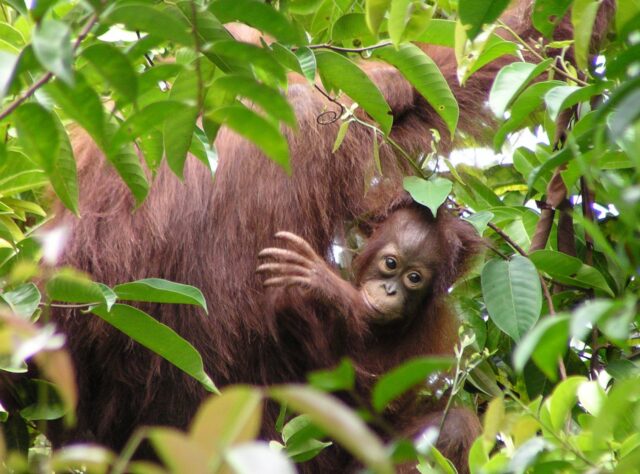 In June 2021, we launched our third appeal supporting rainforests, orangutans and hundreds more species in the Kinabatangan of Malaysian Borneo. World Land Trust (WLT) supporters had previously funded reserve expansions with our partner HUTAN in 2013 and 2017 – now we're delighted to bring you a new report detailing the latest developments from this wildlife haven.
This report is our thank you to everyone who helped us meet our initial £150,000 fundraising target – and then push it far, far beyond to a final £420,000. Because of your extraordinary response, HUTAN has been able to expand their planned purchase from two rainforest plots to five! In this area of Borneo, where 80% of primary forest has already been lost, every acre matters. Click the image below to find out how your donations are helping on the ground: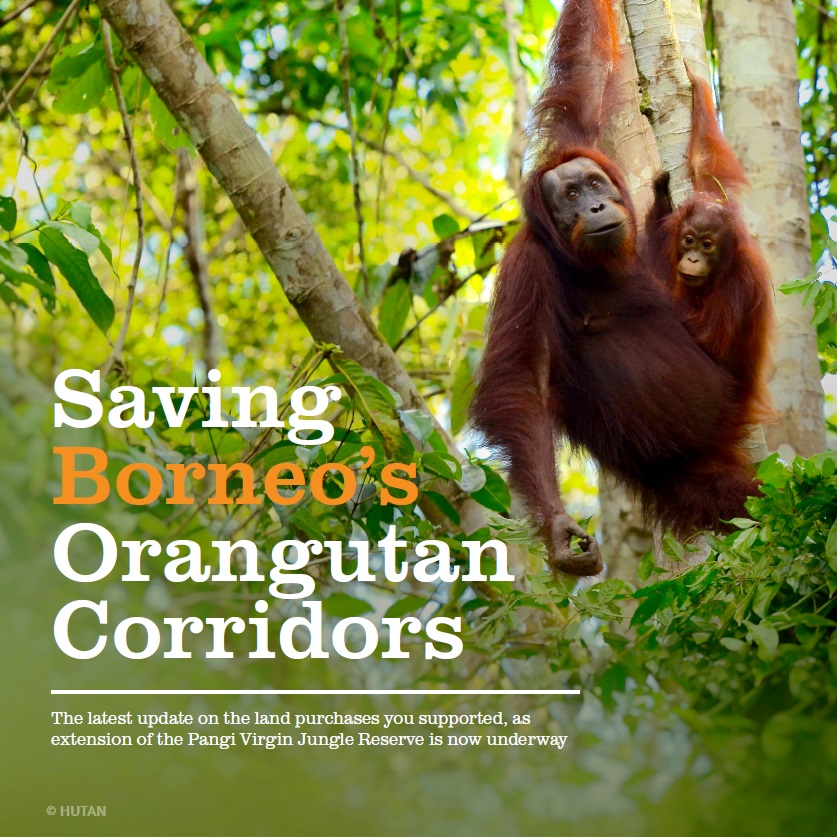 In our report, you'll read about HUTAN's appeal-funded extension of the Pangi Virgin Jungle Reserve, as well as new properties that our partner plans to incorporate into the Keruak Corridor, on the other side of the Kinabatangan River. These areas provide habitat for an array of threatened species, from the Critically Endangered Sunda Pangolin to the Rhinoceros Hornbill, a Vulnerable bird that HUTAN is providing with much-needed artificial nestboxes.
The extension of Pangi across the river to Keruak is particularly important for Borneo's elephants, a smaller subspecies of the Asian Elephant that has suffered from increasing human-wildlife conflict as their forest home has been cleared in recent decades. Now the herds will have safe passage across the river, a vital lifeline now handed to a species that has fewer than 1,500 individuals remaining in the wild.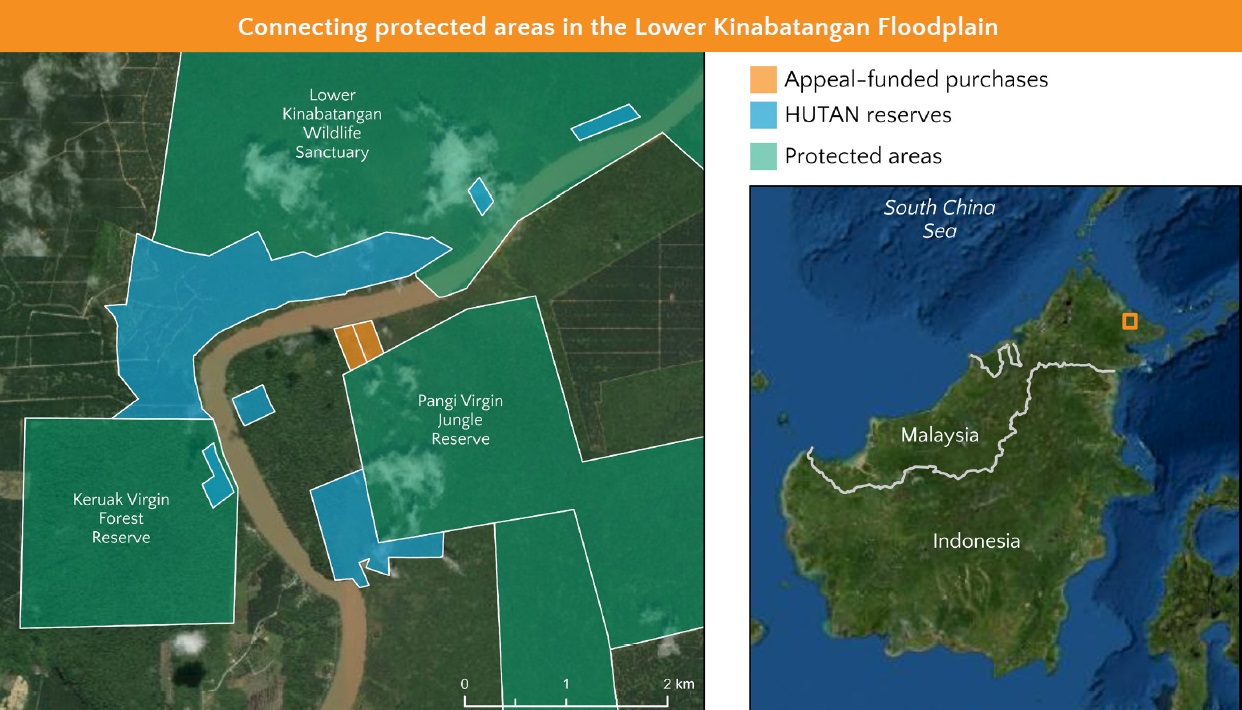 Our report also shines a light on the people working to keep Pangi and Keruak safe, like ranger Berjaya Elahan – supported through WLT's Keepers of the Wild programme – and Amanda Shia, a Research Officer focusing on Keruak's wildlife. We're really excited to share their stories with you. After your generous donations make their way to our partners around the world, it's people like Berjaya and Amanda who ensure the reserves are patrolled, the wildlife protected, and the local communities supported.
Producing reports like this one is always a joy for the WLT team, and we hope that reading it is just as enjoyable for you. Monitoring the progress of the projects we support is part of our day-to-day work here, but for donors we know this is less visible – so we will endeavour to share as many updates as we can in the coming years, so you can witness the incredible impact you're having on the natural world.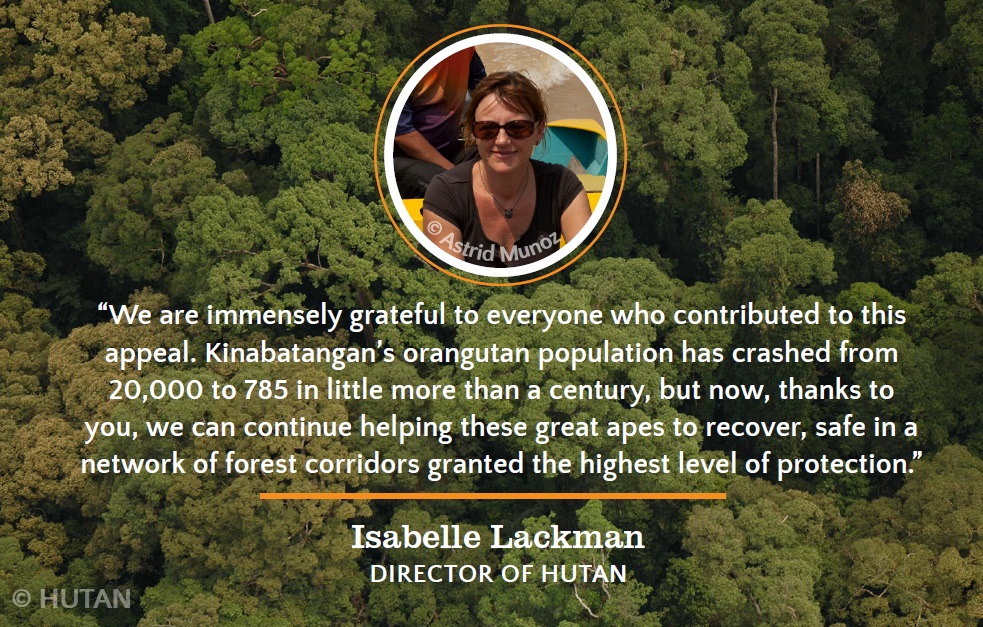 If you'd like to continue supporting HUTAN's hugely valuable work in Borneo, you can do so through our Keepers of the Wild appeal. Local ranger Berjaya Elahan combats illegal logging and poaching, and also works with Kinabatangan youth to inspire the next generation of Bornean conservationists.