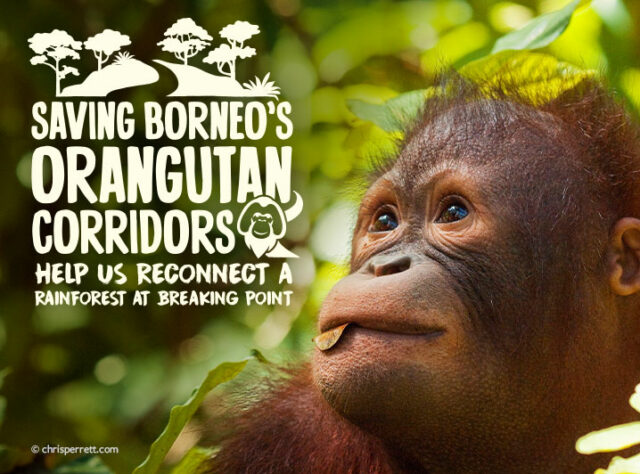 Over a century ago, the Lower Kinabatangan in Malaysian Borneo was home to an estimated 20,000 Bornean Orangutans. Today there are only 785 – a population collapse of more than 95%. With help from your donations to our new £150,000 appeal, supporters like you can help our partner HUTAN protect their fragmented habitat and save these great apes from a fate of genetic isolation.
Today is World Rainforest Day – and what better way to celebrate than to join World Land Trust (WLT) and our partner HUTAN as we save habitat on an island home to some of the world's oldest rainforests.
In both 2013 and 2017, WLT supporters came together to save critical wildlife habitat in Malaysian Borneo with HUTAN, setting up protected corridors on either side of the Kinabatangan River. Now this legacy goes on, and you have the chance to be part of it: by donating to the appeal we have launched today, you will allow HUTAN to purchase two new plots of rainforest connecting the Pangi Virgin Jungle Reserve to the Kinabatangan River.
In a landscape dominated by commercial plantations, these two properties could not be more strategic: they will link Pangi, via the Kinabatangan River, to the WLT-backed Keruak Corridor across the river, granting elephants safe passage between the two. And there is the chance to go even further: if we exceed our £150,000 fundraising target, HUTAN will be able to proceed with the second stage of their plan, securing other properties to expand their corridor network.
There are countless reasons to save these rainforests – countless factors why this is a landscape we cannot lose and won't be losing, if you help us. Here are just a few:
REASON ONE: SAVING A RAINFOREST WITH UNPARALLELED LIFE
Borneo's forests – among the oldest in the world – boast some of the highest biodiversity levels on Earth, and the Kinabatangan Floodplain is no exception. It would be impossible to fully list here the life of the rainforests on either side of the longest river in Malaysia's Sabah State: the 215 mammal species recorded to date (40% of which are of conservation concern), the 314 bird species, the 101 reptile species, 33 amphibians and many others. Primates, elephants, the Sunda Pangolin, the Sunda Clouded Leopard and the Sun Bear – your donations to our new appeal will help create a better future for all.
REASON TWO: RESCUING LOCAL ORANGUTANS FROM THE BRINK
Bornean Orangutan, the Earth's largest tree-dwelling mammal, is a species we share 97% of our DNA with. They are also the reason HUTAN was created 23 years ago, after founder Isabelle Lackman, a primatologist, moved to Kinabatangan. "My dream was to study these Critically Endangered apes in Borneo and so we did for a while, until we realised that conservation issues were too pressing – if we didn't do something there'd be no orangutans left to study," said Isabelle. After decades of work by HUTAN, WLT's new appeal offers you a chance to continue saving land for Kinabatangan's hundreds of orangutans – connecting reserves so that populations don't fall into genetic isolation and decline.
REASON THREE: SAFEGUARDING THE MOST IMPACTFUL LAND
In an area like the Kinabatangan Floodplain, where 80% of primary forest is already gone, it's hard to overstate the strategic value of our partner's proposed plots. When joined to the Pangi Virgin Jungle Reserve to the south, these two properties will act as a natural buffer for the unprotected forest to the west, shielding it from conversion to other land uses. Wildlife protection aside, they will safeguard the river banks against erosion and help preserve the freshwater prawn fishery that local communities rely upon.
REASON FOUR: RECONNECTING A RAINFOREST AT BREAKING POINT
Isabelle Lackman, co-founder of HUTAN, tells us that despite the progress with land protection over the years, the Kinabatangan remains at breaking point. "Logging followed by commercial plantations has created a landscape of small fragments of protected forest – leaving big species with no choice but to cross through private land. This is a future for Kinabatangan that we cannot accept and if you help us, we won't have to. Having protected the crucial Keruak Corridor in recent years – and seen the difference it has made – a chance exists this year to replicate this success just across the river, at Pangi," Isabelle says.
REASON FIVE: SUPPORTING CONSERVATION LED BY LOCAL PEOPLE
The connection between Kinabatangan's local communities and their rainforest runs deep. The Indigenous orang sungai ("river people") have traditionally lived nomadically, relying on natural resources for centuries. Saving new land by the river will allow HUTAN's Indigenous-led workforce to expand upon their existing work in the region: rangers are installing artificial nestboxes for hornbills that have lost nesting sites in old-growth trees to deforestation, while villagers from Sukau are employed full-time to guard Edible-nest Swiftlets from illegal harvesters, who can destroy both eggs and nestlings when hunting for the birds' lucrative nests.