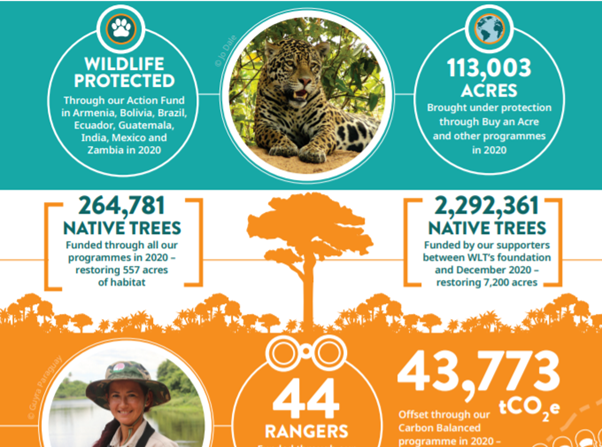 Today, I want to say an enormous thank you to everyone who supports World Land Trust (WLT), and share with you new evidence of the impact your donations have been making.
The WLT Annual Review 2020 we're publishing today (click on the picture below to download it in full) was an inspiring document to put together for us at the Trust. It took us straight back to our strongest fundraising year in history – the year when we realised that nothing can stop our supporters when they're committed to saving nature through us and our network of conservation partners.
Here are just a few snippets and stories of the difference we made together in 2020, which you can discover in full in our Review:
The record £7.12 million we raised together during 2020 (up from £5.69 million in 2019), which allowed our partners to save land and species like never before in WLT's history.
The 113,003 acres we protected, the 264,781 native trees we funded, the 43,773 tCO2e of carbon emissions we offset and the 44 Keepers of the Wild we helped our partners to employ.
The astounding totals our 2020 appeals raised to save a great ape corridor in Cameroon (£100,000), the Colombia's Barbacoas forests and wetlands (£295,000) and Ecuador's Chocó Forest (£925,000).
The wildlife WLT supporters helped to protect in Armenia, Bolivia, Brazil, Ecuador, Guatemala, India, Mexico and Zambia through donations to our Action Fund in 2020.
The stories of our committed fundraisers, like eight-year-old Teddy and the £1,230 he raised for WLT as he donated his hair locks to children with cancer.
The countless businesses, charitable trusts and foundations who proved integral to the success of our major appeals and ongoing programmes.
Our Annual Review 2020 is not just a compilation of numbers and stories, though. These 12 pages are the reminder of a premise we want you to keep in mind at a time of planetary crisis: collective action for nature makes a difference. It did so last year, and it will do so this year. If 2020 was WLT's strongest fundraising year to date, 2021 is already looking even stronger, and with our Big Match Fortnight launching on 6 October (the most ambitious appeal so far in WLT's history) we can make sure this year ends on a high note – if you join us.
Here's to yet another year of collective impact for a living planet!
Dr Catherine Barnard
World Land Trust CEO