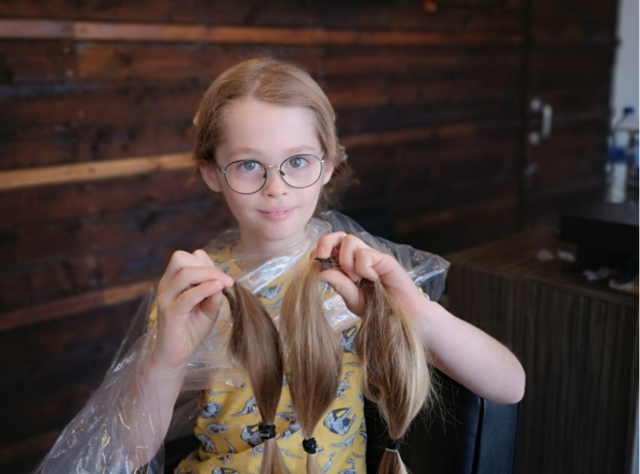 As we head full-force into the new year, we at World Land Trust (WLT) would like to take a moment to look back at some of the incredible individuals who supported us over 2020 – the committed people who went the extra mile to raise funds for nature, and helped deliver staggering conservation wins last year.
What follows is a brief selection of the many fundraisers that inspired us over the last year. To them, and to every other person or organisation who chose us to champion environmental protection in its hour of need: thank you! Your generosity fills us with optimism that together, in 2021, we will not only repeat 2020's conservation wins – we will surpass them!
Teddy donates hair to support nature and children with cancer
At the age of 5 Teddy knew he wanted to grow his hair to donate to children with cancer. Three years later, his locks were long enough to be sent to the Little Princess Trust – and he also used this charity haircut to raise an incredible £1,230 for WLT.
After learning about our patron Sir David Attenborough in school, Teddy became passionate about protecting wildlife and thought this was a fantastic way to get his schoolmates talking about how we can all become "defenders of the Earth". We hear he is now growing his hair again to support the causes he loves!
Susan's braves downpours in marathon for endangered species
In October, Susan ran 26.2 miles of a coastal route along Suffolk and into Norfolk and back as the rain continued to pour over running trails, hours after the wettest Saturday on record.
With thoughts of environmental action fuelling each step, she tells us that "I've run the London Marathon for the last two years but wasn't expecting to enter in 2020. However, when the chance to run it virtually came up, I impulsively entered! Tackling environmental threats is so important to me – I chose to support WLT for their great job of working with local people alongside educating the public about wildlife and threatened habitats."
Bloxham School climbers raise funds for nature in virtual Everest Challenge
A 20-strong squad of intrepid climbers from Bloxham School took on a virtual Everest Challenge – an obstacle course, a staircase climb and a climbing wall to raise money for WLT.
As Everest summiteer Nick Hollis reminded the adventurers before they set off, Bloxham's climb was for the very best cause: to help WLT fund the protection of pristine rainforest in Guatemala. Inspired by his words, the students surpassed the vertical height from Everest base camp to the mountain summit and reached 3,484 metres!
Andy's all-day birdwatch helps save natural wonder
Andy Langley's sponsored birdwatching stint raised an incredible £5,250 for our #SaveTheChocó appeal, becoming one of thousands of people – including Dom and Jude and their big tree plant – who made it possible to almost double WLT's initial £500,000 campaign target.
As part of his birdwatching spree, Andy spotted 82 birds throughout a wet and windy October weekend in a bid to help safeguard Ecuador's Chocó; the last 2% of a forest that hosts, within 1,000 square miles, more bird species than across the whole of Europe!
Charissa Risley uses art to champion protected land
For World Environment Day on 5 June 2020, Charissa, founder of art consultancy Artfully Sorted, exhibited nature-inspired works from 22 artists in a special show – 'Nature Reflected' – that raised £800 for WLT
Charissa tells us, "In these unprecedented times, the importance of appreciating our shared place in nature is more critical than ever. Through our show, we hoped the imagery of art inspired by nature would encourage action and awareness in protecting our environment. Artfully Sorted is delighted with the show's success in raising funds for this wonderful charity and we very much look forward to future events supporting the invaluable work they do."

2021's fundraisers: The people behind the conservation wins to come
The selection of stories above leaves little doubt: the generosity of WLT fundraisers knows no bounds, and makes far more impact for nature than they can imagine.
On behalf of the WLT team and our conservation partners, we would like to say a huge 'thank you!' – every donation, every fundraiser, every social media share all contribute towards our collective goal of saving land and saving species.
January has barely begun, and our supporters are already off to a running start as seven-year-old Seb and eight-year-old Sam (you can support them here) have challenged themselves to run 202.1km to raise £2,021 for WLT – and they are not the only ones.
This summer, Seamus and Thomas (you can support them here) are planning to embark on an epic 1,800-mile hiking and cycling expedition – from Canterbury to Istanbul – to raise funds for WLT.
From Seb to Sam or Seamus and Thomas, we wish all of our 2021 fundraisers the very best of luck for their incredible journey and we know this is just the beginning of the many exciting and adventurous fundraising challenges our supporters will take part this year.
You could follow in their footsteps. Follow this link to find out how you can set up your own fundraising challenge for WLT – start 2021 by joining a global movement to save the wild places that matter across the world!