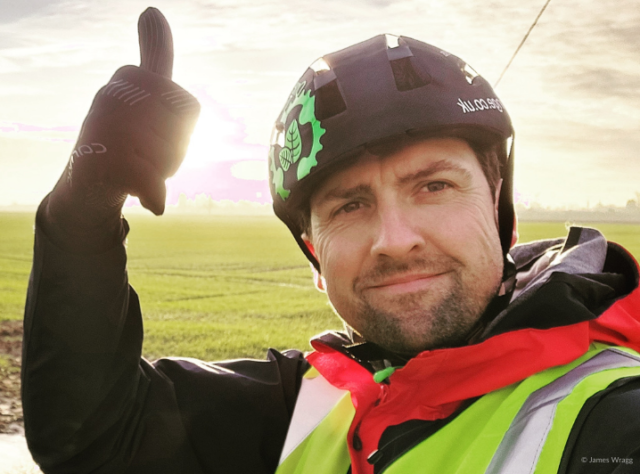 The gruelling British winter is usually a time when people cosy up indoors, but not for World Land Trust (WLT) supporter James Wragg, who decided to take on a six-week cycle adventure to raise funds for conservation. Three countries, 26 counties and 2,000+ kilometres later – CycleforChange James tells all about his adventure of a lifetime.
Forty days of solo, self-supported cycle touring along the UK coastline on a 30-year-old bike, eating a plant-based diet, in winter. How hard could it be? The answer is: definitely a lot harder than I thought and the not-so-great British weather didn't help, but not in the way I expected!
It's safe to say I like a challenge. I enjoy an adventure and I love the UK countryside. Attempting to cycle the UK coastline in winter may not have come as a surprise to some. Neither would the cause; raising funding and awareness for World Land Trust, to protect and preserve rainforest in Laguna Grande, Guatemala. It was an honour and a pleasure to do my bit and give something back to the natural world which has given me so much.
The Noble Steed: James kits up in preparation of his upcoming challenge
The 'route' was straightforward. Start at Southwold Pier in Suffolk at the end of November, aim north with the sea on my right and keep pedalling for as long as I could. I had no pre-arranged accommodation, a week's worth of food and all the kit I needed for an arduous journey.
Despite riding bikes my whole life, and having been on many walking and canoeing expeditions, I had never actually done cycle-touring before and the only time I had used panniers was to cycle to work. With only three months to put the plan together it soon became clear that I had a lot to learn.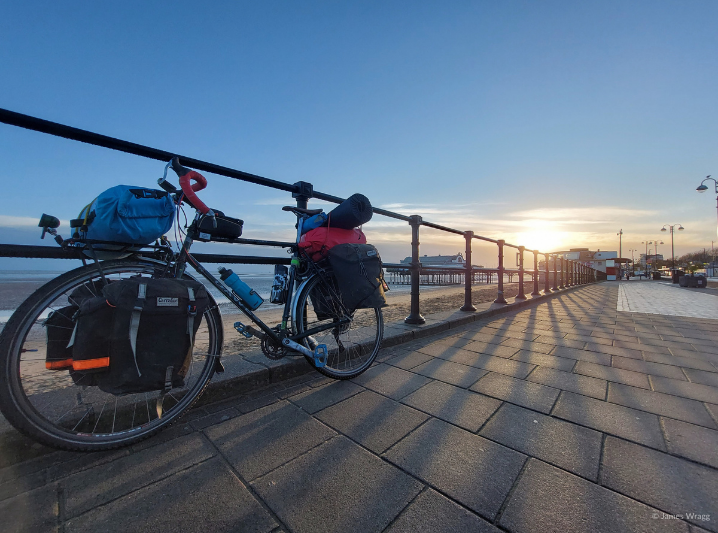 My kit included a set of very old, front and rear waxed cotton panniers, a donated front pannier rack, a donated dynamo hub and front light and a 30-year-old Dawes Super-Galaxy touring bike which needed some restoration – but I soon fell in love with it and named it The Noble Steed.
A stormy start: James sets off amidst strong winds and heavy rain
With The Noble Steed kitted up, a vague plan and the ocean on my right, I was ready to face whatever lay ahead of me.
I started on November 27, the day Storm Arwen hit the East Coast of the UK. Sat in the car with my parents driving to the start line with the news on the radio announcing "threat to life" storm warnings, it was perhaps not the best day to be setting off on a ridiculously heavy, wobbly touring bike.
Parking up at Southwold pier as strong winds gusted across the choppy ocean and sideways rain battered the seafront it was daunting to say the least. Dan Bradbury from World Land Trust, who braved the weather to come see me off, just looked at me with a face of disbelief which seemed to say "what on earth are you doing?".
I can't blame them. I was putting on a brave face and telling them it would be fine but my brain was thinking "this was a stupid idea, you can barely move the bike and you can hardly see the road!". In the end, good old British grit (madness) and determination (arrogance) won over and I set off on my way. After five hours and 70 kilometres of wind and rain, the light faded and a lovely chap called Pete in Happisburgh took pity on me and let me camp in his garden. I was soaking wet and cold but satisfied that I had completed my first day.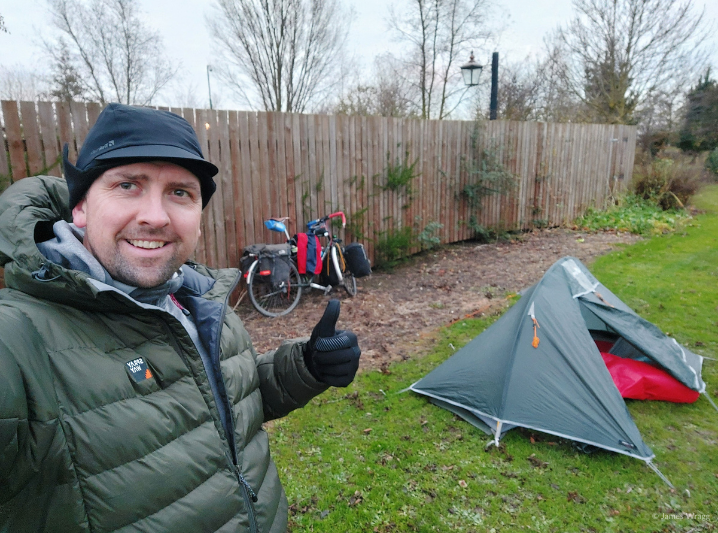 And so the scene was set for the next 40 days. Rain, hail, sleet, ice, gales, Storm Arwen, Storm Barra, all did their best to stand in my way, and they very nearly succeeded. It seemed as if the forces of nature had decided that whatever I did, they would go one further. If I put on a waterproof, it would just rain harder. If I was getting too warm and took off my jacket the heavens would open, and whichever way I was cycling, the wind would blow the other direction as if trying to send me back to Southwold. Soon though, this just became the norm.
Life on two wheels
As one day blended into the next, the daily routine was: eat, dress for a hurricane, load bike, cycle, eat, sleep, repeat. I'd love to say it was as simple as that, but it wasn't. I had serious work to do. As incredible as the experience was of cycling from town to town, day by day, the reality was that I was on a mission to help buy and protect a rainforest.
Through the duration of December I made my way north from Southwold in Suffolk, through Lincolnshire, Yorkshire, Northumberland, across the border into Scotland where I reached Kinross. This had taken three weeks, a full week longer than I was hoping. I had already seen freezing cold winds and flurries of snow and suffered a fall on icy roads.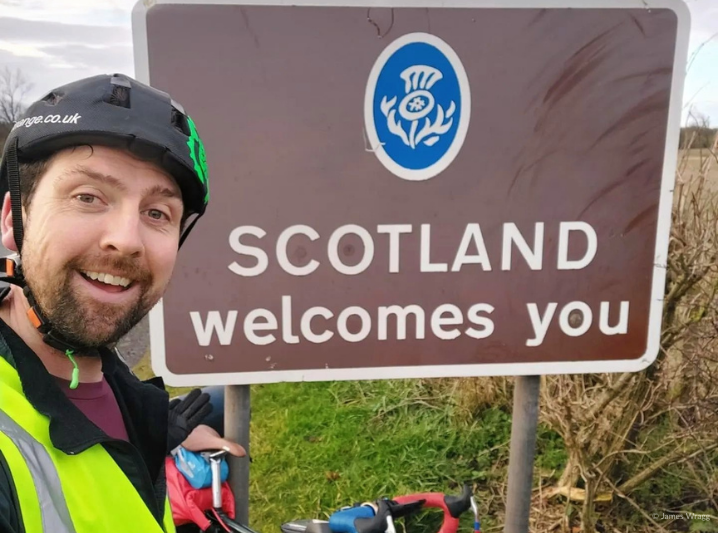 With the colder, Scottish winter ahead of me I was faced with a difficult decision. Should I head further North and risk getting snowed in and be unable to cycle on icy roads, or should I head West across the Forth and Clyde canal to Glasgow on the West coast and head South from there? I decided, reluctantly, to play it safe and head West. This was a huge disappointment as it meant I had to give up on the highlands, but it potentially meant I would be able to cycle for longer and further in the long run, which was by far the priority. What was the use in cycling north and getting snowed in if it ended my journey and therefore halted the fundraising?
Cycling for change: Supporters help give James much-needed pedal power
The further I cycled, the easier the decision-making became as my goal became clearer and the charity support grew. My phone would alert me to any incoming donations, every one of which was an instant injection of enthusiasm and pride.
In my head I pictured Laguna Grande as a large jigsaw puzzle with huge sections missing. Each donation was another piece of the puzzle being added. I could imagine the rainforest growing piece by piece the further I cycled. I think this, for me, is what made the World Land Trust such an obvious choice. Their ethos is so simple, to buy land which is under threat, protect it and all the biodiversity within it, forever. This is such a tangible method of protecting biodiversity and fighting back against climate change which everyone can relate to and do something about.
After crossing Scotland and making my way through the hills, including one day which saw me cycle 97km and over 1,060m of incline, I made it back into England. Getting a booster jab in Carlisle was an unexpected Christmas Eve event but this was rewarded with a rest day in a hotel for Christmas Day. The next two weeks would see me cycle south through the beautiful Lake District, the bright lights of Blackpool, the historic docklands of Liverpool, my family homeland on the Wirral peninsula and at last to the epic coastline of Wales.
Something that never failed to amaze me, mile after mile, was the ever-changing and unfathomable majesty of the Great British countryside. Rolling hills, towering mountains, snaking rivers and of course ruggedly beautiful coastlines. I never tired of seeing each day's new backdrop in its palette of wintry colours. It's easy to forget at times how our home landscape is such an organic masterpiece but this journey made no mistake in helping me remember.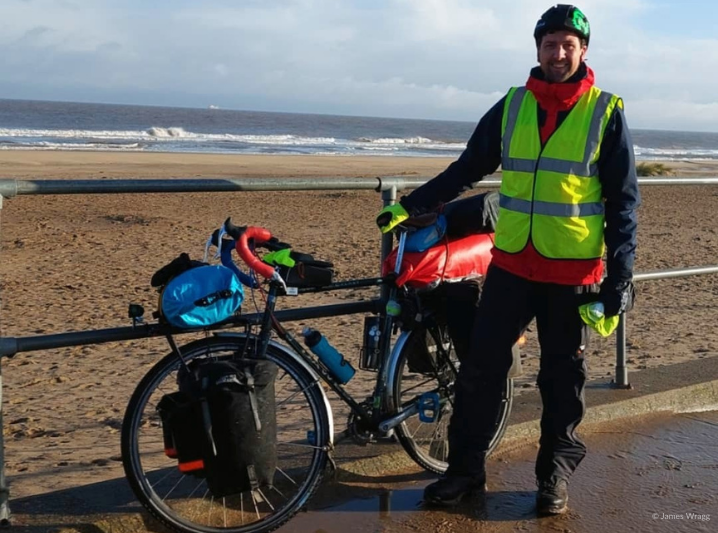 The ups and downs of solo cycling around the UK
It isn't hard to list all the things that made my adventure difficult. The weather, the time of year, the short hours of daylight, my inexperience and lack of cycle-touring knowledge, my knees wearing out and the arrival of a new COVID variant. Also, the on-going maintenance of The Noble Steed. As gruelling as some of these factors were, they were not to be my biggest challenge.
The hardest thing of all, by far, was being away from home. Being away from my wife and two young sons aged 9 and 5, my heart was torn between the passion for adventure and the love of my family. Wishing my eldest son a happy birthday over FaceTime, sharing Christmas through photos and phone calls and missing countless bedtime stories; all weighed heavy on my mind.
Looking back now I see every hardship as a success, a challenging milestone which I passed along the way. Facing headwinds so strong I couldn't roll my fully laden bike downhill in Norfolk. One of my panniers falling off as I hit a pothole on a busy, dark dual carriageway in Dumfries. My chain breaking as darkness fell in Hartlepool. Even the rain in Scarborough, so cold it froze as it hit the frame of my bike. I refused to let these obstacles stop me and for that I look back with pride.
As difficult as the low points were, the highs were too many to count.
Cycling across the immense Humber bridge after passing through Barton On Humber where my "Old (Great) Nanna" used to live. Seeing a full, bright rainbow over the ocean when reaching my first stretch of Scottish coastline. Waking up from a wild-camp to hear waves crashing against the shore at a beach near Skegness. Seeing the incredible Falkirk wheel in rotation on the Forth and Clyde canal.
Crossing the mighty Mersey by ferry from Liverpool to Birkenhead. Cycling into the sunrise beside the stunning mountains of the Lake District. Freewheeling downhill in the sunshine through one of my favourite valleys of Snowdonia. And how could I forget rolling up to the seafront at the end of my final day on January 5 to witness a wondrous murmuration of Starlings at sundown in Aberystwyth?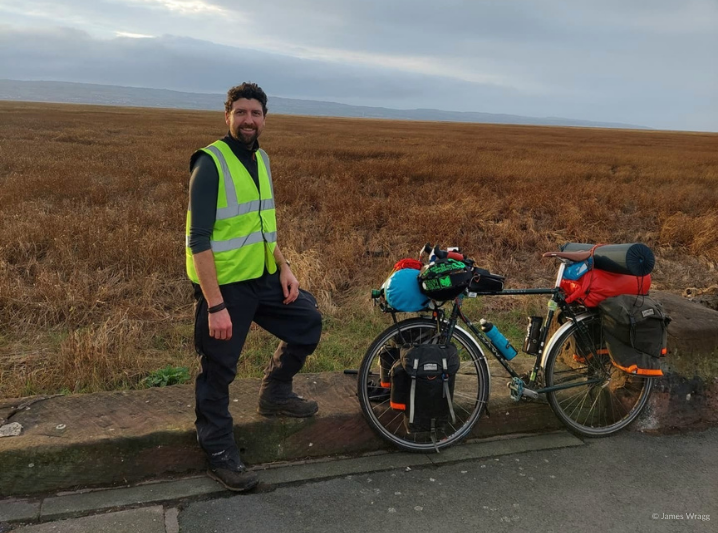 These unforgettable moments will be fond recollections of a time when I spent every day for six weeks pushing myself, seeing something different, meeting new people and making a positive change for something I firmly believed in. As for the hugs I received from my two boys when I got back home, that was worth every single moment of the journey.
Now, sat on my sofa as I type this, I have to ask myself, what have I learnt? I have certainly learnt to trust my instincts and go by feel. I've learnt that having an amazing plan isn't always a good thing and the best experiences always come out of the most unexpected places. I've learnt of the powerful strength of self-belief, the knowledge that you can achieve something, no matter how many things stand in your way. Most of all, I have learnt that the incredible, unwavering and unquestionable generosity of genuinely good people is something that took me by surprise and humbled me beyond anything I expected.
I owe a huge debt of gratitude to my amazing family, friends and colleagues who helped, encouraged and supported me on this journey. I also owe a giant thank you to everyone who fundraised, publicised and donated to help raise an incredible £8,339 for World Land Trust which protects over 67,000 square meters of rainforest.
So what's next for CycleForChange?
I certainly don't think I'll be leaving my family for six weeks again any time soon but I think there is certainly unfinished business for me on the UK coastline and the realisation that so many people were behind me has left me wondering if I owe something more to those who supported me. I'm also fully aware that there is a lot more threatened land out there in need of preservation and now that I know I can genuinely do something about it, what's to stop me?
For now, I have many bedtime stories to catch up on, most of which will be from books but one in particular from memory about a man, his bike and a rather silly but exciting idea.
James Wragg
James's journey is truly inspirational, and shows what we can do when we push on for nature. From all of us at WLT – thank you. Together we saved the home of 700+ species in Guatemala, and we couldn't have done it without you.
Feeling inspired? You too could become a conservation hero like James. Find out how you can set up your own challenge for WLT here – join a global movement to save land and species with us!