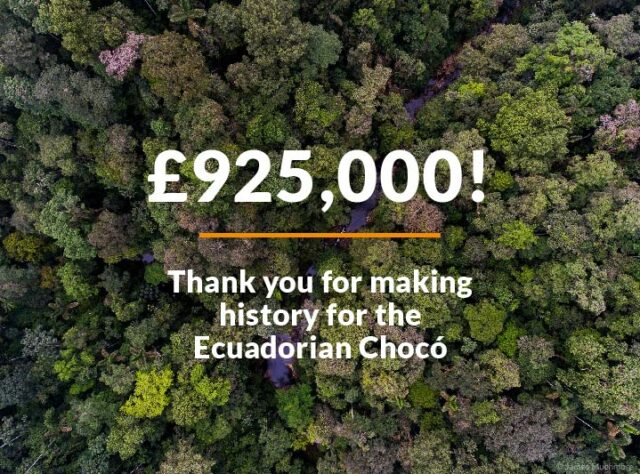 In one of the fastest Big Match Fortnight (BMF) appeals in World Land Trust (WLT) history, we are delighted to announce that our incredible supporters have raised an outstanding £925,000 to save a rainforest from an extinction cliff.
As we already announced in October, our 'Saving Ecuador's Chocó Forest' appeal got off to a stellar start back in October – taking only two weeks (1-14 October 2020) to reach its original £500,000 target as our BMF matchpot doubled a nonstop surge of donations.
And yet between 14 October 2020 and now, something even more incredible has happened. Following our decision to keep the appeal open past its initial target, the donations continued flooding in from committed individuals and organisations – a movement to make even more of a difference for one of the most biodiverse and threatened places in the world.
The final donations tally of £925,000 – a figure only reached by our annual BMF autumn appeal once before – means our campaign to save the Chocó has nearly doubled its target. It means that WLT will be able to send, based on today's exchange rates, more than one million US dollars for our partner Fundación Jocotoco (FJ) to purchase 4,843 acres (1,960 ha) of Ecuadorian Chocó rainforest – far beyond the 1,668 acres (675 ha) we had initially envisaged.
"The significance of the project is just huge," says Charlotte Beckham, WLT's Conservation Programmes Manager. "In the time I've been here I don't think we've ever had a land purchase project of this size that we have contributed to. What Fundación Jocotoco can now do thanks to our supporters is just so exciting – protecting such a threatened area with so many endangered species. It is fantastic to have had a chance to support a project of this scale – it ticks every box."
As FJ CEO Martin Schaefer tells us, "In just a few weeks, the World Land Trust team and all their supporters achieved a lasting legacy to preserve the last large tract of Chocó rainforest in Ecuador. Countless species, threatened by rampant deforestation, have found a last refuge here. Fundación Jocotoco will protect them in perpetuity. As the Chocó region is understudied, scientists will need a few years to understand just how valuable this last remaining Chocó tract really is for preserving global biodiversity."
Commitment of WLT supporters offers lifeline to shrinking natural wonder
Decades of logging have razed 98% of Ecuador's Chocó forest without many of us knowing. Now that we know about the last 2% still standing and FJ has the necessary funds, we can ensure the devastation ends – starting this year.
The 4,843 acres of WLT-funded purchases are part of the larger total forest area (57,000 acres/23,067 ha) FJ will be purchasing with help from other organisations; a global alliance to save the largest remaining tract of a rainforest at risk of further deforestation for conversion to oil palm plantations.
Logging is one of the main threats facing the Chocó, as deforestation strips away important habitats for wildlife. "If we didn't do anything now there's a real risk this land would be cleared completely and we just can't let that happen. It's such a huge area of continuous forest and we have to make sure it stays in place for future generations," said Charlotte, who worked closely with FJ for this project.
This purchase will extend FJ's Canandé Reserve and link it to other protected areas in the region. Canandé is a truly special place, teeming with biodiversity – it is the home of Jaguar, Harpy Eagle, Horned Marsupial Frog and the world's largest population of critically endangered Brown-headed Spider Monkey. Ecuador more broadly also boasts 1,600 bird species, 17% of the world's total, and 16,000 species of plants (25% of which are endemic.)
Canandé is also a place of exceptional cultural significance for indigenous communities. FJ have plans to employ more local people to provide them with a sustainable livelihood, ensuring they don't need to sell their land to logging companies for income.
Our supporters continue to astound us. Every donation, no matter how big or small, has made a monumental difference. A demonstration of how individual actions can collectively deliver an extraordinary impact on the world we live in. The WLT community has given Ecuador's Chocó rainforest a chance – a chance to save critically endangered species from an extinction cliff and start restoring a once-great forest to its former glory.
We are delighted to end 2020 with such good news, news that would not have been possible without the incredible generosity of our supporters. On behalf of all of us at WLT and the Fundación Jocotoco team, we would like to say a huge 'gracias' to everyone who supported this appeal and took it further than we ever thought possible.
The Chocó's journey has only just begun. This was a forest many people had not heard of until now but this year, they will hear of the movement that rose to save it. We cannot wait to bring you the latest stories fresh from the field – make sure you stay up-to-date by following us on Facebook, Twitter, Instagram, LinkedIn and YouTube.