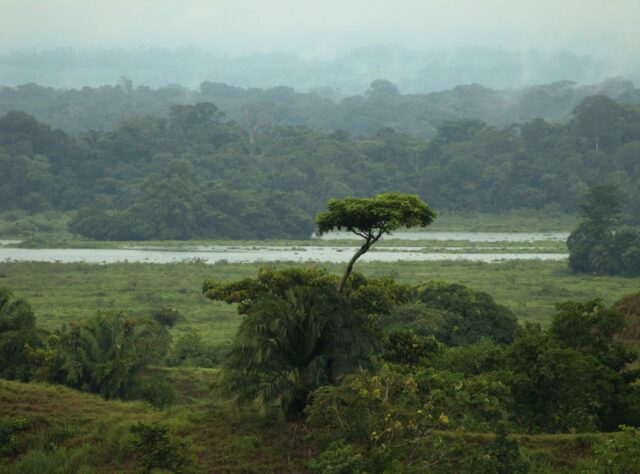 Thanks to your generosity and incredible support, Fundacion Biodiversa Colombia (FBC) will be able to protect more of the unique network of habitats in Barbacoas, middle-Magdalena Valley, home to many of Colombia's most threatened species, including Lowland Tapir, Brown Spider Monkey, West Indian Manatee and many bird species. Thank you from our partner, FBC , and all of us at World Land Trust (WLT) for making this happen.
WLT's appeal to help purchase 642 acres (260 hectares) of Barbacoas' Forests & Wetlands has reached its £295,000 target in just a few weeks. Funds will enable FBC to extend the El Silencio Natural Reserve, extending protection of this unique mosaic of habitats that safeguards many threatened species. As well as protecting land-dwelling animals, the Barbacoas wetlands are full of aquatic diversity and extremely important fish nurseries. The original forests still have large numbers of species of trees that have traditionally been highly prized in the timber trade, such as the threatened Spanish Cedar (Cedrela Odorata), the Colombian Mahogany (or Abarco) (Cariniana pyriformis), and the Big-leaf Mahogany (Swietenia macrophylla).
Fernando Arbeláez, President of FBC, thanks WLT supporters who have donated so generously, saying:
"We sincerely appreciate the support shown by individuals and companies who are helping us make our dreams come true. The tropical rainforest of Barbacoas is comparable to the Amazon in terms of endemism and number of species, as well as the migratory bird species that depend on it. Barbacoas' wetlands are the forest's natural partners and are now positioned as one of the most important wetland complexes in the Magdalena River basin. Thank you for recognising the importance of this little-known region."
Thank you to everyone who helped us reach our target from Puro Fairtrade Coffee who kickstarted the appeal, to Humble Bundle and King's Ely School who helped us to bring the appeal to a close.
Jonathan Barnard, CEO, adds, "We are grateful to individual and company supporters alike who donated and raised funds and awareness of the urgent need to save and protect this unspoiled landscape and its exceptional biodiversity. FBC have a wonderful track record of conservation projects, and under their management the Barbacoas wetlands and forests will flourish."
We are bowled over by the response to this appeal at a time when the future is uncertain. While we may be at a standstill in many countries, nature certainly is not, and we are heartened that, in spite of current difficulties, our supporters are still coming together to support our overseas partners.
Thank You!