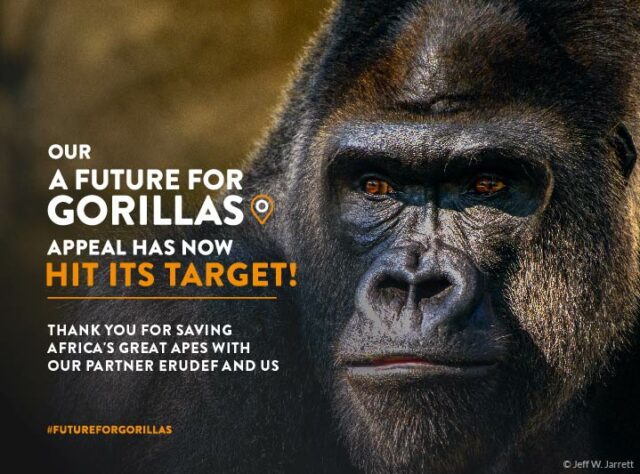 World Land Trust (WLT) would like to thank our incredible supporters for delivering yet another major conservation victory in 2020, with hundreds of people joining us to save Cameroon's great apes from a fate of genetic isolation and population collapse.
Propelled by a surge of donations from individuals and organisations, our 'A Future for Gorillas' campaign reached its initial £100,000 target as of early November, just weeks after fundraising formally had formally kicked off on 4 September 2020.
The phenomenal generosity of WLT supporters – only weeks after you succeeded in saving another critical habitat, the Chocó of Ecuador – hands our partner Environmental and Rural Development Foundation (ERuDeF) the resources to start creating a forest corridor in this area of eastern Cameroon, home to Western Lowland Gorilla, Chimpanzee, Elephant, Pangolin, Hippopotamus, Leopard and others.
Speaking for a new video (see above), ERuDeF staff including founder and CEO Louis Nkembi and Project Manager Gwendoline Angwa thanked WLT donors for acting to safeguard the tropical rainforests between the Deng Deng National Park and the Belabo Council Forest – an ecosystem packed with threatened species and encroached by rising poaching and logging activity as new human settlers arrive.
"We are immensely happy for your support providing a safer home to the Western Lowland Gorilla and other endangered species around the Deng Deng-Belabo Conservation Corridor – thank you," said Gwendoline, the ranger overseeing the corridor project; a sentiment echoed by ERuDeF colleagues including Amos Fang Zeh (Biodiversity Research Officer), Clarise Pih (Social Scientist) and many others.
The success in reaching WLT's £100,000 campaign target means the creation of the forest corridor can get underway in earnest, a three-year process all in all. It makes it possible for ERuDeF to continue consulting and empowering local people – discussions are already underway – so that they can decide which land they will cede for protection under the corridor, with plans to create a first (12,355 acres / 5,000 ha) and second (11,337 acres / 4,588 ha) community reserves.
Benefiting communities so that great ape conservation can win the day
Prior to the decisive intervention of WLT supporters this year, time was running out for the Western Lowland Gorilla all around the Deng Deng National Park.
The critically endangered subspecies needs urgent help across Africa: it already lost 19.4% of its continent-wide numbers from 2005 to 2013, fuelled by an Ebola outbreak in the early 2000s that wiped out 95% of infected individuals. For the 300 or so living in and around Deng Deng, the advance of loggers and poachers risked turning the national park into a genetic island, followed by irreversible decline.
Such a scenario now looks more distant than ever thanks to the supporters of the #FutureForGorillas appeal, according to WLT Project Manager Mary McEvoy. "The forest corridor ERuDeF can now start establishing will bring a protected passageway from Deng Deng to the south, a connection to the broader Congo Basin so that the Western Lowland Gorilla, Chimpanzee and all other species can continue reaching other populations and keep their numbers strong in the long run," she said.
As Mary noted, ERuDeF's community focus with the corridor means local people like the Kambokassi led by chief Simon Hamada will too benefit from the conservation work. "Our partner won't be purchasing properties but instead work through local people, who will decide through a fully participatory process which land they set aside for the corridor. In return, ERuDeF will help them produce management plans to generate sustainable, nature-friendly income from the forest itself – a win-win for people and conservation," she added.
As he thanked supporters of the appeal, WLT CEO Jonathan Barnard reflected on WLT patron Sir David Attenborough's gorilla encounter for his 1979 'Life on Earth' documentary; a meeting that inspired entire generations to care about great apes. "Thanks to you, this vision will now live on in Cameroon," Jonathan said. "Time and time again we hear that preventing extinctions is too big a task and yet time and time again WLT supporters show otherwise, delivering conservation wins all across the world."
This year, the generosity of WLT supporters has delivered the best possible news for the endangered great apes of Cameroon. Thanks to you, the completion of our #FutureForGorillas appeal means ERuDeF can now start protecting a forest corridor alongside local communities – a safer tomorrow for Deng Deng's Gorilla, Chimpanzee, Elephant, Pangolin and many others.
From our partner and us, thank you for giving a new future to humankind's closest relatives in the wild!