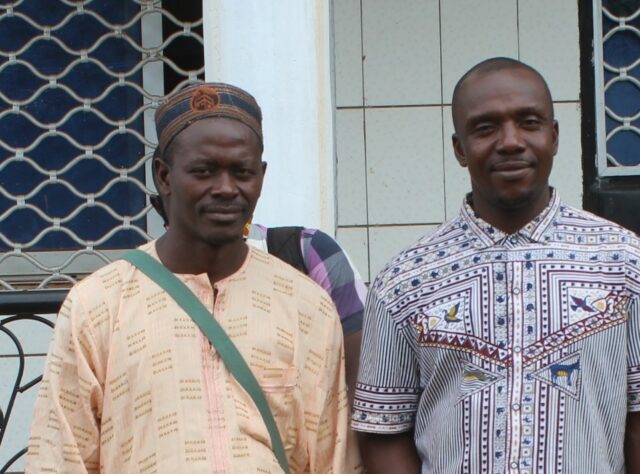 Communities' needs lie at the heart of the forest corridor our partner ERuDeF is trying to create in Cameroon, with support from your donations this month. Simon Hamada, chief of the Kambokassi village, shared with us his vision for a future where people and wildlife can peacefully coexist.
To those living in the Kambokassi village, the forest is everything.
Speaking alongside ERuDeF rangers and other members of the local community, village chief Simon Hamada talks at length about his community's attachment to the tropical forest: the main source of food and livelihood for the people of this settlement of eastern Cameroon, near the Deng Deng National Park.
Given Kambokassi's reliance on the surrounding ecosystems, it is a "big challenge" to ask villagers to turn away from a lifestyle they have depended on for so long, Simon points out. However, this is a challenge the village chief feels that conservationists can overcome, through a mix of awareness raising and ensuring that the protection of land improves local lives too in the long haul.
Benefitting communities is one the core principles behind ERuDeF's plan for a 23,693-acre forest corridor, a conservation bridge for Gorilla, Chimpanzee, Pangolin and many others to travel from Cameroon's Deng Deng National Park to the Belabo Council Forest to the south.
With this project – supported by WLT's #FutureForGorillas appeal – the clue lies in the very name. The first (12,355 acres) and second (11,337 acres) community reserves will not be purchased by ERuDeF but designated, instead, by local people; a fully participatory process where communities voluntarily set land aside for conservation purposes.
From a shift to nature-friendly livelihoods to support to local schools (see below), giving up land for conservation will entail benefits for the communities, a message ERuDeF has been busy spreading among the people all around the proposed corridor.
Earlier this year, a "village-by-village" tour succeeded in winning hearts and minds, ERuDeF reports. According to our partner, villagers decided to support the plans for a forest corridor after learning that unlike with logging firms, our project will seek no profit other than the wellbeing of the forest and the communities who call it home .
Unlocking a new future for communities to turn the page from 'rampant' logging
A glance at recent events leaves little doubt: for global conservation, it is critical that the Deng Deng-Belabo forest corridor becomes a reality, and that it does so quickly.
Monitoring by ERuDeF around the National Park has revealed signs of "rampant" illegal logging, agricultural expansion and the hunting of Pangolin and others for local meat markets. For critically endangered species like Deng Deng's estimated 300 Western Lowland Gorilla, a failure to stop deforestation could lead to entrapment in a forest island, followed by irreversible population collapse.
As Kambokassi village chief Simon notes, alternative livelihoods will be crucial for all communities to rally behind the protection of land. ERuDeF's plan is to offer all ethnic groups in the area – including the Kepere, Bobolis, Pols and Deng Deng – tailored strategies so that they can take up beekeeping, cattle rearing or any other similar activity of their choosing.
ERuDeF will also apply what it has learned about bolstering education through conservation projects, after decades sponsoring initiatives around women empowerment, environmental film-making and other similar projects. Our partner will support the community schools all around the proposed forest corridor, a long-term investment into one of Cameroon's most deprived areas.
The conversation with Simon Hamada is testament of the bond that persists between local communities and forest animals, despite the challenges. The village chief talks fondly of encounters with the local fauna at Kambokassi as he stresses that land protection will be necessary to ensure conservation succeeds.
"I remember a baboon that recently fled the forest and lived in the community for about five months," Simon explains. "Within that time, it didn't harm any villager and the people welcomed the animal like one of them. In their excitement, children sometimes preferred to give their food to the baboon rather than eating it themselves."
Our #FutureForGorillas appeal offers you the chance to improve the lives of great apes, but also local communities. The smallest contribution to our campaign will help deliver something major: a tomorrow where the protection of land allows people and wildlife to thrive, unlocking a better future for all.
This month, Cameroon's communities and great apes can start turning the page from deforestation and unsustainable living – but only if you add your voice to ours.
Donate today, do something huge for Cameroon's endangered great apes!