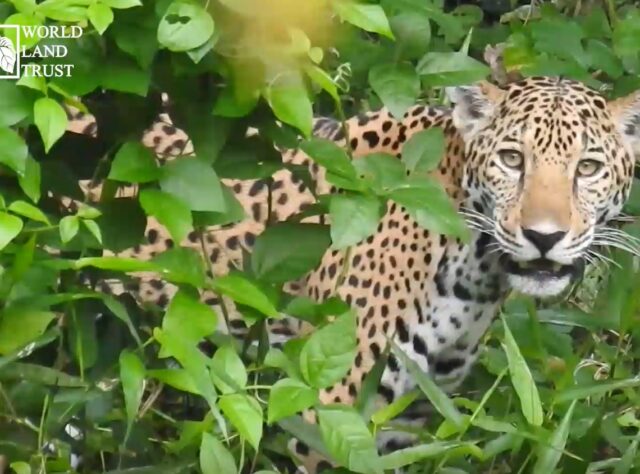 They roam the mountain valleys of the Caucasus, wander Africa's rainforests, soar over Andean peaks and slither along Mexico's cavern floors. They face threats everywhere they go, but when their home is saved their numbers bounce back, offering us a glimpse of the healthy, living natural world we could have. Millions of species are thought to live on Earth and on World Wildlife Day, we'd like to show you seven you are making a difference for – seven reasons why saving land matters.
These seven videos are just a selection of what you will find on our YouTube channel.
Follow this link to start watching, and share your favourites on social media by using the #WorldWildlifeDay hashtag!
---
Zambia: Action Fund protects site of world's largest mammal migration
The theme the UN has chosen for this year's World Wildlife Day ("Forests and Livelihoods: Sustaining People and Planet") echoes what we at World Land Trust (WLT) have seen over decades of conservation action. To save forests is to save the home of wildlife, as well as the basis of prosperity for hundreds of millions of people globally; and Straw-coloured Fruit Bats are living proof. By helping Kasanka Trust Ltd. expand the bats' home in Zambia – the Kasanka National Park – by 52,000+ acres last year, our Action Fund supporters were also preserving the location of the largest mammal migration anywhere on Earth. Featured recently in WLT patron Sir David Attenborough's A Perfect Planet documentary series – as you can read here – this natural spectacle helps local people through seed dispersal, pollination services and tourism revenue.
---
India: Cameras snap Bengal Tiger roaming through natural corridor
Connectivity is one of the biggest gifts WLT supporters have given to wildlife over the years: the space to roam and thrive, and the time to find a safer home as global temperatures continue to rise. Last year, this video from our partner Wildlife Trust of India (WTI) opened a gateway into one such natural bridge – the Thirunelli-Kudrakote Corridor. Everyone in this project of southern India did their bit: WLT supporters helped fund the new reserves, local people voluntarily relocated to make space for nature, while WTI rangers handled the management and protection of the corridor. This is what followed – a Bengal Tiger snapped by camera traps as it travelled the corridor, a new home for this Endangered species!
---
Ecuador: Condor Iguiñaro's recovery journey to soaring release
On a day that celebrates iconic wildlife, it's hard not to think back to Iguiñaro. Last year, footage of this male Andean Condor flying free once more in Ecuador captured our imagination. Initially taken in with a gunshot wound to the chest, Iguiñaro's journey to recovery in the hands of our partner Fundacion Jocotoco (FJ) and others culminated with a soaring moment: his release at the Chakana Reserve. The Andean Condor has the longest wingspan of any raptor in the world, and FJ rangers told us of the "hope and unity" they felt as they saw Iguiñaro stretch his wings, taking to the skies once more; a new chance for Ecuador's national bird, a symbol of the impact conservation makes for individual species.
---
Cameroon: WLT appeal supporters unlock corridor for endangered gorillas
Sometimes 20 seconds is all it takes to understand the difference you can make for nature, and as brief as it may be, this video encapsulates better than most the impact that WLT supporters made in 2020. Filmed by our partner ERuDeF late last year, the silverback Western Lowland Gorilla you see here is one of 300 Critically Endangered individuals in Cameroon's Deng Deng area; all safer from logging and poaching, thanks to the hundreds of people who donated last year to our 'A Future for Gorillas' campaign. Deforestation threatened to trap the gorillas and chimpanzees of this section of eastern Cameroon into a genetic island, but you intervened – and now ERuDeF can create a forest corridor.
---
Armenia: Double leopard sighting fuels conservation hopes
Looking for examples of exactly how impactful conservation action can be for endangered species? On World Wildlife Day, you needn't look further than Armenia's Caucasian Leopards. Fewer than 15 of these elusive cats are thought to be left in the country and yet as we recently wrote, two – including a possible female – were filmed in the space of a month at the Caucasus Wildlife Refuge managed by our Armenian partner FPWC. Rangers regard this double sighting as a "real hope" that leopard populations might recover in Armenia, and this was all thanks to our Action Fund supporters: it was your donations that made this success story possible, by funding expansions to the Refuge over the years.
---
Mexico: 'Possibly Extinct' salamander rediscovered at protected forest
For wildlife enthusiasts around the globe, it doesn't get better than helping save a species from the brink of extinction. That's exactly what WLT supporters have delivered in Mexico: years donating to fund new reserves by Grupo Ecológico Sierra Gorda (GESG) created a chance to rediscover the Big-footed Salamander – a species thought to be 'Possibly Extinct' before our partner spied it at a cave in Sierra Gorda in 2017. With metal band Nightwish joining the movement for these cloud forests, this exceptionally rare salamander – Mexico's 'forest daughter', as GESG has dubbed it – has been offered a new chance; and this video offers you a glimpse of it exploring its new, safer home.
---
Guatemala: Action Fund supporters team up to expand home of Jaguar
This wonderful video from our partner FUNDAECO comes with a story, and the story needs telling. For the Jaguar like the one you see here (filmed in Petén, Guatemala), impacts from human activities are nothing new. Farming, poaching, climate-driven droughts and wildfires – for long they have threatened the forest home of America's largest cat, and last year they combined with COVID-19's disruption to the local economy to bring more pressure to Jaguars. This is where our Action Fund comes in: supporters of our programme will be funding an expansion of FUNDAECO's Laguna Grande Sarstún Reserve – and this video will tell you, better than words ever could, how much that will mean for Guatemala's Jaguars.
---
Our partners, our staff, supporters like you – no two individuals nor businesses who are part of the WLT movement are alike, but all share the same passion: a healthy, living planet where wildlife can thrive. For World Wildlife Day, we wanted to show you the very species you've been making a difference for; the astounding life from Africa to the Americas, Asia and beyond that is safer thanks to you.
Our shared commitment for wildlife has taken us incredibly far, and the work continues in 2021 – it continues with you. In a world of unpredictable, ever-changing threats, your support of our Action Fund will always bring conservation action wherever and whenever it's most needed: a lifeline so that we never have to stop celebrating the wildlife footage coming through camera traps.
It's not too late to become wildlife's champion in its time of need – donate today!