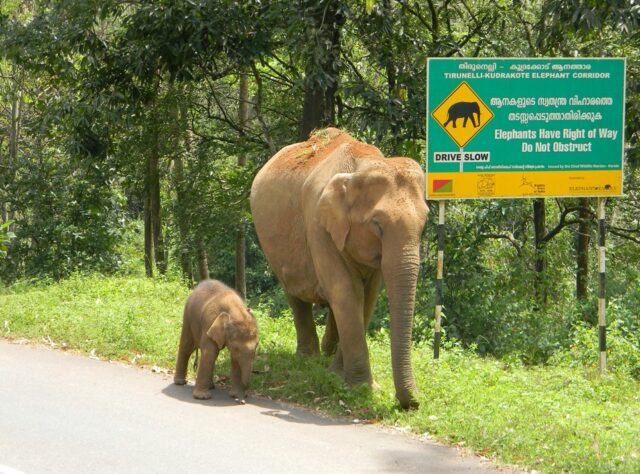 Wildlife populations and the local economy have both seen a boost just four years after WLT partner WTI created a forest corridor in India's Wayanad district, a natural bridge that has helped defuse human-elephant conflicts.
Increased elephant migration in the Tirunelli-Kudrakote corridor has unlocked conservation but also economic benefits, according to a report released by Wildlife Trust of India (WTI), a World Land Trust (WLT) partner of 17 years.
Asian Elephant – the flagship species of this incredible nature park – wander over hundreds of kilometres of land in matriarchal groups of six to seven related females, led by the eldest. The booming human population in India has restricted their populations to isolated pockets of land, and often sparked human-elephant conflicts.
Vivek Menon, Executive Director and CEO of WTI, explains that: "The elephant has always been considered an embodiment of strength, size and intelligence. It has been looked upon with mixed feelings of love, worship and fear". However, Vivek notes that humans often come into conflict with these gentle giants, which traipse into private land and crops as habitat degradation forces them to range further afield.
The delicate balance of land and locals in implementing corridors has to be addressed sensitively in projects such as this, and plans to purchase these precious acres between the Wayanad Wildlife Sanctuary and Brahmagiri Wildlife Sanctuary took a decade to process.
Fortunately, the dedication from WTI and other stakeholders (such as the Asian Nature Conservation Foundation) paid off as families and animals are continuing to thrive and coexist peacefully.
With support from WLT donors amongst others, WTI was able to purchase a total of 25.3 acres of land from 37 families, who voluntarily relocated based on their negotiations and agreements into alternate land with newly constructed homes in place of the thatched huts they previous occupied. The purchased land was handed over to the forest department to be categorised as part of the Wayanad Wildlife Sanctuary.
According to WTI's report, the report is proving a "lifeline" for hundreds of Asian elephants, granting in the process safe passage to a number of other species.
"We hear a lot in conservation about negativities but this project shows that you can create win-wins for both wildlife and for people. Congratulations to everyone for having had the vision and the tenacity and perseverance to see this through" said WLT's CEO, Jonathan Barnard.
This elephant corridor has demonstrated that both people and planet have won as not only have animals increased, but so have incomes. Local families have testified that they are no longer in conflict with the elephants – their annual income has grown due to increased crop safety, access to market facilities and a rise in jobs. In addition, the corridor project has also unlocked better roads, power lines and water facilities.
Wayanad Wildlife Sanctuary is a global biodiversity haven. Its damp, highly elevated forests are important refuges for elephant herds migrating from drier parts of the Nilgiri Reserve in search of food and water.
Just over 6,000 elephants pass through the corridor; the largest such population in the south of India. It is also home to 45 species of mammal – Bengal Tiger, Sambar deer, Sloth bear, Common Leopard, Asian Elephant, to name a few – but also 13 endemic bird species.
By connecting fragments of a forest, these corridors provide safe passage for all of these remarkable species. In March this year, WTI captured some exciting camera trap footage of the Bengal Tiger crossing the Thirunelli-Kudrakote corridor – highlighting once again the biological importance of this protected area.
WTI's success story with the Tirunelli-Kudrakote elephant corridor showcases the difference WLT supporters can make when they join forces with our partners. You can deliver similar conservation wins by supporting our Action Fund, a programme that allows you to intervene whenever urgent conservation action is needed.
Donate today, be the champion nature needs in its hour of need!