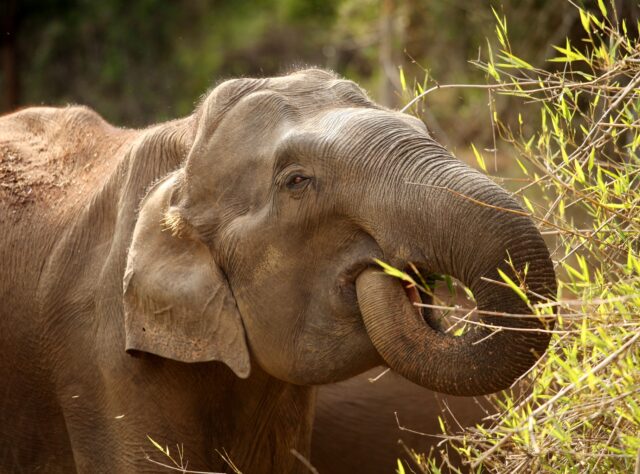 World Land Trust (WLT) and Wildlife Trust of India (WTI) have been saving land together in India's Garo Hills since 2003. Along with the local A'chik Mande people, we've helped to protect some 4,000 ha of land in a globally important biodiversity hotspot, connecting national parks and wildlife sanctuaries with community-owned reserves, creating what we call the Garo Green Spine.
Our latest appeal, Project Mongma Rama, will bring the Spine to near completion and secure vital habitat for the stunning biodiversity of the Garo Hills. With many species facing threats to their very existence, support for these imperilled animals is needed now more than ever – and you could be their saviour. Here's what your donations could bring to the vibrant life of Garo.
Connectivity for elephants
Over two decades, the Garo Green Spine project has already safeguarded a major
network of protected corridors for Asian Elephants in northeast India
– a legacy we're trying to build on this year, with your help.
This is a species that sorely needs the connectivity and scale this project can bring. The
IUCN estimates that worldwide Asian Elephant populations have already halved since
1945, and what numbers are left today are classified as Endangered and Decreasing.
India remains a global stronghold – 29,964 of the 48,323–51,680 Asian Elephants left in
the wild are thought to live within its borders – and Meghalaya State is a key location:
alone, the broader area Garo Hills sits in supports around 1,000 elephants.
Two factors explain why through this project, you will be helping to protect a
particularly impactful section of this elephant hotspot in northeast India. The first is the
still-excellent condition of the Garo Hills habitat: as our partner WTI reports, higher
elephant densities do not – yet – translate here into the sort of conflict that costs
hundreds of elephant and human lives elsewhere in Asia every year. At Garo Hills, the
forest cover remains such that human communities and wildlife species each have the
space they need; a harmony we're still in time to preserve.
Location is the second factor behind this project's impact. The IUCN lists corridor
protection among the top Asian Elephant conservation actions: connectivity means
safety for the female clans as they roam for food and shelter, and for the wandering
males that are so key to the species' long-term genetic diversity. This is precisely what
your donations will support: a corridor strategically placed to connect a network herds
can use to safely travel within this sector of Meghalaya State (from Nokrek National Park to Emangre Reserve Forest and onwards), just near the border between India and Bangladesh.
Habitat for India's big cats
As the IUCN notes, elephants' "umbrella species" nature means that safeguarding their vast roaming ranges will result in the protection of many other species, and so it has been for the big cats of Garo Hills. Over the decades, this conservation project has secured habitat for tree-climbing Clouded Leopards that have seen population declines of >30% across their entire range within three generations. The species is classified as Vulnerable and Decreasing; it is also crucial to the health of the ecosystems in which it is found. With your help, we can save more of its habitat for posterity.
Help for 85 mammal species
To push on with habitat protection now at Garo would also be crucial to more than 80 other mammal species, like the Chinese Pangolin, a resident and Critically Endangered species expected to witness worldwide population losses of 80% in a matter of decades.
Primates will be another key beneficiary if WTI succeeds in expanding this corridor network, and it's not just about the Western Hoolock Gibbon (see below). Vulnerable species from the black-and-orange Capped Langurs to brownish grey Northern Pig-tailed Macaques have seen population declines across their entire range, but at Garo they continue to enjoy abundant forest cover – for now.
"Habitat loss and fragmentation have seen the Western Hoolock Gibbon populations classified as Endangered and Decreasing in their already small range in India, Bangladesh and Myanmar. And yet they're still here at Garo Hills, and I can often hear their calls from my room in the village I live in. Together and with your help, this project can protect and connect an entire chain of forests for India's only ape."
– Rangku Sangma, Chief Forest Officer at the Garo Hills Autonomous District Council
The home of 206 bird species
The Garo Hills fall within a global hotspot for rarity-weighted richness of bird life. WTI has so far documented 206 species here. Your donations will help to protect swathes of the undisturbed large trees needed by the Great Hornbill, a Vulnerable species facing 30-49% population losses across its entire range within just decades. Through this project, you will also be safeguarding habitat for bird highlights such as the Crested Serpent Eagle – an apex predator that soars on broad, rounded wings and helps keep critter numbers in check – and smaller residents like Common Hoopoes, distinguished by their trademark zebra-striped wings and orange crests.
When fully funded, our Project Mongma Rama appeal will fill in one of the last missing gaps in the Garo Green Spine, securing an almost completely contiguous network of protected areas stretching 50 miles from east to west.
This next phase of the project will shield habitat from exploitation, allow for unhindered wildlife movement across the landscape, offer safety to vulnerable species threatened by the illegal wildlife trade, and help to reduce human-wildlife conflict. But that's not all.
Communities have been central to the Garo Green Spine since its inception, and Project Mongma Rama will be continuing this legacy. Check out our appeal page and keep an eye on our news section to find out how you can aid in transforming lives in one of India's poorest states.
The Garo Green Spine has shown that people and wildlife can coexist peacefully in the 21st century, but the project needs your help to expand – donate today to protect a new elephant corridor!