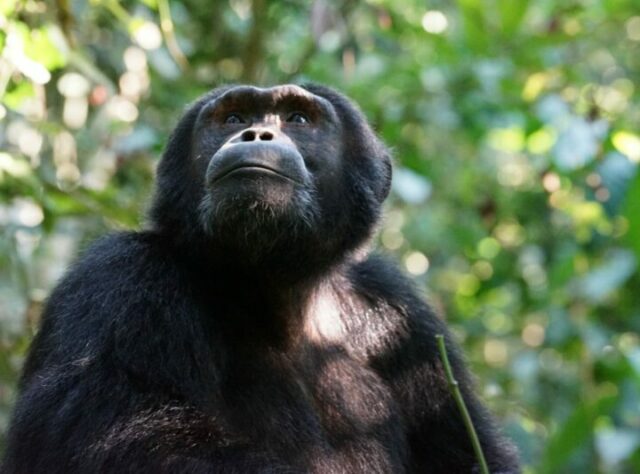 On International Primate Day, we are delighted to announce today an exciting development in World Land Trust's (WLT) story as we introduce a new partner, The Environmental Conservation Trust of Uganda (ECOTRUST), to our growing network of international conservation partners. Together, ECOTRUST and WLT will join forces to protect a corridor that is a last hope for Chimpanzees and others in an area of western Uganda – a lifeline for wildlife supported by our long-time backer Puro Coffee.
From mountains and swamps to rivers and rainforests, Uganda's once-unspoiled landscape has been hit hard by deforestation, with 63% of the country's forests lost between 1990 and 2015. Urgent action is needed, and this is where ECOTRUST steps in. Having worked since 1999, the team have 22 years' experience of standing up for Uganda's wildlife alongside local communities – and we at WLT are extremely excited to be working with ECOTRUST in the coming years.
As part of this new partnership, WLT and the ECOTRUST team will be implementing a project that aims to restore the first of multiple forest connectivity corridors between the two forest reserves of Bugoma and Budongo in the Murchison Landscape of western Uganda – a globally recognised biodiversity hotspot. The overall goal of the WLT-funded project is to safeguard a crucial 306 acres (124 ha) of this initial 123,553-acre (50,000 ha) corridor.
These corridors are a last hope for the area's wildlife – and what wildlife this is! The forests covered under the wider corridor project are the home of 52% of Africa's bird species; 39% of its mammal species; 19% of its amphibian species; 14% of its reptiles; and 14% of its plants. Given the astounding biodiversity at stake, forest protection is therefore absolutely crucial.
"This project is so important for WLT to support as it is a last-ditch attempt to connect habitats in Uganda for Chimpanzees and other species that cannot afford to have any more of their depleted habitat cut off and destroyed," says WLT Project Manager Mary McEvoy, who has worked closely with ECOTRUST around the launch of the three-year project. "I am so motivated to see this project deliver crucial conservation action between the Bugoma, Wambabya and Bugambe forest areas, and I am confident that our new partnership with ECOTRUST will help protect this biodiversity hotspot."
A 'crisis' for Chimpanzees in under-pressure biodiversity hotspot
ECOTRUST recognise that there is a severe biodiversity crisis in this area, especially for its flagship resident. Chimpanzees, a species so close to humans that we share 98.7% of our DNA with them, have been on the receiving end of habitat loss for far too long.
According to the IUCN, only 5,000 Eastern Chimpanzees are thought to be left across the whole of Uganda – putting them into the Endangered classification. In an area where natural forest has declined by more than 50% since 2011, the goal of the WLT corridor project is to put an end to deforestation and conserve a narrow corridor of moist, semi-deciduous tropical rainforest – a chance to maintain and improve genetic diversity for a species that cannot withstand high mortality levels.
Chimpanzees are not alone in the corridor that the ECOTRUST-WLT partnership will act to protect. This area is home to primates such as Blue Monkeys, Red-tailed Monkeys, Vervet Monkeys, Black and White Colobus Monkeys and Olive Baboons. Large African favourites also roam the wider area – African Elephant, Giraffe, Lion, Hippopotamus and Leopard – as well as more than 500 species of bird, including Uganda's national bird, the Grey-crowned Crane.
Creating climate-resilient communities in Uganda
And yet this new partnership is not just about biodiversity. In what is one of the poorest countries in the world, ECOTRUST combines conservation work with financial incentive programmes to support local communities in High Climate Risk Areas.
This is an approach – the involvement of local people and the use of the UN Sustainable Development Goals (SDGs) as the guiding compass – that ECOTRUST has been following since its foundation, and they will be putting it into practice once more with the WLT project.
Throughout the project's landscape are thousands of smallholders and farmers with pockets of land at risk of being bought by major sugar and oil companies. Aware of the threat, ECOTRUST has been using community engagement to spread the word about their environmental services incentive model, the first step towards fostering a network of sustainable farmers that are resilient to climate change.
Andy Orchard of Puro Fairtrade Coffee, a WLT corporate supporter and core funder of this project, describes the new partnership with ECOTRUST as a major milestone for Puro. "This project finalised reserves in all countries from which we source coffee. And whilst this chimp corridor closed that chapter, our story with WLT certainly continues to unfold. Supposedly we genetically parted with chimpanzees some 4 million years ago, but one might now question if humans lost something along the way, perhaps the awareness of the interconnected nature of nature," Andy says. "As we come to realise this once again, my hope is that reserves like this one in Uganda serve as a reminder of the beauty and wonder that can surround us."
The addition of a new organisation to our growing roster of conservation partners is always great news, and the partnership with ECOTRUST will allow us to accomplish something incredible.
We would also like to thank our long-term corporate partner, Puro Fairtrade Coffee, for supporting this project. The protection of corridors key to Chimpanzees and hundreds of other species will circle back to benefit Ugandan communities – laying the foundations of a more sustainable economy.
None of this work would be possible without WLT supporters and we can't wait to tell you about the breakthroughs delivered by the ECOTRUST project in the future. Make sure to sign up to our newsletter to stay up-to-date with WLT news and follow us on Facebook, Twitter, Instagram and LinkedIn for a daily dose of conservation optimism.