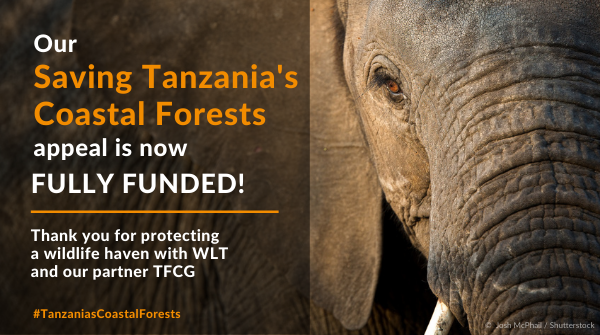 From all of us here at World Land Trust (WLT) and our partner Tanzania Forest Conservation Group (TFCG), thank you. Thank you for choosing to make a difference for a disappearing biodiversity hotspot – a precious part of the last 10% of East Africa's coastal forests has now been saved from destruction!
Our first appeal of 2021, 'Saving Tanzania's Coastal Forests', has raised a total of £400,000 in just five weeks – some way above the appeal's original £360,000 target and an incredible achievement made possible by WLT donors the world over.
At the end of March, we brought you the news that roads and commercial plantations were threatening the forests of Lindi District in southern Tanzania – the home of iconic species like the African Savanna Elephant, Lion, and Leopard as well as lesser-known specialists like the Rondo Dwarf Galago, one of the most endangered primates on Earth.
Thanks to you, TFCG can now start – in concert with Lindi District's communities – saving land from the cashew and sesame farms advancing all over the region. And because our appeal has exceeded its original £360,000 target, our partner is now in a position to deliver even more conservation action for coastal forests – even more impactful reserve patrolling, wildlife monitoring and research in a country where what's left of these habitats would fit within Greater London.
In the video below, Charles Meshack (TFCG Executive Director) and Lilian Santos (TFCG Project Officer) speak directly to WLT supporters from Tanzania, expressing their heartfelt gratitude for what we have achieved together.
"The funds that have been raised … will go to create new Village Land Forest Reserves," says Charles. "The reserves will connect one forest to another. These corridors are used by wildlife, especially elephants, lions and leopards. So we are very happy to say that we will be protecting the corridors for these unique species. Thank you very much."
With the funding now secured, TFCG will now be able to establish 10 Village Land Forest Reserves (VLFRs) around the Rondo Plateau – over 49,000 acres (20,000 ha) in all. Atop the plateau sits the Rondo Nature Reserve, which together with the surrounding forests forms part of a key migratory corridor for southern Tanzania's embattled elephant herds.
With other routes being blocked off and narrowed, and the African Savanna Elephant recently being uplisted from Vulnerable to Endangered, our appeal has been completed just in time to provide a lifeline to these majestic mammals, and help defuse human-wildlife conflict.
While the VLFRs will offer refuge for elephants as they range far across Tanzania and into Mozambique, there are plenty of other animals that would struggle to leave their forest home – and will greatly benefit from its protection. Leaf litter is prime habitat for the Chequered Elephant Shrew, while dense vegetation – which should increase markedly with TFCG's community-led forest restoration projects – will attract the elusive and migratory African Pitta.
Finding a balance between wildlife conservation and community enrichment is central to TFCG's ethos, and we are delighted that our appeal will now fund a three-year project that has its roots in community outreach that TFCG have been conducting since October. Land will remain in local hands: the 10 villages involved will decide the parameters of their own reserves and serve as their stewards.
Community-based forest management will be a cornerstone of the project – a sustainable livelihood alternative to the commercial farms that are destroying the forest in this area of Tanzania. Additional innovations like climate-smart agriculture, savings and loans associations, and village-run natural resource committees are now on the horizon, thanks to WLT supporters like you!
TFCG's project "promises to be truly transformative" for the communities of Lindi, says Mary McEvoy, WLT Project Manager. "What's more, the habitats saved by this appeal are among the most important remnants of coastal forest left in East Africa. Building connectivity between Rondo – a place renowned for its high levels of endemism – and the surrounding VLFRs will preserve the exceptional biodiversity found in this special corner of Tanzania."
The generosity of our supporters has once again proved the difference in a crucial conservation struggle. Unchecked deforestation in Lindi was a real possibility, but your decision to stand up for the natural world has secured 49,000+ acres of coastal forest for posterity!
The completion of our appeal will fund TFCG's work with local communities for years to come, as they work together to preserve feeding grounds, breeding grounds and migratory corridors for future generations of elephant, lion, leopard, and a host of other incredible species.
We would like to offer a final thank you from us, from TFCG and from all the Tanzanians you have helped to save land with. This latest chapter in the WLT story is one we can all be truly proud of!