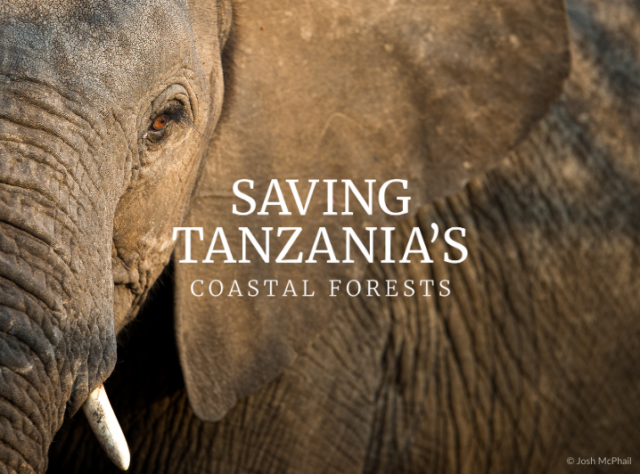 Eastern Africa has already lost 90% of its coastal forests and in Tanzania, what is left of these habitats could fit in Greater London. With help from your donations to our new appeal, we can protect part of a crucial wildlife corridor – a chance for us all to join Tanzanian people to keep deforestation at bay and give a lifeline to elephants, lions, leopards, endangered primates, spectacular birds and a bounty of endemic flora.
Far from the famous plains of the Serengeti lies one of Tanzania's little-known natural treasure troves. A tabletop mountain by the Indian Ocean, the Rondo Plateau is an ancient mosaic of forest fragments in the Lindi District, their isolation giving rise to unique biodiversity islands packed with endemic life that does not live anywhere else.
Our partner Tanzania Forest Conservation Group (TFCG) has a plan to protect this landscape by creating 10 new Village Land Forest Reserves (VLFRs), saving 49,000+ acres (20,000 ha) that are part of a crucial elephant corridor at a time when other routes are being blocked off. Here are some of the many reasons why its vitally important to protect this area – why this is a project that needs your help to succeed.
---
1. Why does it matter to save the coastal forests of Tanzania?
Watch our new video about Tanzania's coastal forests,
the incredible landscape you can help us save starting today.
The coastal forests of Eastern Africa once used to blanket nearly 300,000km2 all along the Indian Ocean, a colossal belt larger than the UK, all the way from Somalia to Mozambique. Today only a 29,000km2 or 10% is left, a remnant of hundreds of forest fragments not much bigger put together than Wales. What is left is astonishing in its biodiversity – the plant species in two forests just 100km apart can differ by as much as 80% – and brimming with flora scientists are still working to identify, with some species facing the risk of extinction.
---
2. Why does this specific section of coastal forests matter, and why now?
At 900 metres, the elevation of Tanzania's Rondo Plateau has shaped an incredible landscape on two levels: a moist microclimate of misty forests up on the tabletop, and river systems at the mountain's foot that are fed by springs trickling down the plateau's sandy slopes. Much lies at stake if we don't act now and help our partner TFCG create 10 reserves alongside local people: we could lose a forest home to specialist primates and chameleons that can only live in a handful of ecosystems like this, a water hub for elephant families and the hunting ground for Lion, African Leopard and others.
---
3. What happens if we don't act?
Back in 2016, scientific maps showed deforestation was already creeping all across Lindi District, with researchers warning that this risked the loss of the home of "biodiversity … that is exceptional by global standards." The problem hasn't gone away: Tanzania loses an estimated one million acres of forest every year – a slice of nature the size of Majorca island – and in Lindi District, cashew and sesame plantations are obliterating great swathes of forest after a new road was opened; a force that risks transforming an ecosystem where every tree matters into monoculture farmland.
---
4. How will this appeal help African Elephant populations?
For African Elephants, the future has never looked more uncertain. Just days ago, the IUCN's first ever dedicated analysis concluded that both species in the continent are now threatened with extinction. Savanna elephants – the variant our appeal will help protect – have been uplisted from Vulnerable to Endangered, following a 60% drop in their populations in the past 50 years.
These threats span the whole of Africa, and Tanzania's herds are no exception. To the country's southeast, research shows that key elephant routes are being "narrowed and blocked off" by roads and farms – making our partner's plan to protect part of a different, but also crucial corridor all the more important. "What we hear from the ground is conflict with humans is making the area's elephants act like hunted populations, hiding by day to move at night and never stay in one place for more than 12 hours," says TFCG Executive Director Charles Meshack. "Our goal is to protect this stretch of elephant corridor before it's too late – involving local people so that the plan works in the long run."
---
5. Why will saving these forests help protect Tanzania's big cats?

Nurture a healthy predator population, and a healthy ecosystem will follow. African Lion have already seen their continent-wide populations nearly halve over 25 years. All around the Rondo Plateau, they play a key role in managing crop-raiding African Bush Pig but have become a rare presence, with groups of more than three unusual in the area. And there is African Leopard to think of too – these big cats live and hunt in the area and need trees to store prey away from predators. With help from your donations, TFCG could bring a reprieve to this duo of iconic species.
---
6. How will TFCG's project help tiny forest specialists and bird migrants?
Our campaign offers a chance for you to help a trio of miniature specialists who are only adapted to life in moist microclimates like Rondo's: the Rondo Galago or Rondo Bushbaby – one of the world's most threatened primates – the elusive Chequered Elephant Shrew and the 8cm-sized Bearded Pygmy Chameleon. And there are birds at stake too: donations to our appeal will help safeguard the home of two long-distance migrants – the spectacular African Pitta and Spotted Ground Thrush – as well as Narina Trogon, Böhm's Bee-eater, Livingstone's Turaco and many others.
---
7. How will local communities benefit from this project?
"The people of the Rondo Plateau are at the core of this project", says Mary McEvoy, WLT Project Manager. "Each village will decide the parameters of their own reserve, while a village-run Natural Resource Committee will oversee sustainable community forest management. If we can count on your support, the villagers will look forward to innovations like climate-smart agriculture, as well as savings and loans associations that will improve local livelihoods."
---
Africa has already lost 90% of a little-known global biodiversity hotspot but in 2021, we have a chance to help save some of the last 10% – if you join us.  
This year, our 'Saving Tanzania's Coastal Forests' appeal gives you a chance to protect a wildlife corridor crucial to embattled elephants whose routes are being blocked elsewhere – joining local people to together stop deforestation from reaching coastal forest fragments home to lion and leopard, endangered primates, spectacular birds and over a hundred endemic plant species.
Follow this link to donate today – help our partner TFCG keep large-scale plantations away from the incredible life of Tanzania!