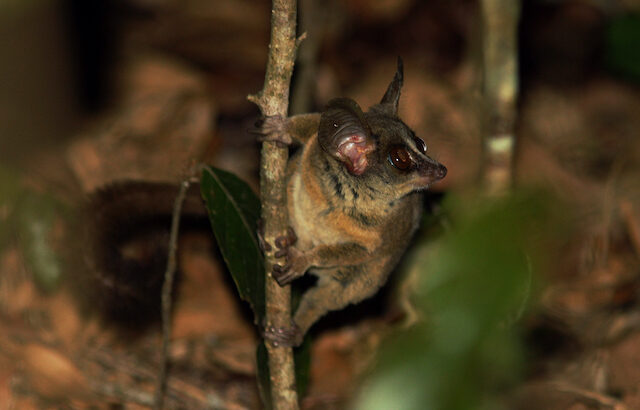 The elevation and isolation of Tanzania's Rondo plateau has shaped a landscape of misty forest fragments packed with endemic, little-known life. This week, we'd like you to meet three miniature specialists you can make a difference for through our 'Saving Tanzania's Coastal Forests' appeal. We're starting with the endangered Rondo Bush Baby – a beleaguered primate that is only found in a handful of habitats like this in Tanzania.
For the Rondo Bushbaby (also known as Rondo Dwarf Galago) of Tanzania, the new plan of our partner Tanzania Forest Conservation Group (TFCG) could not come soon enough.
With help from donations to our new campaign, TFCG will create a colossal protective belt of 49,000+ acres (20,000 ha) all around the Rondo Forest Reserve – a buffer zone of 10 new reserves to fortify one of the last remaining homes in Tanzania for one of the world's most endangered primates.
Primatologist Andrew Perkin has spent years following the trail of the Rondo Bushbaby, with many a night spent recording their sounds and movements in Tanzania's coastal forests. He describes a deep connection between a singular habitat near the Indian Ocean and one of its most unique inhabitants.
The sound of an endangered primate: Play this recording to hear the call of Rondo Galago in Tanzania coastal forests. Credit: Andrew Perkins.
Having visited the Rondo Plateau in the past, Andrew remembers a landscape on two levels. Below, at the base of the plateau, a hub of springs and ponds that is frequented by elephants, butterflies and local people. Above, on the upper reaches of tabletop mountains 900 metres high, a "relic" of misty forests – made possible by the moist microclimate of ocean clouds drawn to Rondo's elevation.
It is here that Rondo Bushbaby lives, and its reliance on ecosystems like these has scientists "perplexed", Andy explains. While other Galago species are more tolerant and adaptive, the Rondo Bushbaby's entire distribution range falls short of 30,000 acres or 120 km2, half the size of Birmingham. These primates have only been confirmed at 10 locations – 10 coastal forest fragments so unlike one another that plant species just 100km apart can differ by as much as 80%.
As Andrew explains, those visiting these forests and hoping for a Rondo Bushbaby sighting will find them extremely elusive. If Galagos are generally some of the smallest primates on Earth, Rondo's are the tiniest of all Galagos, sporting a weight of 60g – the same as a tennis ball – and the size (12.3-13.7cm) of a very small squirrel.
Someone lucky enough to see a Rondo Bushbaby might identify them by their bottlebrush-shaped tail, a trait that sets them apart within the Galago group. Walking slowly through the forest at night, the visitor to Rondo might spot the reflected eyeshine of these primates as they leave their daytime sleeping nests above the forest floor, going off to feed on a mixed diet of insects, small reptiles and dried fruit.
"They have this habit of following army ant trails from above and jumping from their perch to catch any fleeing insects and if I'm lucky, over a 10-day period I might spot one that is concentrating on an ant column so intensely so as to ignore me," Andrew explains. "But Rondo Galago is something you're more likely to hear than to see – the buzzing, the twittering, as well as the alarm calls when a predator is coming closer."
For the Rondo Bushbaby, this intense dependence on small and diminishing fragments of intact, rich evergreen coastal forest in Tanzania has seen their populations shrink as deforestation picked up steam in Tanzania – earning them an Endangered classification by the International Union for Conservation of Nature (IUCN).
And if every tree and every forest fragment matters for this species, those straddling the Rondo Plateau are particularly essential. As Andrew explains, Rondo's importance for the Galago is – with the exception of the Zaraninge Forest much further north – unrivalled. This is the landscape that inspired the name of this endangered primate species, a sanctuary you can protect against deforestation by supporting WLT's new appeal.
The Rondo Bushbaby's bond with Tanzania's coastal forests makes its fate intertwined with that of its home habitat – if one is saved, then so will be the other.
A distribution range of only ten confirmed locations makes these Galago primates uniquely vulnerable to deforestation, and your intervention will be decisive. By supporting our 'Saving Tanzania's Coastal Forests' campaign, you'll be supporting a plan to protect a 49,000-plus-acre buffer belt all around one of its last viable homes: the Rondo Forest Reserve.
Donate today, help our partner TFCG give a new chance to one of the world's most endangered primates!