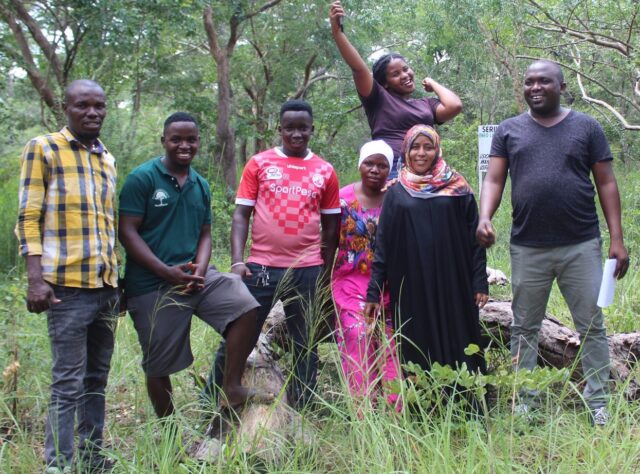 When our Saving Tanzania's Coastal Forests appeal soared past its £360,000 target in just five weeks, it wasn't just flora and fauna that were assured of a better tomorrow. Alongside lions at risk of local extinction and plant species found nowhere else, the people of Lindi District are now celebrating the completion of a remarkable fundraising campaign that promises to bring their communities a whole host of benefits.
Supporters of World Land Trust (WLT) have now raised an astonishing £400,000 that will bring official protection to 49,000+ acres of coastal forest around the Rondo Plateau, located in southern Tanzania's Lindi District. Spread across 10 reserves, each one overseen by a local village, this protected land will now be safe from the expanding cashew and sesame plantations that once threatened to replace the forests that both people and wildlife depend upon here.
Funds from the appeal will allow our partner Tanzania Forest Conservation Group (TFCG) to work alongside the 10 village communities, incentivising conservation every step of the way. Community-based forest management and sustainable agriculture will offer an alternative to destructive commercial farming. Livelihoods will also be further improved through the establishment of locally run natural resource committees and savings and loans associations.
WLT are now pleased to bring you a selection of interviews from the field – a direct window into the people whose lives you've touched with your support for Tanzania's coastal forests. You'll meet village residents and government workers who will share their experiences of living in Lindi; you'll hear first-hand wildlife encounters and see the benefits that forest conservation has already brought to the region. Enjoy!
Mwajuma Mohamed Milanzi is a resident of Ntene Village. Mwajuma remembers a time before the arrival of TFCG – before she learnt how to utilise the forest sustainably.
James Andrew Kimanga is a government Game Officer in Mtama, Lindi District. Responsible for the safety of both people and wildlife, James is grateful for the conservation actions that can now be put into place thanks to WLT supporters.
Hamishi Chalimbi Chilumba is a resident of Ntene Village. TFCG asked Hamishi to describe two of his most memorable wildlife sightings – both of which are known for their impressive teeth.
Swaumu Sambal is the Assistant Forest Officer in Mtama. Swaumu is looking forward to continuing the conservation education she has been conducting in villages supported by our appeal.
Teuo Omary is chair of the Natural Resources Committee in Mihima Village. In her position, Teuo has seen how sustainable forest management can help her community.
We hope that the voices of Lindi have given you a glimpse of the future you've helped to create for the region's inhabitants. What is happening here in southern Tanzania is what WLT works for across the globe: coexistence between people and wildlife, and sustainable livelihoods that don't cost the Earth.
Your donations will now have a direct and positive impact on the lives of people like Hamishi, Mwajuma and Teuo. Appeal funds will soon be fostering new livelihoods in villages like Ntene and Mihima, while for James and Swaumu, they know that the communities they serve can now incorporate conservation even further into their lives.
All this couldn't have been achieved without the intervention of WLT donors – you saw the threats facing Tanzania's coastal forests, and you chose to make a difference. On behalf of TFCG and every Tanzanian who will benefit from this appeal, thank you!