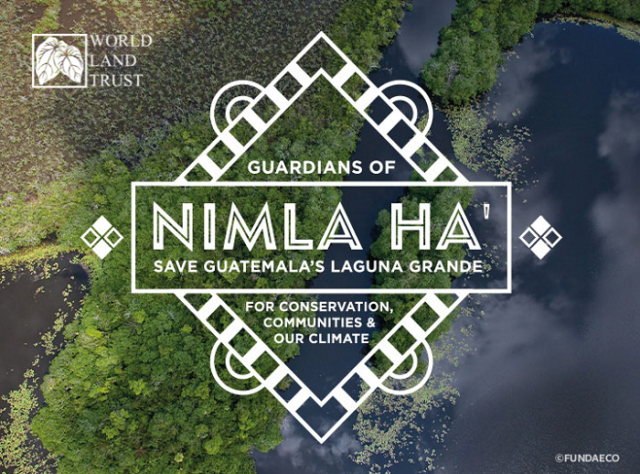 Our Big Match Fortnight (BMF) is finally here! Today, we are launching our 14 days of doubled donations and we can finally reveal the incredible place our autumn appeal will be saving. Today, we are calling on people like you from all over the world to join what is the most ambitious campaign in World Land Trust (WLT) history – your chance to save a pristine landscape of Caribbean Guatemala.
Imagine a magnificent network of forested lagoons, wetlands and mangroves; still standing in an area that has lost 80% of lowland forest to logging. Imagine you could be a guardian of this tropical landscape home to hundreds of species – that you had the power to save it for future generations.
That is precisely what you will be doing if you support our new Guardians of Nimla Ha' appeal. Fuelled by the doubling of your donations by BMF between 6 and 19 October (both dates included), our campaign will fund the protection of the forests all around the nimla ha' – the 'great waters' in the Mayan Q'eqchi' language of local communities – of Laguna Grande, a lagoon by Guatemala's Caribbean coast.
Our appeal target of £1,200,000, the largest we have ever set since our foundation in 1989, will fund an equally major conservation victory: it will allow our partner FUNDAECO to triple their Laguna Grande Reserve from 1,668 acres (675 hectares) to almost 5,000 acres (2023 hectares). There are countless reasons why this is a landscape that needs your help – and here are just the main ones:
Reason 1: This is a last-of-its-kind landscape in Caribbean Guatemala
Donations to our Guardians of Nimla Ha' appeal will protect the entire forested landscape around the lagoon itself, which as you can see in our video lies just some miles off the Caribbean coast. 
Asked about Laguna Grande, FUNDAECO staff who know the landscape well describe a "paradise"; a near-pristine chain of ecosystems that has managed to stay practically free of human intervention against the odds. In an area like Caribbean Guatemala, where 80% of lowland forest has already been destroyed, the exception that is Laguna Grande urgently needs new defenders if it is to survive intact. With timber extraction, cattle ranching and monoculture plantations all on the rise, FUNDAECO tells us that a sale of tropical forests to logging firms is likely if we do not act.
Reason 2: Your power to save it as a WLT supporter goes further than you think
If the threats facing this tropical paradise are significant, so is your power to make a difference. WLT supporters already funded the creation of the Laguna Grande Reserve in 2009 and this year, your donations to our Guardians of Nimla Ha' appeal – doubled by our generous BMF matchpot contributors – will fund the purchase of two of the three properties you see on the map above. If we secure funds for these two, a private donor has pledged funding for the third – a chance for you to make an even greater impact at no extra cost to yourself!
Reason 3: To save Laguna Grande is to save the home of 700+ species
The tripling of Laguna Grande Reserve will provide protection to the lagoon's entire edge for the first time, sheltering Caribbean Guatemala's most crucial nursing and breeding location for West Indian Manatee. And yet it's not just about this Vulnerable species – this landscape is the home of 700+ species, from wildcats like Ocelot or Jaguar, to Endangered primates like the Yucatán Black Howler Monkey and Central American Spider Monkey, along with other species such as the White-lipped Peccary and the Red-eyed Tree Frog.
Reason 4: This is your chance to protect habitat for hundreds of bird species
This is also a haven for bird life and the numbers are dazzling. Of the ~800 bird species found all across Guatemala, Laguna Grande has recorded sightings of 357 – including 100+ migratory species that stop by or winter here after travelling every year. Permanent residents include the Black Solitary Eagle, Ornate Hawk-eagle, Northern Mealy Parrot, Great Curassow and Keel-billed Motmot.
Reason 5: Your donations will bring vast climate benefits in the year of COP26
From forests (or kich'e in Mayan Q'eqchi') to the lagoon itself (pumpukil ha') and mangroves (x'manki ha'), Laguna Grande's many and rich landscapes are a major ally at a time of climate crisis. For Guatemala's climate-vulnerable local communities, this landscape of great waters helps mitigate incoming storms and floods and purifies drinking water. For everyone on Earth, Laguna Grande delivers benefits in the form of carbon dioxide sequestered within forests and the blue carbon potential – superior to that of forests themselves – of mangroves and seagrass meadows.
The home of 700+ species, a major carbon sink, a hurricane barrier for Guatemalans – this year you can help to protect all and for the next two weeks, our Big Match Fortnight will ensure your donations go twice as far.
Created in 2009, the Laguna Grande Reserve has already delivered over a decade of benefits for conservation, climate and communities. Now, by joining us and the Mayan Q'eqchi' people, you too can become a guardian of nimla ha' and ensure that land is protected all around these great waters for the benefit of all.