£1,370,000+ RAISED!
THANKS FOR MAKING HISTORY WITH WLT
Today, we at WLT want every individual and organisation who supported our Guardians of Nimla Ha' appeal to look at that figure (£1,370,000), and grasp the significance of what you have achieved.
Because you donated, our partner FUNDAECO can now save thousands of acres at Guatemala's Laguna Grande, protecting the Caribbean home of 700+ species.
Manatees, Ocelots, Endangered monkeys, 357 bird species like the Ornate Hawk-Eagle – all will benefit as the Laguna Grande Reserve triples from 1,668 to almost 5,000 acres.
In the year of COP26, you made history. You allowed us to raise the most ambitious appeal in our 30+ years of existence, saving forests, mangroves and more for our global climate.
From all of us at WLT, thank you. Together we are big enough to take on the climate and biodiversity crises!
Saving a last-of-its-kind landscape before it's too late
The Laguna Grande Reserve has already delivered over a decade of benefits for conservation, climate and communities. Our partner FUNDAECO has managed this protected area since it was created, with help from WLT, in 2009. The interconnected river, lagoon, wetlands, mangroves, tropical forests and seagrass meadows support hundreds of species, while also helping to mitigate the effects of climate change and natural disasters.
Asked about Laguna Grande, FUNDAECO staff who know the landscape well describe a "paradise", a near-pristine chain of ecosystems that has managed to stay practically free of human intervention against the odds. In an area with only 20% of lowland forest left and with logging and ranching all on the rise, the exception that is Laguna Grande urgently needs new guardians if it is to survive intact. Three properties in the area are likely to be sold for timber extraction but FUNDAECO can save them this year – if you join us.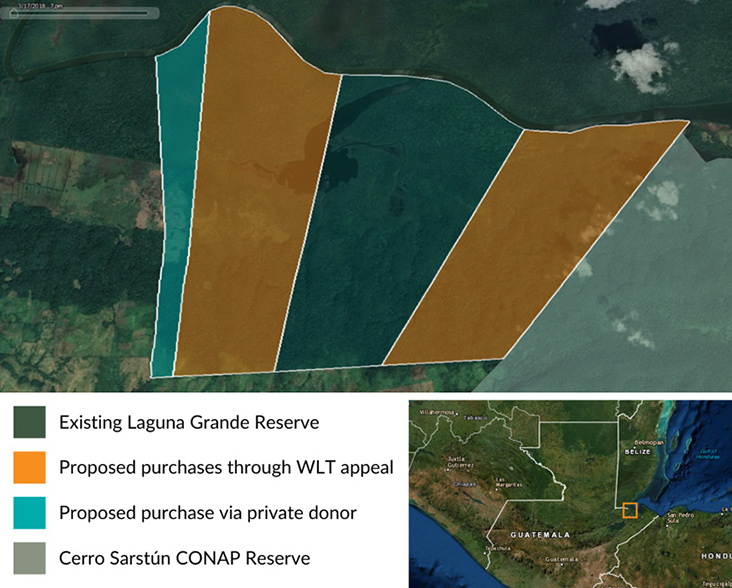 Expansion and connection: What your donations will achieve
If the conservation threats facing Caribbean Guatemala are considerable, so is your power to make a difference as a WLT supporter.
Your donations to our £1,200,000 Guardians of Nimla Ha' appeal will fund FUNDAECO's tripling of the Laguna Grande Reserve, from 1,668 acres (675 ha) to almost 5,000 acres (2,023 ha). Our partner will do this by purchasing three privately owned properties. If you help us fund two of these purchases, a private donor has pledged funding for the third.
Together, these properties will provide protection to the lagoon's entire edge for the first time, while also linking the Laguna Grande Reserve to the 5,125-acre (2,075 ha) Cerro Sarstún CONAP Reserve – a protected passageway for wildlife to move between the two protected areas.
The 700+ species you can save habitat for
Laguna Grande harbours over 700 animal species, including 127 mammals, 71 reptiles, 35 amphibians, and – incredibly – more than 350 birds. Here are some highlights of the staggering life whose habitats you can save from destructive logging, plantation and cattle ranching activities by supporting our appeal:
LAND
Laguna Grande's species list includes wildcats like the Ocelot, Puma, Jaguar and Margay. The lagoon itself is integral to the health of forests that support two Endangered primates – the Yucatán Black Howler Monkey and Central American Spider Monkey – as well as White-lipped Peccary and the Red-eyed Tree Frog.
WATER
Laguna Grande is the most important breeding and nursing area for the region's West Indian Manatees, a Vulnerable species with a low reproductive rate. The nimla ha' of the reserve also supports healthy populations of Neotropical Otter (Near Threatened) and American Crocodile (Vulnerable).
AIR
As part of a key biological corridor for migratory birds, more than 100 species stop over in Laguna Grande throughout the year. The 200+ permanent residents include the Black Solitary Eagle, Ornate Hawk-eagle, Northern Mealy Parrot, Great Curassow and Keel-billed Motmot. There are also over 30 species of bat present.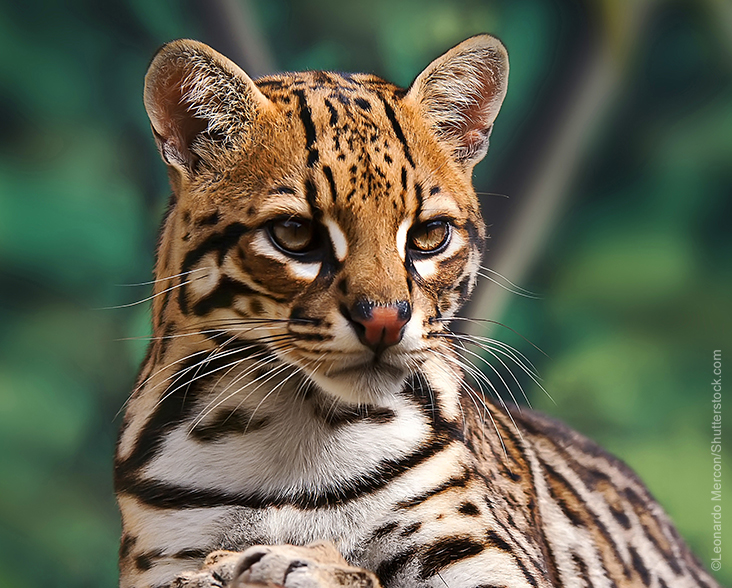 Protecting a climate ally in the year of COP26
The waters and landscapes of Laguna Grande provide for both people and wildlife – but that's not all. These diverse habitats are also major allies at a time of climate crisis, sequestering the carbon dioxide that is warming our atmosphere. They also have the power to save lives here in Caribbean Guatemala, one of the poorest regions of a country prone to erratic weather patterns and extreme weather events, like the two devastating hurricanes that struck last year in quick succession. Read on to find out how habitats are helping threatened species, the global climate, and the Q'eqchi'.
Meet the Q'eqchi': The guardians you'll be saving land with
Marta Tiul Cabnal grew up close to Laguna Grande, along the Sarstún River. A member of the local Maya Q'eqchi community, she first started volunteering for FUNDAECO's 'Healthy Women and Girls Programme' in 2015 and is now a community worker for the organisation. For her, keeping Laguna Grande intact means saving a way of life for her people – and these are her words on how WLT supporters like you can help:
"For us at FUNDAECO, protecting this landscape is about so much more than conservation. Among the communities we've worked with, many of them have created ecotourism infrastructure, women's groups, craft workshops and agroforestry initiatives. With help from donations we've been operating health clinics for girls and women in particular, as to care for Mother Nature begins with caring for ourselves and our own bodies as women.

To WLT supporters I'd say – if you help us protect Laguna Grande you will support this circle where conservation and communities go hand in hand. Our ancestors used to observe a ritual known as mayejak, where permission would be asked every time a tree was cut or crops were planted. That's something communities continue to practice because we know the forest and animals do not belong to us – if we take, we have to ask first. That's the bond that we can protect this year at Laguna Grande, with your help!"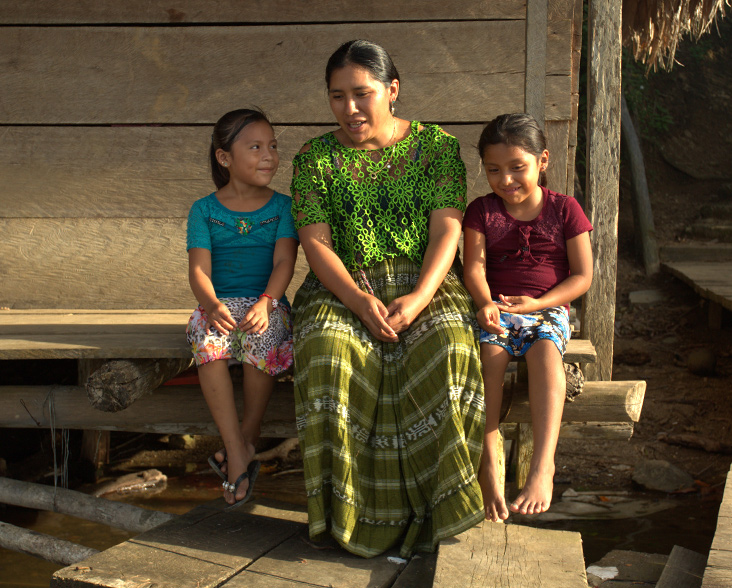 LAGUNA GRANDE'S HABITATS: IN THE WORDS OF THE MAYA Q'EQCHI' PEOPLE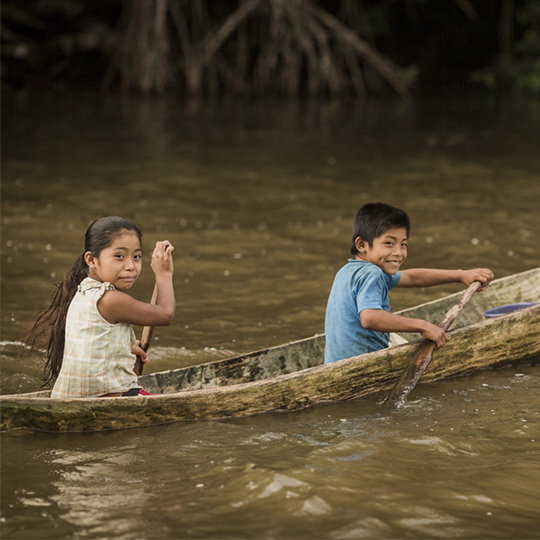 Pumpukil ha'
The Laguna Grande lagoon is home to three different species of seagrass, an integral part of the local manatee diet. Designated as a Fishery Restoration Zone, the waters here contain 94 fish species, many of which sustain fishermen and their families. The lagoon's seagrass meadows can store more carbon per unit area than terrestrial forests – the so-called "blue carbon" that is so important in our fight against climate change.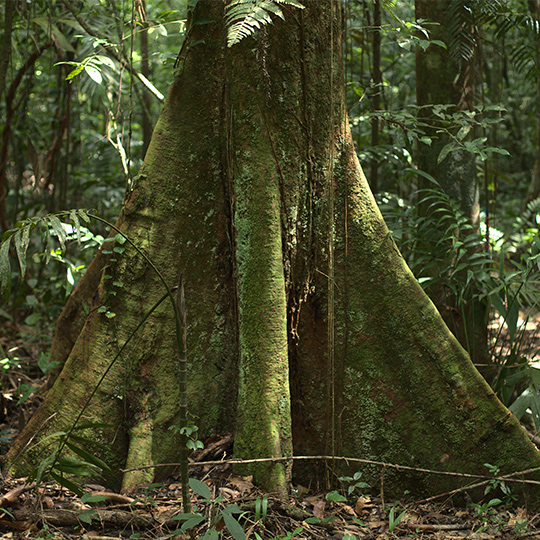 Kich'e
The tropical forests of Laguna Grande are home to much of the reserve's wildlife. It is here where the Q'eqchi' sustainably harvest building materials and food crops. Standing forests capture carbon, while their root systems make soils more stable. If we allow the trees of Laguna Grande to be cut down, sequestered carbon will be released into the atmosphere, and the risk of flooding, erosion and landslides will increase.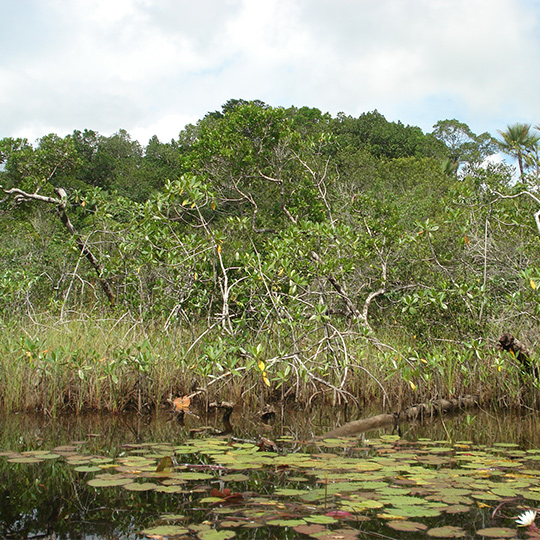 Xmanki ha'
Growing along the shores of Laguna Grande and on Guatemala's coast, mangroves play an especially crucial role in mitigating the effects of natural disasters like hurricanes, acting as a first line of defence against strong winds and tidal surges. The trees' submerged roots are also an important nursing area for many aquatic species, as well as a shelter where manatees rest as they migrate into the lagoon from the Caribbean coast. Mangroves, like seagrass meadows, are capable of sequestering blue carbon.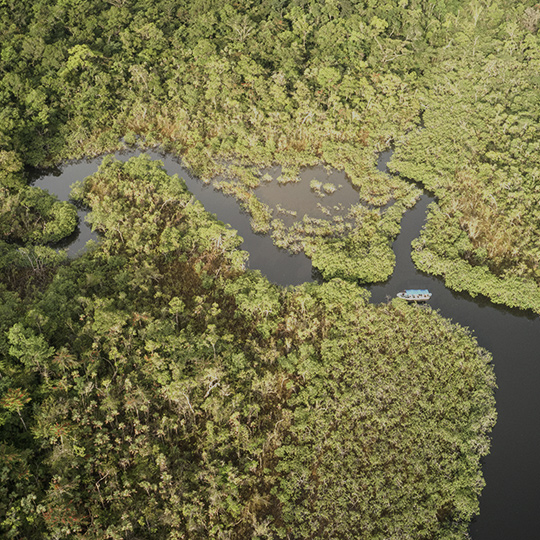 Saab'
Water that reaches Laguna Grande's surrounding wetlands is not released straight away, allowing time for a natural filtration and sedimentation process to occur that can remove harmful agrochemicals and other pollutants. It is this for this reason that FUNDAECO staff refer to wetlands as "nature's kidneys". Like mangroves, wetlands are also an effective carbon sink and flood barrier.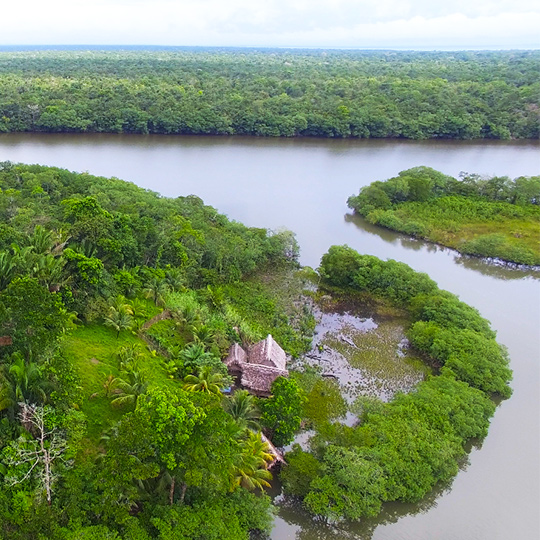 Roqui' ha'
The water first purified within Laguna Grande's wetlands eventually flows to streams and the Río Sarstún, a river and water source for wildlife and people. This river, which finds its terminus in the Caribbean Sea, also carries important nutrients that sustain a variety of organisms living at various points in the regional ecosystem chain, like turtles and coastal mangroves.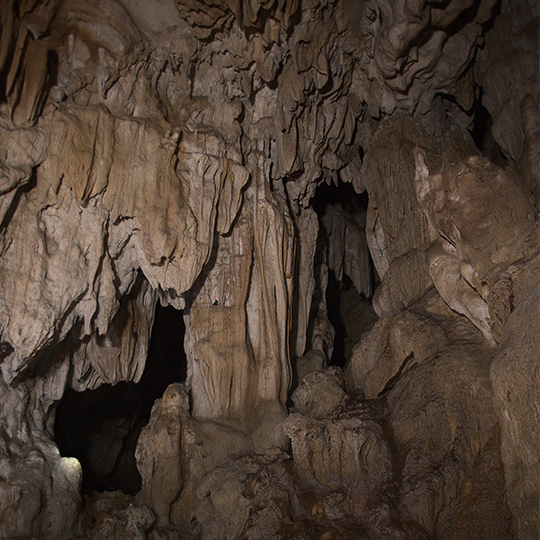 Tzuul
The karst caves within the mountains and hills of the Laguna Grande area are not only crucial habitat for bat and amphibian species, but also culturally significant sites for the Maya Q'eqchi' people. Every year, these communities enter neighbouring caves to hold a ritual where permission is asked for the annual harvesting of crops.