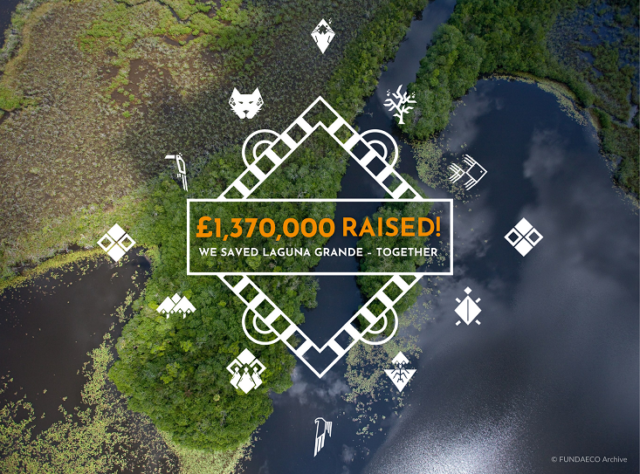 1,370,000+. Today, we at World Land Trust (WLT) want every supporter of our Guardians of Nimla Ha' appeal to look at that figure, and grasp the significance of what you have achieved. In the year when climate change and mass extinctions felt bigger than ever, you formed a movement for nature with scale to match that of any planetary challenge. In the year of COP26, you made history – allowing us to raise the most ambitious appeal in our 30+ years of existence. Thanks to you, our partner FUNDAECO can now save Guatemala's Laguna Grande for posterity.
This was the highest fundraising goal WLT has ever set, and our supporters responded with incredible generosity. After two weeks of Big Match Fortnight (4-19 October 2021), our Guardians of Nimla Ha' appeal had raised 33% of its £1,200,000 target, rising to 43% in the days following the end of the fortnight.
Donations continued to flow as the calendar turned to November and COP26, a summit that placed the global spotlight both on the climate crisis and the habitats the world needs if we are to stand a chance of preventing the ever more disastrous impacts of climate change; habitats like Laguna Grande in Caribbean Guatemala. By the time COP26 delegates started leaving Glasgow on 13 November, the donations counter stood close to the 90% mark – and a few weeks is all it took from that point for the appeal to raise the remaining 10%, and then surge ahead to surpass £1,370,000.
An incredible achievement made possible by the generosity of WLT supporters, exceeding our target surpassed our expectations for what already was our largest ever appeal. The raising of an additional £170,000+ means that WLT funds that we had used to underwrite this project can now be released – unlocking new support for other vital conservation projects with our partners.
To get a sense of the conservation turning point brought about by WLT supporters, it's worth revisiting what we've just saved together. Our partner FUNDAECO describes Laguna Grande as a "paradise"; a network of forests, wetlands, mangroves and more set all around a tropical lagoon that has managed, against the odds, to stay practically free of human intervention. With timber extraction, cattle ranching and plantations all on the rise, a sale of these habitats to logging firms was likely.
Not on WLT supporters' watch! Caribbean Guatemala has already lost 80% of its lowland forests but because you acted, Laguna Grande will not go the same way. Thanks to your donations, our partner FUNDAECO will be able to triple their existing Laguna Grande Reserve from 1,668 acres (675 hectares) to almost 5,000 acres (2,023 hectares). The safeguarding of thousands of acres will bring protection to the entire edge of the lagoon itself, a historic first for this landscape of Guatemala.
If our appeal target seems like a large sum, this is an amount that will fund an equally major victory against biodiversity loss. By helping to save Laguna Grande, WLT supporters have saved the home of 700+ species; Caribbean Guatemala's most important breeding and nursing ground for West Indian Manatees; habitat for 357 of Guatemala's ~800 recorded bird species, including 100+ migratory species; Endangered primates like the Yucatán Black Howler Monkey; and more.
"So much was at stake at Laguna Grande but thanks to WLT supporters, we can protect it in perpetuity," says Marco Cerezo, CEO at FUNDAECO. "We want to thank the thousands of individual donors who made this possible, as well as the corporate sponsors of WLT that have helped us to secure the necessary funds to expand the Laguna Grande Reserve, and create one of the largest and most beautiful natural protected spaces in Central America and Guatemala."
The power of local people saving land in the year of COP26
The COP26 summit placed the global spotlight on a single, defining question: How do we save ourselves from environmental breakdown? How do we do it in a way that works with communities?
Projects like FUNDAECO's saving of Laguna Grande shine a light on a possible way forward. Scientists have pointed at land protection as one of the most powerful approaches to fighting – and adapting to – climate change and for the Maya Q'eqchi' people and all others who have lived in Caribbean Guatemala for generations, the protection of Laguna Grande funded by our appeal will save habitats that act as a flood barrier, a natural water filter and shield against rising sea levels.
And yet the benefits will extend beyond Caribbean Guatemala, in a protective circle that will stretch out to encompass every living being on this planet. Made possible by donations from WLT supporters, FUNDAECO's safeguarding of thousands of acres this year will save tropical forests packed with carbon as well as mangroves, wetlands and seagrass meadows whose blue-carbon potential is even greater – keeping these warming gases away from the atmosphere for posterity.
If the benefits from a protected Laguna Grande will be felt globally, they will be steered by local people. The expanded reserve will remain owned and protected by FUNDAECO. In one of Guatemala's poorest areas, our partner – an organisation that has spent 30+ years safeguarding biodiversity and fostering sustainable development in the country – will continue to provide green jobs and support local women and girls through health clinics, scholarships and others.
"I'd like to thank, with all my heart, the people who supported and joined this appeal to protect and expand the Laguna Grande Reserve," said Maya Q'eqchi' community worker Marta Tiul Cabnal, Gender and Social Participation Regional Assistant at FUNDAECO. "This landscape is an irreplaceable part of the climate balance of Caribbean Guatemala and the protection of iconic, extinction-facing flora and fauna species. To protect it means that future generations can enjoy this too."
---
Climate change and mass extinction might seem too big to tackle but when we join forces, we form a movement for nature that is big enough to fight back – and so it has proven with Laguna Grande, because of WLT supporters.
Today, WLT and our partner FUNDAECO would like to extend a massive thank-you to every individual and every organisation who donated to our Guardians of Nimla Ha' appeal:
…our Patron Steve Backshall, the Rewriting Extinction initiative, 721Challenge's Nick Hollis and James Wragg…
…the generous contributors of our Big Match Fortnight matchpot, the World Sustainability Awards…
…our composer Sarah Class, who generously donated her Resonate single to act as our appeal soundtrack…
…our dedicated fundraisers Andy Langley, Jim Kimber, Jen Wells, Daniel Almazán, Emily Welsted…
…and every single other appeal supporter who answered our call for the life of Guatemala.
In the year of COP26, you didn't allow the scale of climate change and biodiversity loss to hold you back. By acting, you joined countless others in a global alliance that saved thousands of acres – becoming guardians, all of you, of a tropical paradise in Caribbean Guatemala.
Together we are big enough to make a difference for the planet, together we can aim high – and Laguna Grande is testament to that. Thanks for making it possible!