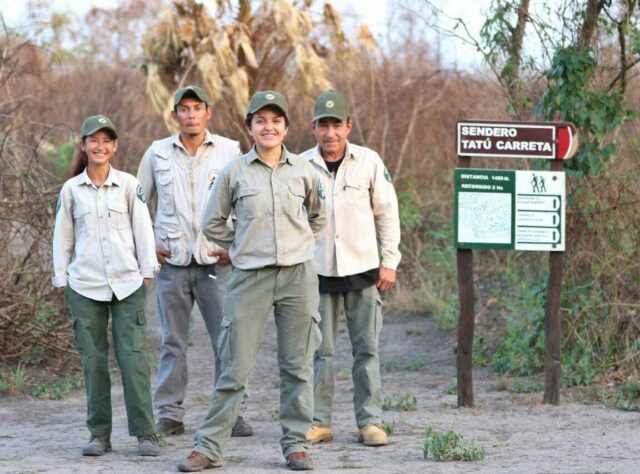 All the conservation work that World Land Trust (WLT) supports around the globe boils down to people, and this week we're celebrating two very special groups: the Keepers of the Wild who guard nature in its hour of need, and the donors who fund these critical rangers. Days away from World Ranger Day (31 July 2021), WLT would like to thank every business and every individual who supports our Keepers of the Wild programme – and here are the stories of a few.
Today, we are celebrating standout supporters like Planet Buddies, a young brand which decided to throw its weight behind our Keepers of the Wild programme only months after foundation.
Launched in September 2020, the UK-based company creates environmentally conscious accessories that teach children about threatened animals around the world. In January 2021, Planet Buddies announced that all of their products would directly fund the protection of biodiversity. Since that day, product lines featuring aquatic species like the 'Noah the Whale' headphones have supported the Marine Conservation Society (MCS), while proceeds from land-based counterparts like the 'Olive the Owl' Bluetooth Speaker have funded the enlisting of new Keepers of the Wild through WLT.
Funded by the WLT programme, these rangers play a crucial role in the reserves owned and protected by WLT partners. They are men and women from all walks of life who act as champions not just for wildlife – patrolling reserves, checking camera traps, fighting fires – but also for communities, using birdwatching tours, art projects and other outreach events to inspire local people to care for the natural world. "That's what convinced us to support the Keepers of the Wild programme," says Adam Bailey, Marketing Director at Planet Buddies. "This story of people making a real difference for the world struck a big chord for us."
"We're deeply honoured to have formed this partnership with WLT and to be supporting the conservation work of rangers at a particularly tough time for everyone," Adam goes on to add. "For us the focus on conservation and species was such a good fit. Planet Buddies came about because of our belief in children. In a way they are the rangers of the future: the ones who will be here, the ones who will make a difference."
Complete with the MCS and WLT logos, the conservation message of Planet Buddies will fly worldwide – on the wings of the company's products – as the brand expands. As Adam points out, every company can do their bit too by making sustainability the guiding compass every step of the way. "To other brands I'd say it's the many little things that add to a collective piece. Rethink every element of your products or services: is it really needed, is it really worth the carbon footprint?" he says. "Great things come from small beginnings. Stripping back really resonates with society right now."
---
Hunter: Wellington boots for guardians of nature in Borneo
Between the wildfire season and pandemic chaos, our partners' Keepers of the Wild have been treading tough ground in recent years – but thanks to Hunter, they will be equipped like never before to plough on as they protect the life of Malaysian Borneo.
The long-established British outdoor lifestyle brand already supports WLT via the Carbon Balancing of their emissions and the planting of 1,000 trees per year in the Kinabatangan Floodplain. Now they will be donating 100 pairs of their iconic Original Wellington boots to the staff of our in-country partner HUTAN, including conservation rangers and the 10-strong team of tree-planting women. In addition, Hunter will help to fund the annual salary of HUTAN ranger Berjaya Elahan through sales of their FSC-certified 'Protect Our Forests' Boot, launching in August.
Travel Cats Media: Bringing a Keeper to the home of Jaguar in Argentina
Another World Ranger Day shoutout goes to Travel Cats Media, a travel and photography business run by husband-and-wife duo Laurence and Jessica Norah. Their business showcases the best the planet has to offer – through travel blogs and an online travel photography course – while also helping to protect the natural world.
Their major annual donations to Keepers of the Wild have funded Fundación Biodiversidad-Argentina ranger Karu Vallejos for two years now. Karu works in the Yungas forest reserve of El Pantanoso, which forms part of Argentina's largest uninterrupted Jaguar habitat. This is in addition to Travel Cats Media's support of our Buy an Acre programme and Laurence and Jessica's annual personal support of our Carbon Balanced programme!
---
In these tricky times for people and planet, our partners' Keepers of the Wild are keeping nature safe – and their achievements would not be possible without those who support our programme.
As World Ranger Day approaches, WLT would like to thank Planet Buddies, Hunter, Travel Cats Media, and every other corporate and individual supporter of Keepers of the Wild. Thanks to you, nature has champions to guard it at a time of climate-driven wildfires and relentless deforestation.
This is work that other WLT supporters can be a part of too. If you'd like to support our rangers individually or through your business, donate or reach out and we'll help you every step of the way!