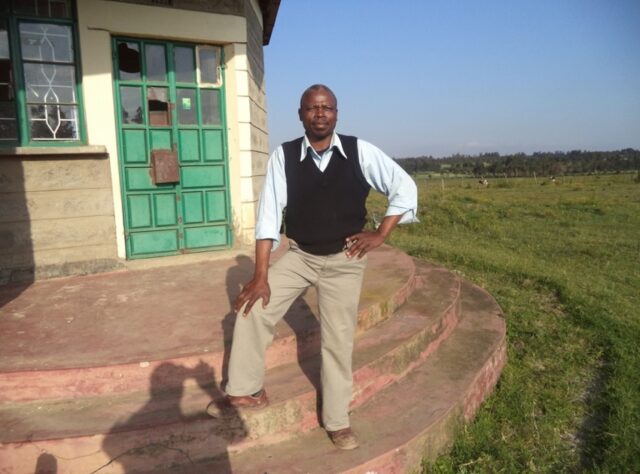 Connecting with nature is at the heart of Nature Kenya's conservation work, and today we would like to showcase our partner's tireless Keepers of the Wild who continue to do just that through local outreach initiatives.
Nature Kenya's two Keepers – Andrew Mwangi Waweru in Kinangop Nature Reserve and Tonny Mwamodenyi in Taita Hills – are funded through donations to our programme, to ensure they can continue to protect their nature reserves and engage local communities in conservation action.
Andrew's work in the Kinangop Grasslands – 190,200 acres (77,000 hectares) of tussock grassland in the Kinangop Plateau of Kenya's Central Province – sees him protect crucial habitat for specialist bird species, such as the endangered Sharpe's Longclaw (pictured below.)
Meanwhile, at the Taita Hills range towards Kenya's southeast, Tonny and his fellow rangers have been hard at work restoring nature. Over just 10 days last November, 5,000 seedlings of African Cherry and other native trees were planted by a contingent of people across some of the most degraded ecosystems within the mountain range.
Workshops and days out to inspire conservation action within the community
As crucial as it is, conservation action is not the sole focus of Andrew's and Tonny's day-to-day work. Like any other WLT-funded Keeper, the Nature Kenya rangers act as a link with communities – inspiring local people to care for and support conservation efforts.
For Andrew, community involvement is one of the many highlights of life as a ranger, as it allows him to spread the joy of environmental causes among local people. Last August, for instance, he helped host a school outreach workshop to identify birds within the water ponds around the Kinangop Resource Centre. In December 2020, Andrew followed by training local community members to monitor birds in the area, a crucial step for conservation of key species.
"The capacity development workshops on bird monitoring help encourage the children early enough to streamline their attitudes and thinking towards environmental conservation," says Andrew. "Pupils who participated in similar conservation programmes in Kinangop ended up pursuing environmental conservation courses in their education through to university level."
"That's why in Kinangop there are many environmental scientists, tour guides, ornithologists and environmental experts who serve in various organisations, including BirdLife International and Kipeto Energy Project, for example. They also support the community in various ways towards sustenance of environmental conservation actions in the area," the Keeper of the Wild adds.
The children spent the day identifying a number of birds, including the amazing Augur Buzzard, the beautiful yellow-feathered Speke's Weaver, the striking Superb Starling, and the Red-knobbed Coot, among other bird species with dwindling populations. After this was done, they went back to the Resource Centre to write down what they had seen, with Andrew showing the children how to tell graminivores and insectivores apart by their bills and feet.
Over in Kenya's Msidunyi forest in the south-east, Tonny has also been working on community engagement initiatives in the Taita Hills area – home to the critically endangered Taita Apalis, one of the world's rarest birds. In recent months, Tonny has encouraged people near the reserves to try their hand at fruit tree grafting and plant nursery management, to promote sustainable livelihood options and forest conservation action in the mountain range.
Supporters of our Keepers of the Wild programme ensure that rangers like Andrew and Tonny are fully funded and equipped to do their all-important conservation work. Whether it is fighting fires, monitoring wildlife, deterring poachers or inspiring local communities

–

they are incredibly dedicated to protecting nature reserves.
WLT's Keepers of the Wild are crucial to WLT's conservation partners, who might otherwise struggle to keep their reserves protected. You can help fund rangers by donating to our programme here.
If you would like to donate to Keepers of the Wild, please click on the button below