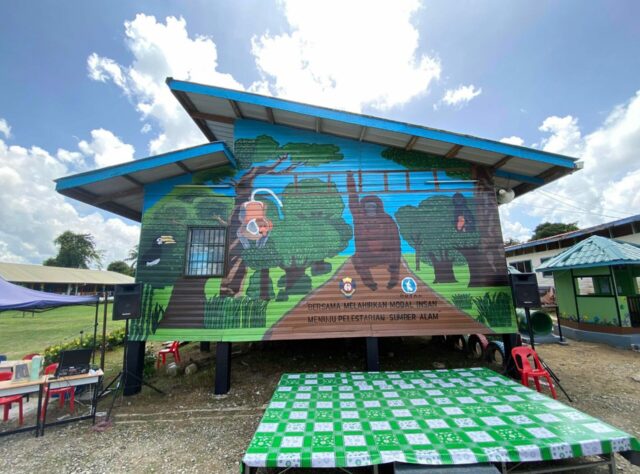 As we enter December, we are still hearing of inspiring stories of World Land Trust (WLT) partners helping their local communities stay strong in an era of lockdowns – an illustration, once more, of the deep connection that runs between conservation rangers and local people.
HUTAN, our partner in Malaysian Borneo, decided lockdown was not going to stop them from spreading joy and environmental education. Their Environmental Awareness Programme team joined forces with their reforestation rangers and devoted their time to an incredible art project that has illuminated Sukau Village Primary School's walls with a beautiful wildlife-inspired mural.
The mural took two weeks to complete and today, the school walls are emblazoned with endangered species of Kinabatangan – paintings for children and the local community to celebrate the incredible biodiversity they share Malaysian Borneo with.
HUTAN revealed their creation to the children and local community, who could not believe their eyes at their newly renovated place of learning. The festivities were filled with music, art, inspiring talks and performances from HUTAN's Junior Rangers.
To WLT, this is a reminder that conservation work goes far beyond managing nature reserves; it is also about delivering environmental education and inspiring local communities to care for nature with art and creativity!
Spot the species: Wildlife mural showcases local endangered wildlife
Checking HUTAN's pictures of the beautifully painted school walls, you may be able to spot the critically endangered Bornean Orangutan, as well as the endangered Pygmy Elephant, the vulnerable Clouded Leopard (pictured below) and the Borneo Crocodile – all species that HUTAN spends their time working diligently to protect. The mural will also be used as an educational tool for Sakau Village students, with educational tours and talks on natural resource studies.
As symbolised by the mural, Malaysian Borneo's Kinabatangan rainforest is teeming with wildlife and contains a vast wealth of species, with some 600 bird species – including eight members of the hornbill family – identified. This habitat is at risk from intense logging, palm oil plantations and forest fires: all which HUTAN works hard to prevent.
The WLT community supports the ongoing conservation of HUTAN's protected areas through our Keepers of the Wild scheme. The programme funds the work of wildlife warden Berjaya Elahan, who was keen to get involved with this creative project and was among those adding colour to the Sukau Village Primary School walls.
HUTAN's conservation work began in 1996, with initial projects focused on researching Orangutan populations. Based at a small research station, their findings helped the Sabah Wildlife Department implement a conservation strategy for the species in the area. In the years since, HUTAN has grown significantly and is today a respected voice among local communities, working to inspire Malaysian Borneo's youngest to care for the protection of land and species.
We continue to be moved by our partners' positive stories. Thanks to our dedicated Action Fund donors, we have been able to fund urgent conservation work throughout 2020 and we hope to maintain this crucial work as time goes on.
Donate today – help our partners spread the magic of conservation to communities and beyond!