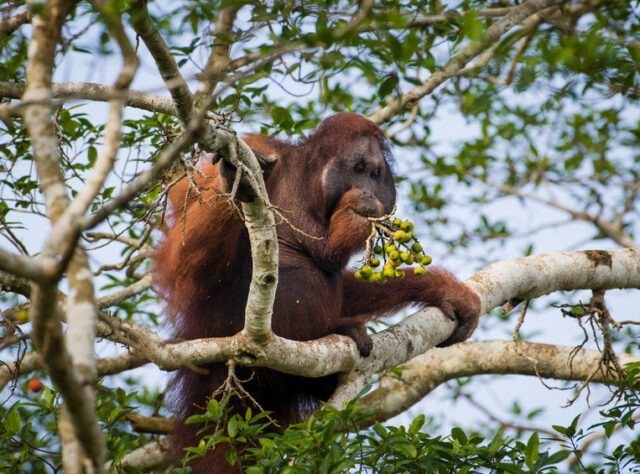 On Sunday the 2nd of October, Mel Blagden will be taking on the 2022 London Marathon. A Finance Assistant at World Land Trust (WLT), Mel is running the iconic race alongside her husband Chris to raise money for HUTAN, WLT's partner in Malaysian Borneo.
Mel's running story began six years ago, when she took part in the 5km Race for Life. Chris started running shortly after that. They built up to doing the Norwich Half Marathon in 2018 and then decided to enter the ballot for the London Marathon that was due to take place in the spring of 2020. Unfortunately the Covid lockdowns began, resulting in that year's marathon being cancelled and their entries being deferred to 2022. Although both have been impacted by injuries during the past few months, they are now close to completing their training and will soon be ready for the race.
Fundraising to protect Borneo's rainforests
The decision to fundraise for Borneo-based HUTAN was easy for Mel and Chris, as they visited the island in August 2019 with their family. During their time there they met with Marc, the director of HUTAN, who discussed their tree-planting project (funded by donations to WLT's Plant a Tree programme) and the problems faced by Borneo's native wildlife. These problems are due mainly to the destruction of the rainforest by companies focused on palm oil production.
When the Blagden family visited the Kinabatangan River on the trip, they saw protected areas of rainforest on the riverbanks – like the Pangi and Keruak reserves expanded through WLT's 2021 Saving Borneo's Orangutan Corridors appeal – and oil palm plantations beyond. "Going out and seeing it for yourself makes the whole thing real, and was particularly eye-opening for our children," says Mel. "One day we travelled for five hours and all we saw were oil palm trees. We now all question the use of palm oil in so many varied products, either avoiding it or looking out for the Roundtable on Sustainable Palm Oil logo."
"Whilst in Borneo we stayed at the homestay where HUTAN's tree nursery is located, and met with the women who actually carry out the tree planting. In the Keruak Corridor, HUTAN's all-female reforestation team are helping to restore land that was once used as an oil palm plantation. This land has been set aside by the neighbouring oil palm producer, thanks to their cooperation with HUTAN. The women showed us what they do, from taking and cultivating cuttings right through to planting up to 1,000 trees a day – and we planted five!"
When visiting the area, Mel and her family didn't have to wait long for their first sighting of Borneo's most famous animal, and one of its most endangered: the Bornean Orangutan. On their very first day, they decided to explore a footpath. "All of a sudden, we heard the sound of breaking twigs and looked up," says Mel. "I could see this orange furball in the trees – our first orangutan! We watched in silence as he went about his business, moving through the canopy. I decided he could move a lot faster than we could, so we left him in peace."
Protecting and restoring rainforest in the Kinabatangan is vital for the continued survival of Borneo's Critically Endangered orangutans. WLT have been working with HUTAN to do exactly that since 2014, most recently through last year's appeal which you can read about in these news stories, which include a local orangutan family tree and an interview with orangutan expert Dr Felicity Oram.
If you'd like to support Mel and Chris on their marathon challenge and help them reach their £750 fundraising goal, you can visit their JustGiving page here. All donations will go towards HUTAN's work on the front lines of conservation, including their tree-planting programme, a leading light of female empowerment in Malaysian Borneo.