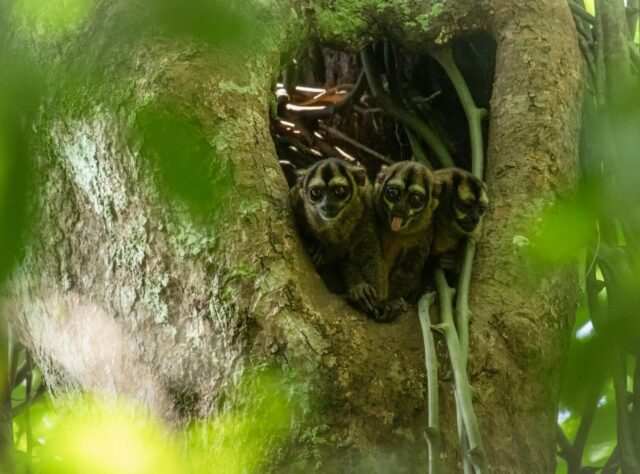 Back in September, we shared with you exciting camera trap footage of Pumas, Tapirs and Blue-billed Curassows filmed in the El Silencio Reserve. The site of 2020's 'Saving the Barbacoas' appeal, El Silencio has now returned yet more encouraging wildlife sightings that show what a difference WLT supporters have made to this Colombian paradise. When we come together, we can effect real change for the natural world – read on for more footage, figures and images that prove exactly this!
Thanks to the 5,407-acre (2,188 ha) expansion – a third of which was funded by WLT supporters – El Silencio now encompasses 6,844 acres (2,770 ha) of forests and wetlands in the Middle Magdalena Valley. Once a week, staff from Fundación Biodiversa Colombia (FBC) cover 80% of the reserve as part of a monitoring plan that has brought many key animal sightings in recent months. Between April and September, the team travelled an incredible 832 km over roads, forest tracks, and via boat on Barbacoas Lake.
Species were sighted on these patrols that had never before been recorded in El Silencio, including birds like the Roseate Spoonbill, Pale-breasted Spinetail and Black-breasted Puffbird, the latter of which is associated with well-preserved forests. A rainbow lizard from the genus Dipoglossus and a very rare snake from the genus Urotheca were also spotted, with their species yet to be determined. Finally, the delicate pink orchid Dimerandra emarginata has been added to the reserve's species list.
It's not just these new species that have confirmed the impact of the Barbacoas appeal. The Critically Endangered Blue-billed Curassow has appeared on camera trap footage once again, as has another bird, the endemic Colombian Chachalaca. Other recordings include mammals from Tayra to Lowland Paca, Collared Peccary and Common Opossum. Pumas are rarely seen in El Silencio and yet more footage of the big cats has now emerged, while the iconic Jaguar has been filmed in the reserve for the first time since January 2021. This is all evidence that a thriving food web is now well protected in this corner of biodiverse Colombia.
Another promising sign is that primate sightings are "becoming more and more common" in El Silencio, according to FBC. On a single patrol, rangers recorded all five species known to inhabit the reserve and were even lucky enough to spot two babies – a Varied White-fronted Capuchin (Endangered) and a Brown Spider Monkey (Critically Endangered) – indicating healthy breeding populations of these threatened simians.
There are currently seven field staff members at El Silencio, with new rangers Gonzalo Rúa and Andrés Aragón joining in the third quarter of 2021. Andrés will now work alongside his uncle Felipe as the second member of the Aragón family employed at the reserve. Felipe was once a subsistence hunter and logger but now uses his experience to protect and monitor El Silencio, navigating the wetlands as the reserve's designated boat driver. The Aragónes have lived in the area for more than 30 years and bring a great empirical knowledge of its ecosystems to FBC.
A low-income family whose land has become degraded through extensive cattle ranching, the Aragónes are now working towards a more sustainable future for themselves and their environment. FBC have helped them to plant vegetable plots and an agroforestry area on their land which neighbours El Silencio, with a view to shifting the Aragónes' production practices away from ranching.
The natural world never stands still and we were thrilled to read of El Silencio's progress in two successive reports from FBC.
When looking for the next WLT project, we take great care in choosing not only where we work, but who we work with. Through extensive wildlife monitoring and a willingness to work with the Aragónes, FBC have proven once again how committed they are to fostering a place that benefits both people and wildlife.
We hope that this update from the field has reminded you of the difference you make every time you support WLT. If you wish to support projects like El Silencio, you can do so by making a donation to our Action Fund, which brings urgent aid to the wild places where it matters most.