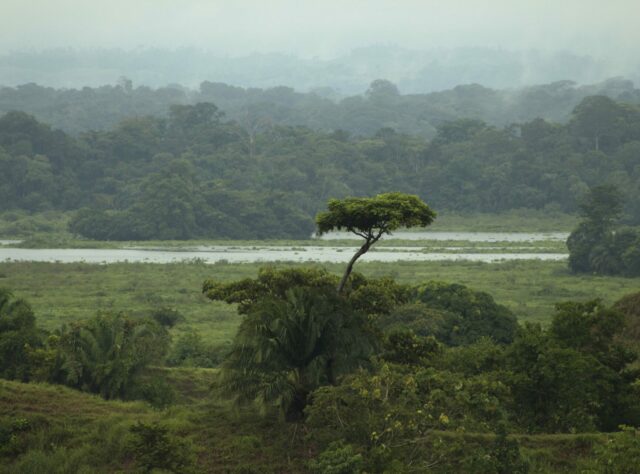 World Land Trust (WLT) is delighted to announce that a reserve home to many of Colombia's threatened species has been expanded by more than four times its original size, a landmark moment made possible by a global alliance of conservation organisations.
Funds from American Bird Conservancy, Rainforest Trust, Saving Nature and a WLT appeal have allowed WLT partner Fundación Biodiversa Colombia (FBC) to extend their El Silencio Reserve from 1,437 acres (582 ha) to 6,844 acres (2,770 ha), a 5,407-acre (2,188 ha) expansion all in all.
Discover the ecosystem you have helped save with this video featuring FBC Executive Director Fernando Arbeláez
The contribution of WLT supporters towards this turning point is staggering, and far exceeds what we had originally envisioned. Of all 5,407 acres FBC has now secured for posterity, 1,954 acres (791 ha) have been protected with WLT funding – more than triple the target originally set by our Saving the Barbacoas appeal.
"This achievement is far beyond a dream for all of us," says Fernando Arbeláez, Executive Director of Fundación Biodiversa Colombia. "We are very excited and eager to start working on the great possibilities for research, conservation, restoration, sustainable development, community involvement and outreach that the new expansion offers."
Fernando explains that FBC will be able to start implementing actions to safeguard and restore the habitat this very month. "The first goal is to complete our ranger network and concentrate on training, building capacity and optimising patrols and surveillance of the area," he says.
"Our second goal is to start restoring former grazing lands within the expansion, using our eight years of experience at El Silencio. Being neighbours to the local fishing community, it involves a large area of community-based restoration so they can benefit by providing labour and seedlings from their plant nursery," Fernando explains. "We will also continue supporting the community, improving their livelihoods and promoting their involvement in the management and protection of the reserve. This new area also opens further possibilities for biodiversity research and monitoring of this ecosystem and its species."
A lifeline for manatee, tapir, spider monkey, curassow and river turtle
El Silencio's major expansion marks a defining moment for this biodiversity hotspot in north-central Colombia.
Extreme deforestation and degradation have seen the Middle-Magdalena valley lose 90% of its original forest in recent years. In the early 2010s, FBC began working to preserve the last remaining forests and wetlands around the Barbacoas area. An initial 183-acre (74 hectare) plot was purchased and protected in 2012, followed in May 2018 by a further 1,282 acres (519 hectares) secured with help from WLT and IUCN-The Netherlands – growing to 6,844 acres with the latest expansion.
The four-fold expansion hands a lifeline to El Silencio's extraordinary wealth of wildlife. The reserve's forests are home to Jaguar, Lozano's Salamander and endangered Silvery-brown Tamarin, as well as three Critically Endangered species – Brown Spider Monkey, Blue-billed Curassow and Magdalena River Turtle – and the Vulnerable Lowland Tapir. Populations of these species, just a selection of the Barbacoas' vast diversity, will now benefit from the creation of the largest forest corridor in the lowlands of the Middle-Magdalena valley.
According to Fernando, the expansion will also preserve the wintering habitat of more than 80 migratory species of bird and help fight climate change. "Conserving and restoring this ecosystem is also critical for the global climate: ensuring avoided deforestation and conversion of grazing lands into forests will contribute to climate change mitigation by fixing and storing carbon for future generations," FBC's Executive Director points out.
And that is not all. El Silencio's wetlands are teeming with aquatic biodiversity such as American Manatee and American Crocodile and important fish nurseries. Meanwhile, its forests hold key tree species at risk from the timber trade such as the threatened Spanish Cedar and the Colombian Mahogany, with FBC planning to reintroduce the Big-leaf Mahogany. The reserve's dramatic expansion means that even more of these trees can now continue to grow, rather than be cut down.
You can explore El Silencio with our new interactive map here
Thanks to the help of American Bird Conservancy, Rainforest Trust, Saving Nature and WLT supporters, FBC can now build back the forest fragments for the sake of Colombia's biodiversity – restoring these habitats to their former glory and supporting local community via sustainable income pilot projects.
On behalf of FBC and all of us at WLT – we would like to say a huge thank you to everyone who donated and helped secure this conservation win. Made possible by you, the news of El Silencio's staggering expansion means we can start 2021 inspired about what we might achieve for nature this year, together.
Success stories like these are possible – with your help. You can commit to conservation today by becoming a WLT Friend, supporting critical projects with our partners across the world with a monthly donation.