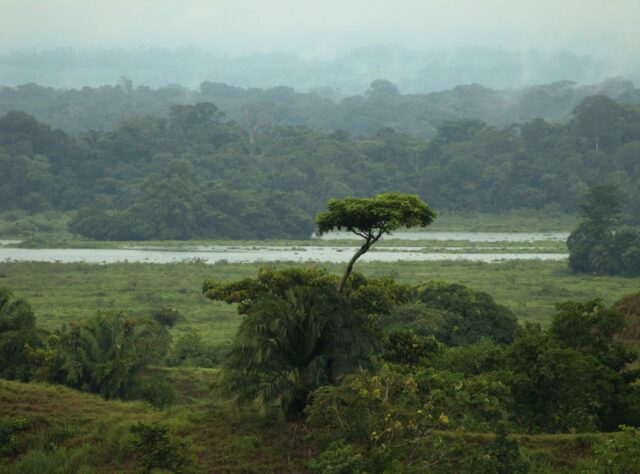 In the heart of the middle-Magdalena valley, the lowland forests and wetlands of Barbacoas are a vital mosaic of habitats that provide a home to some of Colombia's most diverse and endangered species.
Saving The Barbacoas' Forests and Wetlands aims to raise £295,000 for World Land Trust's partner Fundación Biodiversa Colombia (FBC) to extend their current 1,460 acre (591 hectare) reserve at Rancho Verde to connect with their existing reserves at El Silencio and Selva Verde.
A Megadiverse and Pristine Landscape
The extraordinary landscape of the Barbacoas is home to an abundance of flora and fauna. It's no surprise, Colombia is one of just 18 megadiverse countries; nations that are home to the majority of Earth's species, with high levels of endemism. The Magdalena River flows from the Colombian Andes into a rich expanse of wetlands surrounded by rainforest. The region remains in pristine condition – largely due to the work of FBC, who until now had negotiated with the landowners to commit to voluntary conservation. However, it is highly vulnerable and if we do not act now, logging companies are waiting to purchase the land from the current owners. The wider area has lost 90 per cent of its original forests to deforestation and subsequent degradation. This is the last remaining area of this wonderful habitat and it is vital to protect it from further deforestation.

Partnership, Purchase and Preservation
Together, WLT and FBC are determined to ensure the survival of this extraordinary habitat and its rich biodiversity. By extending Rancho Verde by 642 acres (260 hectares), we can support FBC to create new forest corridors to connect with existing protected forest and habitat, protecting all the species that live and migrate to the middle-Magdalena Valley. Through proper conservation management, the shorelines will be restored to generate breeding sites for aquatic species, which will also benefit the local communities that depend upon the health of the lakes for food and water.
The conservation value is enormous; its lakes and rivers are a haven for West Indian Manatee and the Critically Endangered, and endemic, Magdalena River Turtle, while the lowland forests, rich in rare and ancient tree species, provide refuge for Lowland Tapir, Jaguar and a variety of endangered monkeys, including White-footed Tamarin and Brown Spider Monkey.
"It is clear that the preservation of this unspoiled landscape and its exceptional biodiversity is critical," says WLT CEO, Dr Jonathan Barnard. "With the generous help of our supporters, we will be able to protect these wonderful endangered and endemic species, ensuring their survival. FBC have a wonderful track record of conservation projects, and under their management the Barbacoas wetlands and forests will flourish."
Land purchase is a practical and proven way to ensure that wild habitats are properly protected and managed. As the climate crisis intensifies, so to must the actions we take to ensure that greenhouse gas emissions are reduced and that means protecting land and its nature-based solutions to climate change. The forest and wetland available to FBC covers 7,863 acres (3182 hectares); it is inconceivable to think we should not protect this for future generations. It's not just the forests that are important for the climate; wetlands are vital stores of carbon, rich with plant species that store greenhouse gases. In fact, while wetlands now cover just 6 per cent of Earth's surface, they store 35 per cent of its carbon (source:UN/Ramsar)

"Both the forests and wetlands are significant carbon sinks, and their conservation will be beneficial to the ongoing climate crisis," continues Jonathan, "This is our chance to support a project that not only safeguards what is already there, but ensures that the environment is healthy for the animals and humans that rely on the Barbacoas."
Ensuring the conservation of these last, best-preserved stretches of middle-Magdalena's forests and wetlands and their vulnerable inhabitants has been an active and ongoing process for FBC. Already they have launched the Blue-billed Curassow Program, protecting this critically endangered bird, and together with the Wildlife Conservation Society, run outreach projects with the region's fishing community. Now, we have the chance to help them protect even more of Colombia's extraordinary wilderness and save this wonderful place for the future.