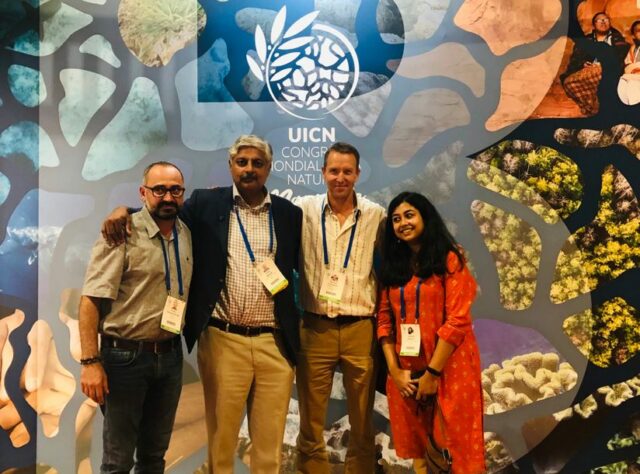 This year's IUCN World Conservation Congress saw thousands of environmentalists come together to discuss conservation and sustainable development action – and our Director of Conservation, Richard Cuthbert, was one of them. Read on to discover, in Richard's own words, the key takeaways from his first face-to-face conservation event in 18 months.
The initial headlines from the launch of the IUCN Congress, held in Marseille from 3-11 September 2021, were all around the political leaders and Hollywood stars, with French President Emmanuel Macron and actor Harrison Ford leading the calls for urgency and action to address the twin crises of global biodiversity loss and climate change.
Their opening speeches, delivered to over 4,000 delegates from conservation organisations, government representatives, companies, members of the public, and the international press, was a marked contrast to my own and many others' work existence over the last two years: working almost exclusively from home and relying on emails, WhatsApp and Zoom to try to keep in touch with WLT's conservation partners from around the world.
The IUCN Congress was the first opportunity to meet in person with colleagues and peers and it was wonderful to engage with each other about current issues, actions and solutions. Most importantly, we also got to formally vote on the members of the IUCN's Council Members and motions. Covid-19 restrictions still prevented many people from attending – but WLT partners from Armenia, Cameroon, Colombia, Honduras, India, Malaysia, and Venezuela had managed to make it and it was great to see such vital worldwide representation from WLT-supported organisations.
After 18 months of barely leaving my attic room 'office' in a small town in rural Suffolk it was like being a child in the biggest sweet shop of ideas and initiatives. Like all large conferences there was too much going on to be able to see everything. However, I found that it was even more important to reconnect with WLT partners and hear concepts and plans with the detail and depth they deserve, and to meet other good local organisations and engage with ideas and advances in international efforts for biodiversity conservation.
I came away from the event feeling inspired by the bold plans for conservation discussed during the congress. I particularly enjoyed hearing and talking about the initiative to 'Reverse the Red', which hopes to downgrade and bring species off the IUCN's Red List of threatened species; the key role that Indigenous landowners already play in safeguarding important areas for biodiversity and their formal recognition as voting members; a shift in momentum for linking business and investment to biodiversity conservation in order to take action at the scale that is urgently required; and the chance to see and meet a number of brilliant local conservation organisations working on the frontline to save land and species.
Key message: The importance of strategic land acquisition for conservation
The key messages of the IUCN Congress really drove home the relevance of WLT's approach of simply bringing important areas of land into conservation protection and the value of these strategic land acquisitions for connecting conservation areas. This was important 30 years ago when WLT's Buy an Acre approach was a novel concept, and it is just as important today. Securing land remains absolutely imperative to address the critical threats of habitat loss.
As Director of Conservation, I'm the first person to advocate this approach, but while attending a Congress workshop I was delighted to see two speakers from the Specialist Group on Privately Protected Areas and Nature Stewardship both highlight the North-east Biological Corridor in Belize as a case study and example of the value and importance of land conservation. This corridor was funded by WLT and the International Tropical Conservation Fund (ITCF) in 2018 and 2019 to support our partner the Corozal Sustainable Future Initiative (CSFI) to purchase critical areas of threatened forest to connect two existing protected areas, and have these recognised within Belize's national protected area system.
The other highlight of the event for me was the leading role of some of WLT's partners within the IUCN organisation, with Vivek Menon from Wildlife Trust of India elected as a Regional Councillor for South and East Asia, and Bibiana Sucre from Associacion Civil Provita in Venezuela and Marco Cerezo from FUNDAECO in Guatemala both elected as Regional Councillors for Meso and South America. WLT's success as an organisation is a result of the strength and diligence of our local conservation partners. Seeing three of these partners elected by their peers into these important roles confirmed the calibre of the organisations within the WLT family, and I felt proud to be working alongside them.
Along with these partners, Jon Paul Rodriguez from Venezuela was also re-elected as the Chair of the IUCN Species Survival Commission – Jon Paul is a member of WLT's Conservation Advisory Panel (CAP) and along with other CAP members provides a huge depth of knowledge and experience into making sure WLT supports projects of the highest conservation value.
All in all it was a hugely valuable week that reconfirmed the value of WLT's approach and the strength and depth of our network of incredible partner organisations, and the ever more urgent need for action to address the challenges we face. As Harrison Ford himself put it during the congress: "We've got to get to work. We've got to make things happen. We've got to make it happen now."
Richard Cuthbert
Director of Conservation