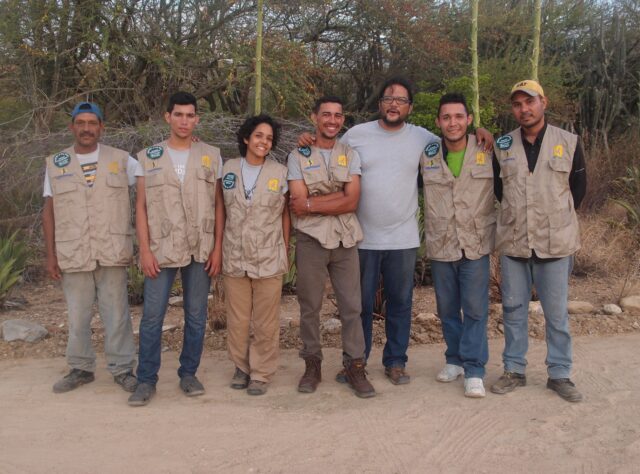 As we approach the end of 2020, we caught up with our partners around the world to find out how they've navigated this year. In the first instalment of our three-part series, you'll read about spectacular conservation wins as well as challenges they've had to overcome.
The past 12 months haven't been easy for anyone, and World Land Trust (WLT) partners are no exception. And yet with help from our supporters, the conservationists we work with around the world are looking towards 2021 with optimism – buoyed by the victories made possible in 2020 by donations to our Action Fund and all other WLT programmes.
We love sharing our partners' stories with you, but this time we wanted to let our partners speak directly about what 2020 has meant to them. So, we asked them to single out their biggest challenges and victories of this momentous year. From Africa to Asia, from Latin America to the Middle East, we found every one of them resilient in the face of adversity and heartened by the support they have seen from WLT donors – as you'll read below.
Bibiana Sucre, Executive Director
2020 challenges
"COVID-19 has obviously been a huge challenge, but this year we also had to face the removal of subsidies to gasoline prices (which we agree with of course!) which has meant a cost increase to the project from virtually zero to an average of $200/month in gasoline just for our own field vehicle. Along with extreme shortages in gasoline availability, this has restricted our capacity to move our team in the field, plant the trees grown in our nurseries, and secure water for the trees already planted."
2020 highlights
"We are very proud of having kept the record of 140 Yellow-shouldered Parrot chicks fledged into the wild amidst one of the most difficult parrot breeding field work seasons we've experienced. We are also very proud that in the past few weeks we completed the planting of 3,036 native trees. This is a huge milestone for us as – it's triple our previous record for number of trees planted in a year! We carry out restoration of dry forests in a location where annual rainfall is just 500mm and where water service is pumped from mainland Venezuela, so it is a challenge to guarantee tree survival."
María Alejandra Moreno Vásquez, Project Manager
2020 challenges
The pandemic "forced us to quickly adapt, design and implement protocols from scratch, in order to keep our work team and neighbouring communities in safe conditions to carry out our conservation work," writes Maria. The Guanacas team had to "think, create, evaluate and redesign new projects aimed at the sustainability of the reserve and the fulfillment of our mission objectives."
2020 highlights
"Thanks to WLT we managed to expand our conservation territory, connect biological corridors and unite our reserve to the municipal reserve. We also trained our rangers in the use of virtual tools in order to maintain contact between the field and the office. Finally, with the support of a group of university students, we were able to design an ecotourism and productive project for the sustainability of the reserve."
Roberto Pedraza Ruiz, Technical Officer
2020 challenges
"To keep in contact with our local partners and allies we had to reinvent several activities. We also had to say farewell to several colleagues, as any social interaction was forbidden. Our cabins and ecotourism company shut down for six months, and no more school groups were visiting us to learn – an extremely complicated scenario."
2020 highlights
"This year was more about planting and sowing than harvesting. I never considered before that a trench is a great place to be and live! Just the surrounding beauty and small brothers (from parakeets to salamanders, especially a new one in our backyard) are more than enough reasons to not give up. 2021 will bring new major partners and a much better financial forecast. Even knowing our small scale, we are sure we are doing the right thing, and that is more than enough."
Karina Copen, Director of Foundations & Strategic Partnerships, Nature and Culture International
2020 challenges
"The biggest challenge we faced this year was maintaining our strong connection with local communities, the organisation's partners and strategic allies. To safely accomplish our goals during this global health crisis, NCP has taken measures to safeguard the integrity and health of our staff, partners, and allies. For example, we switched to remote work and implemented new biosafety protocols for work in the field."
2020 highlights
"Switching to using remote communications encouraged the use of new technologies among our partners in rural communities. We also supported improvements of local technologies such as radio in indigenous communities." The declaration of the 124,934-acre Carpish Mountain Forest Regional Conservation Area was a "high point" for NCP in 2020. "To round out this difficult year," writes Karina, "the Unchog Private Conservation Area was declared, protecting another 2,187 acres."
WLT don't manage reserves directly. We believe that working with local organisations is the best way to ensure effective conservation management, providing a better future for threatened habitats and endangered wildlife.
Our partners work on the front lines of conservation – they're the rangers patrolling forests, the scientists conducting research, the outreach officers engaging with local communities. Without them, nature would lose some of its most valuable defenders.
Providing funding for our partners' conservation efforts is the most critical part of WLT's work. It's also the best thing you can do if you care about the natural world. With a donation to our Action Fund, you can ensure resources reach natural reserves when they need it the most.
Support the men and women on the front lines of conservation – donate to our Action Fund today!