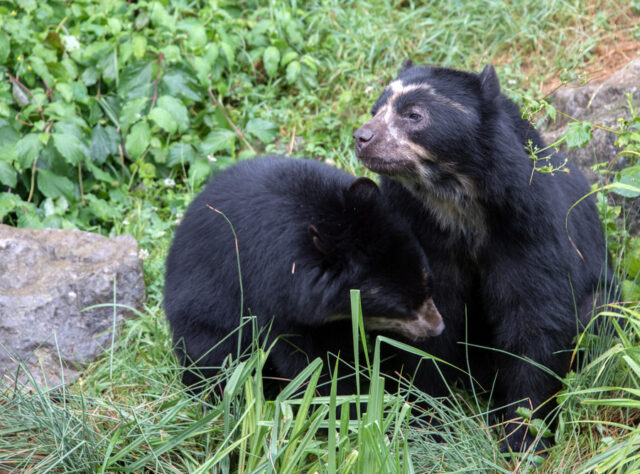 Local people of Peru's Amazonas Department have succeeded in expanding a reserve in one of the world's most biodiverse ecoregions, saving land key to Spectacled Bears and a Critically Endangered primate with help from donations by World Land Trust (WLT) supporters.
The community-owned Llamapampa-La Jalca ACP (Spanish acronym for private conservation area) in northeastern Peru has been enlarged by 21,530 acres (8,700 ha), far beyond the extension of 8,155 acres (3,300 ha) that had originally been envisioned for the reserve by the local people who manage it.
In a conservation milestone made possible by the backing of WLT partner Naturaleza y Cultura Peru (NCP) and staunch WLT supporters like Puro Coffee, the expansion of the Llamapampa-La Jalca ACP means the reserve is now protecting a total of 64,700 acres (26,183 ha) in a key biological corridor.
The habitat now safeguarded within the ACP perimeter is extraordinary, a product of its geographic setting. The overall ecoregion it sits in – the Yungas – is a band of forest wedged between the Peruvian Andes to the west and the Amazon Rainforest to the east. Within this belt, a visitor travelling 2,500-3,500 metres high on the Andean slopes would find a landscape of cloud forests interspersed with moist, high grasslands – the very jalcas that the reserve will protect.
These grasslands pack high volumes of biodiversity, with Llamapampa-La Jalca ACP confirmed so far to host 130 flora species and 29 mammal species. Charismatic residents include Spectacled Bear (classified as Vulnerable by the IUCN) and Yellow-tailed Woolly Monkey, a Critically Endangered primate that has so far only been found to live in a small stretch of cloud forest in northeastern Peru.
Llamapampa-La Jalca is also a bird haven home to 65 avian species, including the eye-catching Yellow-scarfed Tanager, Rusty-tinged Antpitta and Rufous-vented Tapaculo. The reserve is a confirmed location for a Vulnerable amphibian – the Schulte's Robber Frog – as well as rodent species including Thomasomys incanus and Thomasomys eleusis.
Land in local hands to save wildlife haven and water source from deforestation
Decades of supporting our partners have evidenced, time and time again, the difference conservation makes when steered by local communities – and Llamapampa-La Jalca is the perfect example.
The communities protecting this stretch of Andean wilderness have a strong bond with the land, a cultural identity of pushkana wool weaving, Jalca gastronomy and canto singing. Since the ACP was created in 2015, these communities have been stewards and managers of the private conservation area with help from WLT partner NCP, who provide technical support and training over areas such as reserve mapping and registration, fire prevention, plans for tourism and many others.
For the natural life of Llamapampa-La Jalca, this conservation model – successfully applied by our partner NCP through a wave of projects in northern Peru – could not have come at a more necessary time. The ACP's expansion to 64,700 acres will help keep deforestation at bay in an area that is being rapidly converted into agricultural land, with uncontrolled burns and road projects ramping up pressure.
By acting with help from WLT supporters, local communities have given this landscape a lifeline, and the benefits will go beyond this specific area. A bigger Llamapampa-La Jalca will preserve a water source key to the populations all along the nearby tributaries of the Amazon River, cities like department capital Chachapoyas. An expanded ACP means that NCP's broader conservation ambitions in the area – a larger corridor connecting landscapes in Peru's northeast – lies now one step closer to becoming a reality.
Andy Orchard of Puro Coffee says that the fairtrade coffee brand – a key supporter of the Llamapampa-La Jalca expansion – believes this is a project to be "truly celebrated". Andy, who once spent a week living with people not far from the area, tells us: "My time with them, drinking their coffee and walking their forests, was testimony to the fact that those who have less often give so much more. Even the concept behind the reserve is in keeping with this, seeking to preserve and protect vast areas of natural beauty around them rather than exploit it for financial gain."
"Peru as an origin is present within the majority of Puro's coffee blends. As a land she's been good to us and it's natural we too are good to her, and help protect an ecoregion recognised as one of the Earth's most biodiverse, as well as the habitat for a number of Critically Endangered species," Andy adds. "Although international funding has made this process possible, it was ultimately directed and decided by environmentally empowered locals whose actions will surely inspire other communities across Peru and beyond."
---
When you back conservation action through WLT you empower communities like Llamapampa-La Jalca's – people who, like you, want their natural home to be healthy and to decide how it is protected.
This reserve expansion opens a window into the world we could have: a world where communities all over the planet lead the charge with the preservation of nature. This world is fully possible – with help from committed supporters like you. Donations to our Action Fund will ensure our partners can act quickly, helping communities in Peru and beyond secure land when it becomes available.
Donate today to help us and our partners create a future where local people can save their own landscape, for the benefit of conservation, climate and communities!