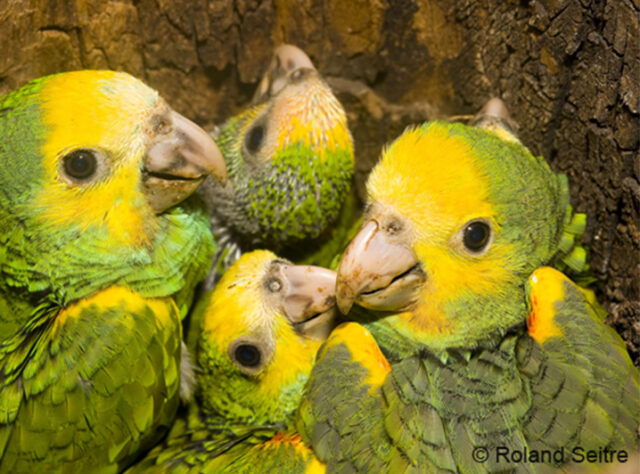 Yellow-shouldered Parrots number less than 6,000 in the wild so protecting nest sites and chicks during the breeding season is vital if their extinction is to be prevented. This species has seen a huge decline in numbers over the past 50 years due to wanton collection for the illegal pet trade, and fledgling chicks are especially vulnerable. The parrots were oblivious to the pandemic but their shielders were on full alert.
Margarita island, off the north coast of Venezuela, with its desert shrublands dominated by cacti and low thorn-bushes, is one of the Yellow-shouldered Parrot's last strongholds. They have been mercilessly collected for the pet trade – together with loss of habitat to industrial development, tourism and sand mining, their survival hung in the balance.
For the past 30 years World Land Trust's (WLT) Venezuelan partner, Provita, has made it their mission to save their habitat and guard nest sites. Since 2008, the Chacaracual Community Conservation Area has protected 1,809 acres (732 hectares) on the Macanao peninsula of Margarita Island, where the parrots breed each year. Additionally, in the private lands of Hato San Francisco-Arenera La Chica, other nest sites are protected every year. This year, Provita's Keepers of the Wild (funded by WLT) and members of the community were not going to let the pandemic crisis and subsequent quarantine stand in the way of their round-the-clock vigil.
COVID-19 could have been disastrous
Every year in May the parrots choose their nest sites and during March and April, Provita's rangers and local volunteers ensure that the nest sites are ready for habitation. This involves checking natural nest holes and installing artificial nest boxes where suitable trees have been lost. They then gear themselves up for monitoring and 24-hour surveillance. The pandemic and resulting lockdown of 2020 could have been catastrophic for this year's chicks. Without shielding, there would have been ample opportunity for unscrupulous collectors to stalk the nests and steal the chicks.
Bibiana Sucre, Executive Director of Provita, takes up the story:
"The pandemic of COVID-19 reached its first confirmed cases in Venezuela in mid-March and the government immediately started a quarantine to prevent the spread of disease, greatly restricting movement. We were further hit by a major scarcity of gasoline, as well as intermittent water supplies, daily blackouts in electricity and poor phone signal and internet connections. All in all a very difficult time. All the same, we needed to urgently mobilise our activities in readiness for the parrots to breed."
Keepers of the Wild galvanise action while in quarantine
"At that time this year we were keeping a close eye on the development of the disease on Margarita Island and agreed we would stop all field activities as soon as the first cases were confirmed in Macanao peninsula. First cases were reported in mid-May and at that time we discussed the situation with our team and agreed we should stop the surveillance activities.
"Our Keepers of the Wild sent many requests urging Provita leaders to reconsider and stay in the field despite the pandemic, but Provita felt this was too high risk for the health of our team and their families. Therefore, we agreed to stop and took the team and the equipment out of the field site.
"However, on the monitoring visit made one month later by our local Sub-Director, he learned that the rangers had reorganised themselves and had gone back into the field a few days after we had left as they didn't want to leave the parrots unprotected. This was an extremely touching moment for all of us at Provita and their dedication was inspirational. Our Sub-Director immediately started to bring back the field equipment and other logistical support to continue the work.
"This dedication has paid off and was rewarded when 140 parrot chicks reached maturity and flew off into the wild! This achievement matches 2019's record of chicks fledged in the history of the project. On behalf of everyone at Provita and 'our' parrots, we send a heartfelt thank you to our wonderful Keepers of the Wild and all our rangers."
Against a backdrop of social and economic crisis in Venezuela, Bibiana and her team at Provita are still managing to strengthen environmental awareness and play a hands-on role in species protection. What a wonderful WLT partner they are – we send our congratulations on this year's heroic efforts and achievements.
If you would like to donate to Keepers of the Wild, please click on the button below