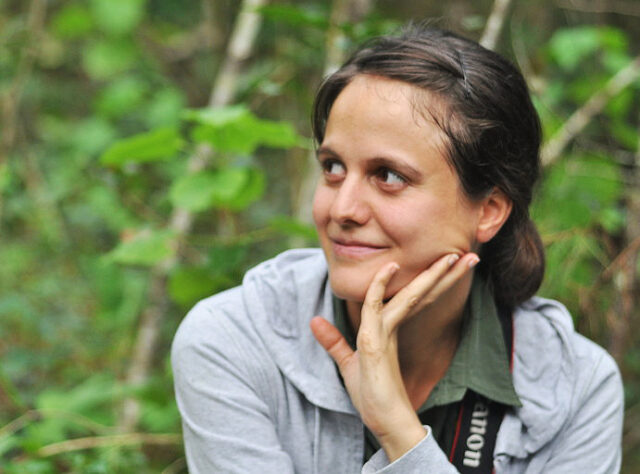 Against a backdrop of social and economic crisis in Venezuela, Bibiana Sucre is Executive Director of Provita; she works tirelessly to strengthen environmental awareness and play a hands-on role in protecting Endangered Species like the Yellow-shouldered Parrot. With the new COVID 19 pandemic Provita is facing a new raft of challenges, but they will not be defeated.
Venezuelan NGO, Provita, has partnered with WLT since 2008 primarily to protect the Endangered Yellow-shouldered Parrot and help boost their numbers. WLT has helped Provita create the Chacaracual Community Conservation Area (CCCA) which now protects 1,809 acres (732 hectares) on Macanao Peninsula of Margarita Island, located off the north-eastern coast of Venezuela.
The flagship species of the project is the Yellow-shouldered Parrot which is threatened by loss of the island's dry forests and sand mining. However, its main threat comes from illegal collection of parrot chicks for the local pet trade, and during the breeding season WLT-funded Keepers of the Wild work round the clock to protect nests. There would never be a good time for a pandemic to halt 'business as usual' but this is a crucial time for this year's parrot chicks. "The breeding season is upon us", writes Bibiana "and protecting their nests is going to be doubly difficult this year – with limited transportation and staff either on total lockdown or only working part time. Added to these problems is that communications with staff working from home on the island is the internet and phone lines there are often collapsed."
Margarita is the only Caribbean island with a native carnivore population and the reserve safeguards endangered mammals including the Margarita Ocelot and White-tailed Deer.
Bibiana Sucre graduated in biology from the Simón Bolívar University and has worked with Provita since 2010. In 2014 she succeeded Provita co-founder, Franklin Rojas, as Exec. Director. Against a backdrop of seemingly insurmountable troubles in Venezuela, Bibiana works tirelessly to strengthen a green movement within Macanao, helping create social and environmental change within extremely poor communities where illiteracy is common and environmental education virtually non-existent.