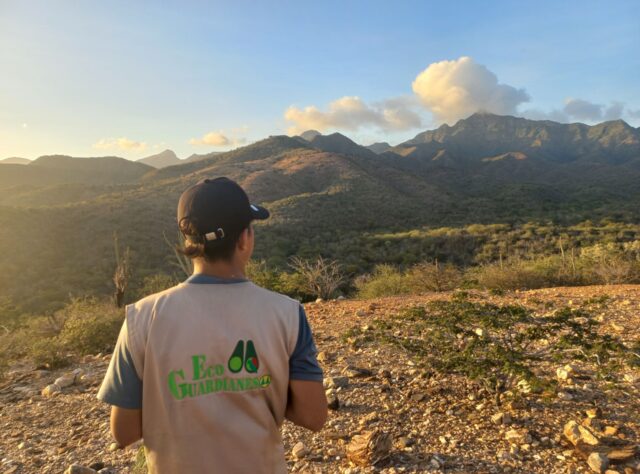 Asociación Civil Provita have been protecting Yellow-shouldered Parrots on Venezuela's Macanao Peninsula since 1989 – the same year that World Land Trust (WLT) was founded. Led by their tireless Executive Director Bibiana Sucre, our partner has not allowed recent pandemic disruptions and the continuing socioeconomic crisis in the country to disrupt their valuable conservation initiatives. In this article, we're bringing you the latest good news from Macanao that WLT supporters like you are helping to make possible.
Macanao is attached by a narrow isthmus to the larger Margarita Island off the northern coast of Venezuela. WLT's partnership with Provita began here in 2008, and it remains the centre of our work together. It is here that the Chacaracual Community Conservation Area (CCCA) – 1,809 acres (732 ha) of threatened dry forest habitat – was secured with WLT donations back in 2009.
Today we support four Keepers of the Wild, known as EcoGuardians, who work in the CCCA and across Macanao, conducting patrols, planting trees, monitoring wildlife, liaising with communities, and – most importantly – overseeing the protection of the peninsula's Yellow-shouldered Parrots, classified as Endangered in the Venezuelan Red List of Threatened Species.
This unsteady individual is one of the 202 fledglings that left their nests in 2021 – a new record!
Provita's restoration work is supported in part by Fondation Franklinia, while the Van Tienhoven Foundation have joined WLT in supporting the EcoGuardians. Play for Nature (previously La Passerelle Conservation), along with their partner Exotic Park, contribute to WLT's support for Provita. The Whitley Fund for Nature contributed to all of Provita's work on Macanao in 2021.
Island conservation poses unique challenges and yet, throughout their history, Asociación Civil Provita have achieved great success on Margarita and the Macanao Peninsula.
The EcoGuardians, funded by WLT's Keepers of the Wild programme, are Provita's frontline heroes here. Without them, habitats would continue to degrade, while poaching and the illegal wildlife trade would see the population of parrots and other species spiral downwards.
The last few years have been more difficult than ever for Provita's EcoGuardians, and the support we provide is truly making a difference for a special location that must be preserved.
This is crucial work that you can support. By donating to our Keepers of the Wild programme today, you can help us ensure Macanao's parrot fledglings continue to take flight for many years to come.