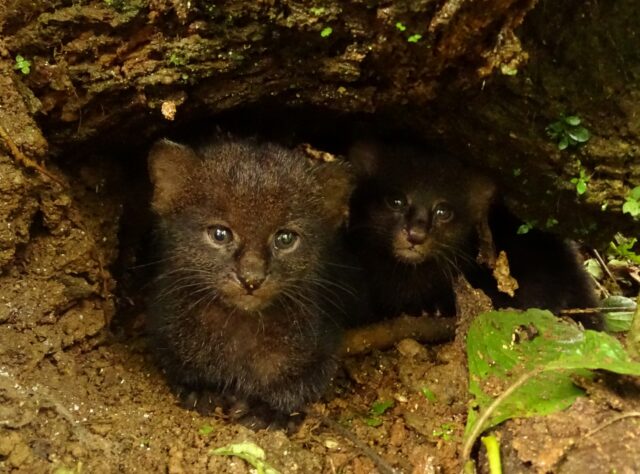 When we remember a charity in our will, we do so knowing that the gift we leave behind will protect the world of tomorrow. That's the decision long-term World Land Trust (WLT) supporter Denyss Wilsden made many years ago. We are now truly humbled to announce that Denyss's generous legacy gift has enabled our partner Fundación Jocotoco (FJ) to bring 884 acres (358 ha) of Ecuadorian cloud forest under protection.
Denyss made many donations to WLT in his time, almost all of them to support our projects in Ecuador. It's easy to see why: although little larger than the UK, Ecuador is a place of stunning biodiversity, with almost 1,700 bird species (17% of the world's total) and 16,000 plant species, a quarter of which are found nowhere else. Ever an admirer of FJ's work in the country, Denyss specified that his legacy gift be used to support our partner, with whom WLT have worked since 2003.
Denyss is the only person we have ever made a lifetime WLT Friend, such was his commitment to protecting Ecuador's wild places. Now his legacy will live on in the land purchased by FJ, which has helped to expand their Buenaventura Reserve to 9,143 acres (3,700 ha) in total. FJ and WLT will be forever grateful to Denyss for saving this truly precious habitat – an enduring tribute to a man who took great pleasure in defending the life of Ecuador over several decades.
Buenaventura is the only place where the unique cloud forests of southwestern Ecuador are currently protected from agricultural development and logging. Situated in the Eastern Cordillera Real Montane Forest ecoregion, on the edge of the Tumbes-Chocó-Magdalena and Tropical Andes biodiversity hotspots, the reserve harbours a wealth of wildlife, with some favouring the dry Tumbes forests and others the more humid forests of the northwest.
Within these habitats live cats like the Jaguarundi, as well as reptiles and amphibians that are known only from Buenaventura. Over 360 bird species have been recorded here, 15 of which are globally threatened (no private reserve in Ecuador contains more). Buenaventura has also been the site of a successful reintroduction programme for the Ecuadorian White-fronted Capuchin, a Critically Endangered monkey which was at one point extinct in the wild in Ecuador.
A gift of connectivity and climate adaptation for species
The areas of land funded by Denyss's legacy gift will extend the Buenaventura Reserve further north and to higher elevations. This is part of FJ's strategy to provide resilience to climate change, by allowing the movement of threatened species to higher elevation areas in response to climate-induced habitat changes.
The decision by the lifetime WLT Friend to remember us in his will also brings more habitat under protection for the El Oro Parakeet. First discovered in 1980, this colourful parrot species is classified as Endangered, with fewer than 1,000 individuals thought to remain in the wild. At Buenaventura, one of the <10 sites left for the species across its entire range, these highly social birds can be seen raising their chicks through a cooperative system, where each breeding pair gets help from up to six others.
If Buenaventura is critical for El Oro Parakeets, its protection matters even more for another bird species. A small grey songbird with delightfully tousled plumage and a double-noted song, the El Oro Tapaculo is entirely reliant on the wet, forested foothills of the Ecuadorian Andes and needs a thickly vegetated understorey to thrive. To date, Buenaventura is the only protected area in which this species has been documented, a fact that makes Denyss's legacy gift all the more impactful.
Denyss's gesture, and the hundreds of acres it has helped to safeguard, leaves FJ with a new foundation of protected land they can use to expand the Buenaventura Reserve northwards. The WLT partner is currently in the process of securing additional properties around the plots protected with Denyss's help.
This is, ultimately, the gift the lifelong WLT Friend has left behind for the Buenaventura landscape: connectivity, and safety from logging, mining and agriculture, for the home of endemic and threatened species; as well as protected water sources for the towns of Moromoro, Piña and other nearby communities for years to come.
World Land Trust and Fundación Jocotoco are profoundly grateful to Denyss Wilsden for enabling us to protect this important area of primary cloud forest and its remarkable wildlife.
WLT's history in Ecuador reaches back almost 20 years, and in that time Denyss played a significant role in making our partners' projects as successful as they are, in Buenaventura and beyond.
If you've been inspired by Denyss and would like to leave a legacy for nature in your will, you can find all the information you need on this webpage. We've also partnered with Farewill to offer a free online will-writing service, which you can access using this link.
---
"Denyss was a familiar voice on the phone for many years, and his encouraging letters of support were always accompanied by generous donations for WLT's work. It's wonderful that his enthusiasm to protect Ecuador's wilderness can now be remembered in the rich forest of Buenaventura and its El Oro Parakeets."
– Anne Clifford, WLT Donor Support Officer

In memory of Denyss Wilsden
1933 – 2020
---