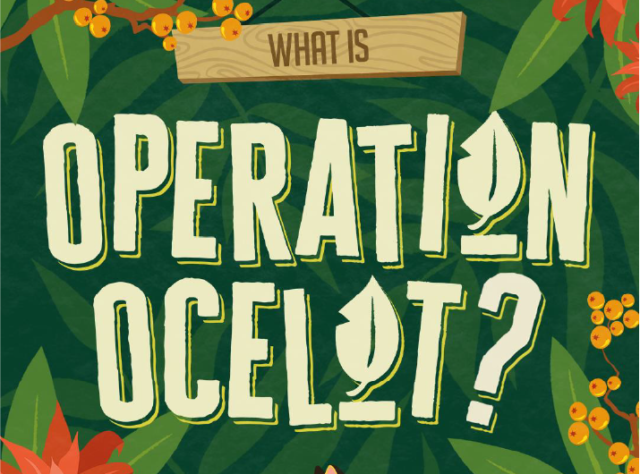 Are you a parent, teacher or part of a group who want to make a difference for nature and the climate? This summer World Land Trust (WLT) launched an exciting new mission together with Patron Steve Backshall for children to save threatened habitats in Brazil: Operation Ocelot. We have answered all the questions you may have about getting started.
What is Operation Ocelot?
Operation Ocelot is a collective response to saving habitats in an area of Brazil's Atlantic Forest – a project that needs you! WLT and our Patron Steve Backshall have a mission, one that will have supporters like you measure your school, sports ground or any other area that is important to you. We're then asking you to fundraise to protect the equivalent area of forest in Brazil. Collectively, the impact we could make through this project is phenomenal.
How do I get involved with my young ones?
Operation Ocelot works through a four-step process (more detail on each step below):
Measure your area
Calculate your fundraising target
Raise money as a team to save the same space in Brazil
Donate
What can I measure?
This project is for everyone and the land you can measure is completely up to you. It could be your school, playground, clubhouse, sports ground, local park, garden or any other location you might be connected with – we accept any land of any acreage.
How do I calculate my fundraising target?
To work out your target, WLT needs to know the width and length (in metres) – or the total square metre size – of the school grounds or any other area you are measuring. Getting your young ones to join you in the measurements could become a fun day outdoors, as well as an educational activity for them to understand the size of habitat they will be protecting in Brazil. Once you have the size figures, follow this link to share them with us through our Operation Ocelot calculator – it will then give you a target for the funds you need to raise for the saving of this area.
What landscape will I be helping to save?
The Atlantic Forest is one of the world's most threatened forest regions. In Brazil, just 7% of it remains. Some of the last remnants are found at Reserva Ecológica de Guapiaçu (REGUA), where the wildlife is thriving, but the land beyond the reserve's boundaries is still under threat from cattle grazing, hunting, and forest clearance. Mission Two of Operation Ocelot will secure more precious acres to add to our partner's reserve, providing a brighter future for a biodiversity hotspot. As of 2019, REGUA was known to contain 73 amphibian species, 37 reptile species, 479 bird species (including 120 Atlantic Forest endemics) and 204 odonate (dragonfly and damselfly) species!
How is WLT Patron Steve Backshall involved in this initiative?
Operation Ocelot has been launched thanks to the support and energy of the WLT Patron and fearless presenter Steve Backshall – and now we just need you to turn his dream of protected habitats in Brazil into a reality! Steve joined us to launch the mission and will continue to channel his passion for the conservation of wild places as the project progresses. There will also be more opportunities for you to talk directly to Steve along the way – more information to come!
I now have received a fundraising target. What can I do to raise funds?
The possibilities are endless and there is something to suit everybody. For examples of some fantastic WLT fundraisers, see here, here and here. We have also come up with a few suggestions:
Have a sponsored sleepover or camp-out at your school, club, or in your garden
Host a nature-themed quiz night
Organise a nature-themed raffle and give away prizes like seed packets, plush animals, or vouchers for zoos/museums
Organise a sponsored night hike
Do sponsored swimming lengths
Organise a sponsored clean-up for a beach, local area, or park
Work out the area you are fundraising for and walk, run, or bike the area
Mark out the area you are fundraising for on a playground or field and run sponsored relay races in it
Get sponsored to give up something you love for a day, week or even a month!
Host a bake sale
Have a non-uniform day or dress up as your favourite animal day
Organise a talent show or throw a school/club party!
What is the best way to promote our fundraiser?
Spread the word! Whether you make your own posters, use our fundraising materials, host a theatre show or tag your friends on social media – getting as many people involved as possible is the best way to maximise donations. Don't forget to tag us on social media @worldlandtrust and use the hashtag #OperationOcelot so we can reshare your posts.
I'm a teacher. Can I include this into my lesson planning/curriculum?
Absolutely! Operation Ocelot champions education as well as conservation, as we would like to encourage schools and youth groups to learn about the tropical habitats they will be saving. We have educational resources available here to be used either in curriculums or at home.
What will I get for my fundraiser?
Once you have signed up for Operation Ocelot, we will equip you with a fundraising welcome pack to get started. To thank you for your dedication, you will also receive a personalised certificate signed by Steve Backshall as a celebration of the major impact you will be making as an Operation Ocelot participant: the vast stores of carbon you will have helped to keep in the ground at a time of climate crisis, and the habitats you will have helped to save in an area where 80% of lowland forest has already been destroyed.
Do you have any further questions? Please email [email protected] and we'll be happy to help you every step of the way.
This year with Steve Backshall alongside us, we can save the home of Ocelot and hundreds of other species for posterity.