Steve Backshall is an adventurer, conservationist, television presenter and author with a profound passion for the natural world. His shows, such as Deadly 60 and Fierce, often focus on some of the planet's most fearsome wildlife.
Steve's greatest passion is discovery, exploring hidden places in the darkest corners of the globe and unearthing never before seen species.
Through his programmes and books documenting dangerous wildlife from all over the globe, Steve has become an influential voice for nature, advocating conservation through his wide network.
His broadcasting career began with National Geographic Channel International where, as Adventurer in Residence, he was producing, filming and presenting adventure and natural history programmes.
In 2003 Steve moved to the BBC Natural History Unit where, like WLT Patron Chris Packham, he became one of the presenters on the children's wildlife programme The Really Wild Show.
Steve went on to join the Natural History Unit's expedition team, making the first ascent of a jungle peak and dropping into a vast sinkhole in the Mulu mountains in Expedition Borneo. In making Lost Land of the Volcano, Steve was the first outsider to enter the Volcano Mount Bosavi, where the research team discovered as many as 40 new species.
"I fully support the Trust's commitment to saving what is left while there is still time, whether it be through direct land purchase, leases or community reserves."
Steve Backshall
Steve gave his voice to WLT's Forests in the Sky Appeal in 2015, championing the successful efforts to raise £500,000 to create a biological corridor in Ecuador. He made a video message supporting the appeal, despite being in the middle of the ocean for BBC's Big Blue Live when the appeal was launched.
WLT Chief Executive John Burton welcomed Steve's appointment as Patron at WLT's 2016 AGM: "Welcoming Steve as a WLT patron is a real honour. He has shown tremendous understanding and support for WLT's work already and is a dedicated naturalist and scientist. Steve has a real passion for the wild world and believes in the way we work, in fact he promotes WLT at every opportunity and brings us to new audiences.  I am very pleased that he said 'Yes' and am looking forward to doing more with him."
Fundraising to save rainforest in Colombia
Keen to take an active role in conservation, Steve endeavoured to protect a threatened area of habitat in the Chocó forest of Colombia.
"I spend a lot of time in rainforest environments," he said "I get to see how fast they are disappearing. It is frightening."
At first Steve considered buying an area of rainforest as a private individual but realised that there were potential pitfalls. As he explains: "The problem is, how do you protect it and make sure no one is going to come in and cut it down? World Land Trust has the expertise to make sure the land they buy is protected and that's why I got involved with them."
In April 2015 Steve participated in the Devizes to Westminster International Canoe Race, a 24 hour endurance kayaking event. More than £50,000 was raised from sponsorship, including the auction of 17 signed T-shirts.
The funds were used to extend the Las Tangaras Bird Reserve along its southern edge and pay the salary of a Fundación ProAves ranger to protect the habitat of one of the most poisonous animals in the world, the Golden Poison Frog (Phyllobates terribilis) at another of ProAves' reserves, Rana Terribilis.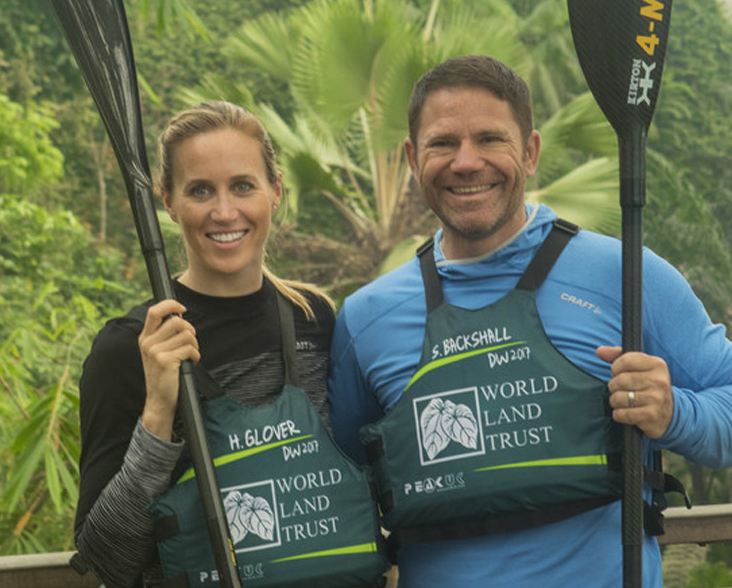 Race for Borneo
Steve took on the marathon kayaking challenge again in 2017, this time alongside his wife, Olympic rowing champion Helen Glover in a 'Race for Borneo'. They pledged to help WLT raise £100,000 of the £250,000 target for the Saving Kinabatangan appeal by racing for Borneo in the Devizes to Westminster International Canoe Race. They exceeded their initial target, raising more than £150,000 for the appeal to protect vital rainforest habitat for Borneo's highly threatened wildlife.
In September 2017 Steve and Helen won Third Sector's Celebrity Charity Champion Award for their fundraising efforts and support for World Land Trust.