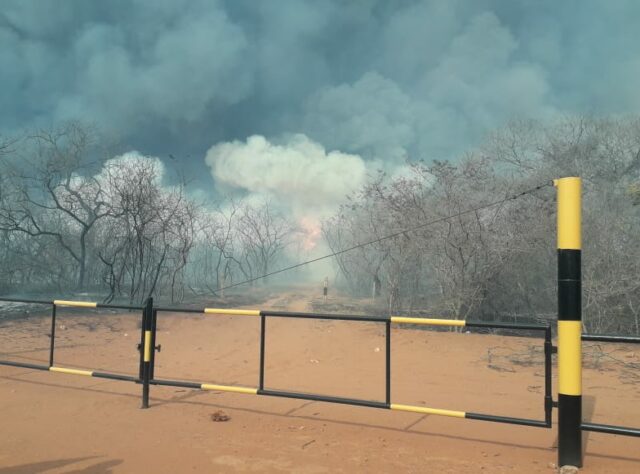 First it was America's Pacific Northwest, then Arctic Siberia, California, Italy and Greece. Now, 2021's wildfire season has come to engulf the reserves of World Land Trust (WLT) partners in the Paraguayan Pantanal and in Bolivia, where the flames are torching an Indigenous-run conservation area that was only starting to recover from a major blaze in 2019. But in the year of COP26, there is a lot that WLT supporters like you can do.
In Bolivia, drone footage from our partner Nature, Land and Life (NATIVA) shows this week a wildfire as it tears through Ñembi Guasu, sending columns of smoke billowing across the reddening sky. According to the NATIVA staff present, the strong winds made fighting this fire "almost impossible" as it blazed a path through the conservation area, a 2,900,000-plus-acre (1,200,000 ha) tract of protected Gran Chaco habitat governed by Indigenous Guaraní people.
The fear, NATIVA tells us, is that the current weather conditions mirror those seen when Ñembi Guasu was gripped by a major blaze in 2019; a blaze that came to affect 34% of its nearly three million acres. As we wrote in August 2020, the resident population of mammal species (100+, including Jaguar and Puma), birds (300+) and reptiles and amphibians (80+) is still recovering from the 2019 events, a healing process that new fires must not be allowed to disrupt.
Stopping Ñembi Guasu's current fire will be crucial for two armadillo species – the Southern Three-banded Armadillo and their bulkier Giant Armadillo counterparts – that paid a heavy toll from the 2019 blaze. Both species are described by NATIVA as "forest engineers", key to the health of their ecosystems thanks to their habit of digging cavities where fallen leaves and soil nutrients gather – a virtuous cycle that can only take place if armadillos are kept safe from the flames.
NATIVA is not alone in having to protect a WLT-backed conservation area from fire this week. On 23 August, across the border from Ñembi Guasu, fellow WLT partner Guyra Paraguay faced a "critical day" as 33 km/h winds fuelled a wildfire in the Paraguayan Pantanal Reserve. With fire hotspots increasing in size and proximity to the Three Giants Station – named after the resident Giant Anteater, Giant Armadillo and Giant Otter – Guyra rangers worked around the clock to contain the blazes along reserve trails.
If wildfires are an ever-present threat for habitats around the world, the power of WLT supporters to make a difference is no less significant. Fires may become "the new normal" on a warming planet – that much was predicted by the Intergovernmental Panel on Climate Change this year – but their impacts are not inevitable. Your donations to our Wildfire Appeal will bring anti-fire kit and training to our partners around the world, making sure fires can be prevented and stopped.
When you support our Wildfire Appeal, you deliver victories against the flames. Earlier this year, equipment and training funded by WLT allowed our partner GESG to control a blaze in Mexico at a time when government firefighters were too busy to intervene.
The actions of the GESG brigade meant fire could not destroy habitat of a Vulnerable bird and with your help, we can make sure that NATIVA, Guyra and every other partner is equally prepared to stop the flames in their tracks – keeping armadillo and countless other species safe.
In the year of COP26, help future-proof threatened habitats against fire – donate to our Wildfire Appeal to fund anti-fire kit for the reserves that need it most!