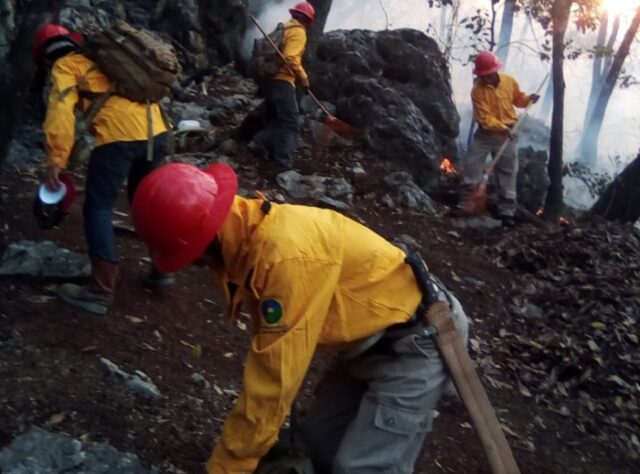 After facing a series of fires in 2020, a team of firefighters from our partner Grupo Ecológico Sierra Gorda (GESG) have just defeated another blaze before it could reach protected forests part of Mexico's Sierra Gorda Biosphere Reserve – using training and kit funded by World Land Trust (WLT) supporters to save the home of Puma, Ocelot and an endemic bird species.
Every year our conservation partners all over the world struggle with fire outbreaks in their reserves, and rangers risk their lives to protect people and planet from the devastating impacts. Last summer, we launched our Wildfire Appeal because we know how critical it is to fund equipment and training – and this week, we are delighted to share a story that proves exactly how much a difference our supporters can make.
Last Thursday, our partner GESG was alerted to an outbreak that was heading for the cloud forests of the WLT-backed La Hierbabuena reserve. Thanks to donations from WLT supporters, GESG now have their very own fully trained fire brigade – a fantastic team of firefighters who battled the blaze and stopped the spread.
The GESG brigade combatted the flames immediately and managed to extinguish the wildfire the same day it had started. In work that you can see in these pictures taken by WLT-funded ranger Abel Reséndiz, the firefighters managed to stop the blaze's advance before it could reach the La Hierbabuena reserve.
"This fire in Sierra Gorda formed very quickly due to the brutal heat and strong winds," explains Roberto Pedraza Ruiz, GESG's Head of Conservation. "Without the GESG-WLT firefighters the extinction works would have been delayed by at least 24 hours as the government's fire brigade were attending another fire four hours away."
Fires are inevitable; their impacts are not
Made possible by WLT supporters, the brigade's intervention allowed to keep catastrophe at bay.
Before being quickly extinguished, the blaze did not leave the landscape unscathed: at its peak, it grew to affect 91 acres (37 ha) of valuable oak forests. But as Roberto explains, it could have been much worse.
If the fire hadn't been stopped by GESG's firefighters and reached La Hierbabuena, it would have come into protected cloud forests home to Puma, Margay, Ocelot and Nine-banded Armadillo. If the flames hadn't been controlled as early as they were, they could have razed a known home of the Bearded Wood Partridge, a Vulnerable bird endemic to Sierra Gorda that counts with fewer than 5,400 individuals in the wild.
"Without a doubt, having the brigade thanks to the support of WLT was crucial," Roberto says. "It's amazing to have our own firefighters to defend the reserves for the next few months before the rains begin."
Scientific evidence leaves no doubt that climate change is making wildfires a more frequent, deadlier occurrence around the world; last year alone was one of the most catastrophic globally. Fires will inevitably strike the reserves of WLT partners but as evidenced by some of the news seen last year – with blazes successfully fought by partners in Guatemala, Mexico, Belize and beyond – when WLT supporters fund a strong response, they make a difference.
Fires are inevitable but their impacts are not.
The flames have already come to the cloud forests of Sierra Gorda and they will return, both in Mexico and other countries WLT supports. But this story from the field shows exactly how much of an impact WLT supporters can make through us – donating to our Wildfire Appeal to ensure rangers have the training and kit they need to prevent and control blazes.
Become a forest's champion – help us ensure it's #ExtinguishNotExtinction for global forests during 2021's wildfire season!