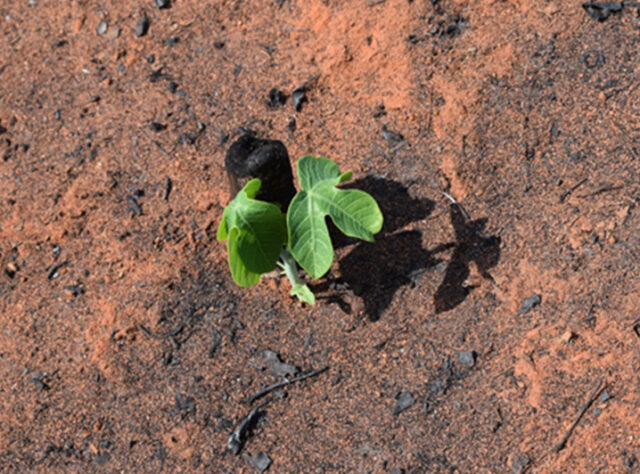 A colossal blaze at the Ñembi Guasu reserve last year scarred this Indigenous-run 'great refuge' of Gran Chaco wildlife, but life's comeback has already begun and lessons have already been applied to conquer new fires this year.
As our Wildfire Appeal launches and asks you to support the World Land Trust (WLT) partners facing fire this year, some don't have to go too far back to remember what a blaze can do.
Alone, the numbers surrounding the fire at the Guarani reserve of Ñembi Guasu in late 2019 are jaw-dropping. Nature, Land and Life (NATIVA) – one of the area's WLT conservation partners – believes the blaze came to affect 34% of the 1.2-million-hectare site in Bolivia. The toll from that single fire was even more staggering across the broader Santa Cruz Department (3.9 million hectares burned) and Bolivia as a whole (5.3 million).
And yet life is already clawing its way back into Ñembi Guasu, the Guarani words for "the great refuge" and affectionately described by NATIVA as a "phoenix forest". Enshrined by law only last year, the Gran Chaco reserve is a haven for both people and planet – a sanctuary run by Indigenous Guarani communities and home to an astounding array of mammal species (>100, including Jaguar and Puma), birds (>300) and reptiles and amphibians (80 at least).
The road ahead for Ñembi Guasu is undeniably long but the healing has already begun. As NATIVA reports, vegetation remains a "ghost" of what it once was, but the landscape is now using its tactics to kickstart the regeneration process. Large fauna may have been driven out by the flames of late 2019 but it will return as the ecosystem recovers – a process NATIVA is working to speed up with data captured by drone flights and analysed through Geographic Information System (GIS) tools.
Fire, however, is a reality Ñembi Guasu can never let its guard down against. In March 2020, as NATIVA remembers today, the flames returned – as they were bound to do – to a nearby spot in Bolivia, reaching Otuquis National Park after being sparked by Brazilian cattle ranchers. This time around, rangers were ready to meet the blaze head-on.
At post-fire workshops with the Santa Cruz government, NATIVA and fellow NGOs WWF-Bolivia and Fundación Amigos de la Naturaleza had worked hard to coordinate a joint response around prevention and containment. When fire hit in March, the system allowed to dispatch firefighters early on. As Alberto Bazan, director of Otuquis National Park, noted after the fire was snuffed out in a week: "Now we can evidence that having the workshops has really paid off."
Having launched the Wildfire Appeal this month, WLT needs your help to ensure no reserve has to endure what Ñembi Guasu endured last year. The campaign's premise is that fires are inevitable but their impacts are not – in this, the new awakening of the phoenix forest and the fire success at nearby Otuquis this following year give us reason to hope.
WLT is calling on our supporters to
HELP US GET AHEAD OF THE FLAMES.
A donation to the WLT Wildfire Appeal will enable our partners to provide training for rangers and essential equipment to provide a better outcome for nature reserves around the world.
Support us on our mission to fight forest fires around the world by donating to our Wildfire Appeal today.