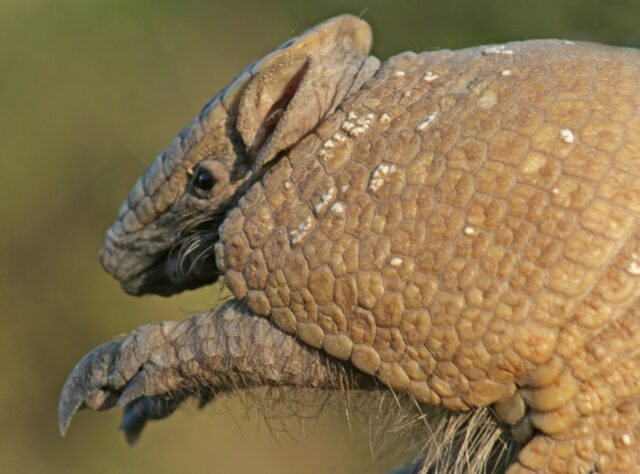 Armadillo big and small were badly hit by a colossal fire in Bolivia last year yet they now hold the keys to ecosystem recovery. Protecting these engineers of the forest would bring major benefits to people and planet, according to WLT partner NATIVA.
Juan de Dios Garay, field biologist at World Land Trust (WLT) partner NATIVA Bolivia (Naturaleza Tierra y Vida), was on a conservation trip in Bolivia when he laid his eyes on a Southern Three-banded Armadillo (Tolypeutes matacus ).
The team of biologists and conservationists spotted the small mammal as they drove through Gran Chaco wilderness and pulled up to investigate. Juan joined the others as they walked up to the armadillo, its diminutive body curled into a defensive ball. Taking care to handle it delicately, the rangers performed a few health checks and let the animal be on its way
Juan continues to remember that day fondly. "To see an armadillo up close is an incredible feeling. It fills the body with such warmth, such tenderness," the biologist tells WLT, as he makes a case for why the broader armadillo family is a crucial ally for the Gran Chaco and must be protected.
These mammals, Juan believes, will be key to the future of the Ñembi Guasu conservation area in Bolivia.
The reserve – a sprawling Gran Chaco haven enshrined by law only last year – saw 34% of its 1.2-million-hectare area razed by a colossal fire in late 2019. Although life is already clawing its way back into the self-styled "phoenix forest", recovery will be slow in coming for the Guarani people who run the reserve and their fellow animal residents – hundreds of mammal, bird, reptile and amphibian species.
Here is where armadillo come in. As Juan points out, the animals' dens create natural cavities for fallen leaves to gather, building a key source of soil nutrients that wind cannot blow away. Combined with the armadillo's knack for moving fungi around as they dig for food, their contribution to soil fertility is a gift for the sparsely forested Gran Chaco. "Armadillos are an essential player for the recovery of burned soil," the biologist says. "They truly are the engineers of the forest."
Population surveys to check the pulse of forest engineers
The blessings a healthy population of armadillo bring to an ecosystem do not stop there..
As Juan notes, the animals are both a sustainable source of food for the Guarani communities in the Chaco and a natural control mechanism for ants and other species, which they rely on for sustenance and keep in check. What's more – the underground dens these forest engineers build are often reused by mice and other smaller animals, which shelter there as they flee predators.
However, the ecosystem will not see these benefits unless armadillo themselves are allowed to thrive, and the first step is having a clear picture of numbers. In the case of NATIVA and Ñembi Guasu, the process involves the tough but necessary step of assessing the damage done by the fire of late 2019.
Rangers already examined the reserve tracts razed by the flames last year and concluded that the impacts have been extensive for the Southern Three-banded Armadillo in particular, with some caught by the fire as they sought refuge in their dens. However, further trips to gauge the state of vegetation have led to sightings of these smaller varieties as well as their bulkier Giant Armadillo (Priodontes maximus) counterparts – the largest of all armadillo species worldwide.
NATIVA's hope now is to be able to carry out a wider census once COVID-19 restrictions make it possible, prioritising the areas where armadillos have been spotted. The outcome of these population checks will help devise conservation actions – a roadmap to protect a key ally of biodiversity and people both. "In all our scenarios, we see the armadillo as playing a key role at Ñembi Guasu," Juan explains.
South America's Great Chaco needs its Armadillo to heal the scars from fire but they cannot do so without your help. The diminutive forest engineers of Ñembi Guasu have barely recovered from 2019's blazes and yet new fires are already forming in the vicinity.
By supporting our Wildfire Appeal, you can make sure NATIVA and our other Chaco partners have the right equipment and training to keep the flames at bay, and preserve the home of wildlife.
In this challenging 2020, donate today and become a champion for the Armadillo!
WLT is calling on our supporters to
HELP US GET AHEAD OF THE FLAMES.
A donation to the WLT Wildfire Appeal will enable our partners to provide training for rangers and essential equipment to provide a better outcome for nature reserves around the world.
Support us on our mission to fight forest fires around the world by donating to our Wildfire Appeal today.